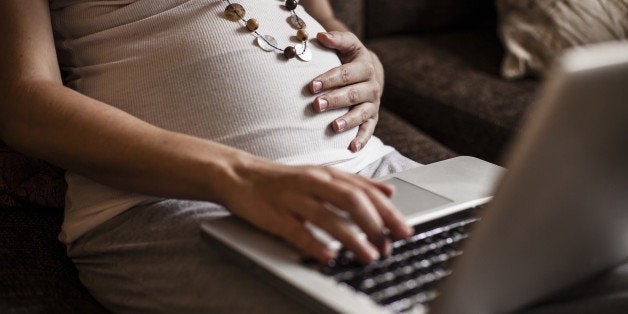 "It was really just a personal project, to see if it's possible to avoid detection," Vertesi, a sociology professor at Princeton University, told Forbes. "If you're a pregnant woman, it's usually impossible to make it through your pregnancy without a single diapers ad."
So when Vertesi decided to hide her pregnancy from the prying eyes of companies and online data brokers, she knew she had an uphill task ahead of her.
During a presentation at the Theorizing the Web conference in Brooklyn, N.Y., on Friday, Vertesi explained the rationale behind her experiment -- and the great lengths she had to go to in order to fly under the radar.
"My story is about big data, but from the bottom up," she said, per Mashable. "From a very personal perspective of what it takes to avoid being collected, being tracked and being placed into databases."
According to Mashable, Vertesi first had to make sure that her pregnancy was kept a secret on social media. That meant directly contacting the people close to her to share the news and telling them not to post anything about it online.
She also used cash whenever she bought anything pregnancy-related and used the Tor browser, which enables people to use the Internet anonymously, when looking at baby-related sites.
In the end, Vertesi -- who is reportedly expecting to give birth this weekend -- says her experiment was a success. "We didn't get a single baby mailing, which is why I think it worked," Vertesi told Forbes.
But she also told the news outlet that the whole process was "incredibly inconvenient" and sometimes felt so elaborate that it made her feel "like a criminal."

"If you want to hide your pregnancy from big data, you're got to operate like a drug dealer. Which is disturbing," wrote Jezebel's Kelly Faircloth, reflecting on Vertesi's experience. "Who's even got time for these sort of cloak-and-dagger machinations?"
It's "already a struggle" to keep pregnancy private without the Internet watching your every move, Faircloth continued. "It's unnerving. Who's got access to this information? How specific is it?" she wrote.
Watch Janet Vertesi talking about her experiment in more depth in this video of her Theorizing the Web presentation:
Related