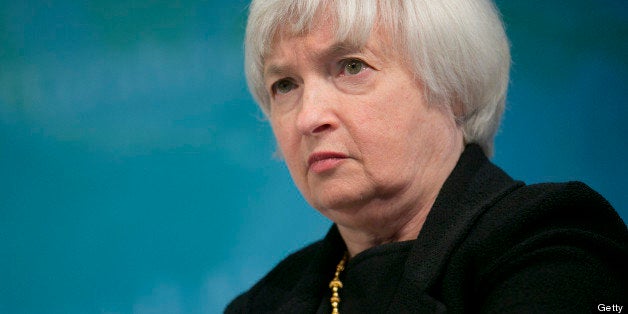 The smartest person at the Federal Reserve might not end up running the place.
Fed Vice Chairman Janet Yellen has done a better job of predicting the economy's swings over the past few years, a time of unusual turbulence, than any other policymaker at the central bank, according to The Wall Street Journal on Monday. This report bolsters Yellen's already impressive track record of prescience relative to others at the Fed, dating back at least to 2005.
It also would have been fantastic news two weeks ago, but is maybe less fantastic now. Two weeks ago, Yellen was seen as the person most likely to replace Ben Bernanke as Fed chairman when his term ends in January. Lately, however, the top spot in that race apparently belongs -- for reasons known only to President Barack Obama -- to Larry Summers, President Bill Clinton's former treasury secretary and Obama's former economic adviser. Summers' track record of prognostication is, technically speaking, god-awful.
The WSJ analyzed more than 700 predictions made by Yellen and 13 other central bankers from 2009 to 2012 and scored them all on how well they did -- with 1.0 being perfectly right and -1.0 being perfectly wrong. Yellen's score was 0.52. No. 2 on the list, New York Fed President William Dudley, scored 0.45.
In news that might make you shudder, the current chairman, Bernanke, came in fifth place with a score of 0.29.
Yellen managed to top all other Fed forecasters despite the fact that she is a known haver of lady parts, which as the New York Sun and the WSJ editorial page reminded us on Monday is a severe obstacle, because ladies are so terrible at the maths, right, fellas?
Fun fact: Did you know that Larry Summers, like the Sun and the WSJ, has also suggested that ladies are terrible at the maths and also science? Of course, Summers has since apologized profusely for those remarks, and people who know him claim that he, of course, is aware that ladies can do stuff now, like long division and calculus and quantitative easing.
Here's another fun tidbit: Larry Summers, despite the widely held consensus that he possesses a thrusting, manly intellect, is absolutely terrible at predicting things! For example, he thought it would be a super-great idea to deregulate the banking sector in the 1990s and a terrible idea to regulate credit derivatives. In the process, he elbowed aside a lady, Commodity Futures Trading Commission Chairman Brooksley Born, who knew how wrong Summers was.
Yellen, in contrast, warned early and often, starting at least in 2005, about the problems in housing and the looming economic catastrophe. Others on the Fed were too slow to heed her warnings, and the Fed had to play catch-up once the crisis hit.
But Yellen has been wrong less often than her colleagues. And on all of the major economic and financial issues of the past couple of decades, Summers has been right there in the middle of it all, the Forrest Gump of economics, being consistently wrong.
Popular in the Community