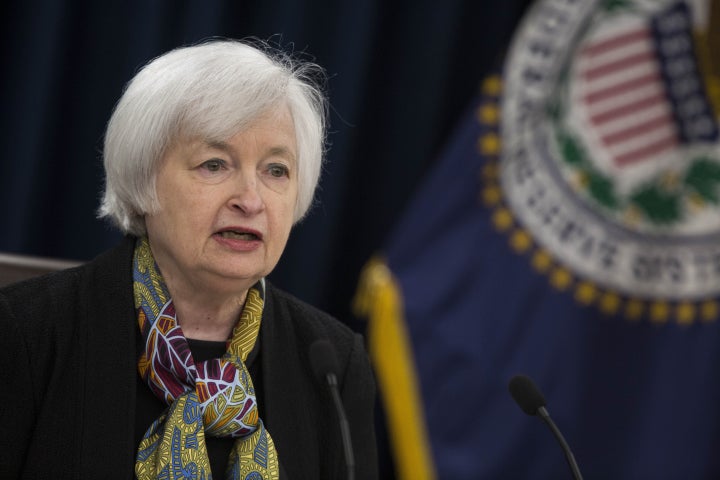 It's not just judicial appointments -- the Senate has declined to hold hearings for two potential Federal Reserve leaders for more than a year, and Fed chairwoman Janet Yellen on Wednesday asked the legislative body to do its job.
"Congress intended for the Federal Reserve Board to have seven members and that tends to bring on board people with a wide spectrum of views and experience and perspectives," Yellen said on Wednesday at a press conference on the Fed's interest rate decision. "I think that's valuable, and I would like to see the Senate move forward and consider these nominees so we could operate with a full complement."
Yellen's remarks are notable because the Fed is a non-partisan institution that rarely comments on congressional matters.
Senate Banking Committee Chair Richard Shelby (R-Ala.) said on Tuesday that he would not hold hearings on either of the two nominees until the White House names a vice chair for supervision at the Fed, a regulatory post required under the 2010 Dodd-Frank financial reform law.
Yellen directed questions about the vice chair nomination to the Obama administration, even as she argued that the Fed was already effectively performing the regulatory duties specified under Dodd-Frank. The White House did not immediately respond to a request for comment.
The seven (or currently, five) Washington-based Fed governors serve on the Federal Open Market Committee, the central bank body responsible for adjusting the benchmark interest rate, alongside a rotating group of five regional Federal Reserve bank presidents.
In addition to Yellen's concerns about the range of views on the Board of Governors when two seats remain empty, some progressive economists and activists worry that the unfilled seats gives more influence to the regional Fed presidents, who are not political appointees and would otherwise be in the minority.
The regional Fed presidents, who are appointed by the regional banks' boards of directors, are more likely to have strong ties to the financial industry. That makes them more disposed to be wary of inflation than committed to maximizing employment, the thinking goes.
Jordan Haedtler, campaign manager of the Fed Up coalition, a network of groups pushing the Fed for more progressive monetary policy, called Yellen's statement "strong."
"The impact [of the empty seats] is proven empirically to be a more bank-friendly and hawkish FOMC than Janet Yellen would probably prefer," Haedtler said.
Fed Up has solicited several thousand signatures calling on Shelby to hold hearings. But Haedtler also wonders why the White House has not placated the powerful senator by naming a vice chair for supervision.
"I don't think it is a good excuse for Richard Shelby to use -- it is a bogus excuse -- but I am confused as to why the White House would let him have that excuse," Haedtler concluded.
CORRECTION: This article has been edited to correct Jordan Haedtler's title at the FedUp coalition.
Calling all HuffPost superfans!
Sign up for membership to become a founding member and help shape HuffPost's next chapter
BEFORE YOU GO
PHOTO GALLERY
The Federal Reserve's Decision Makers