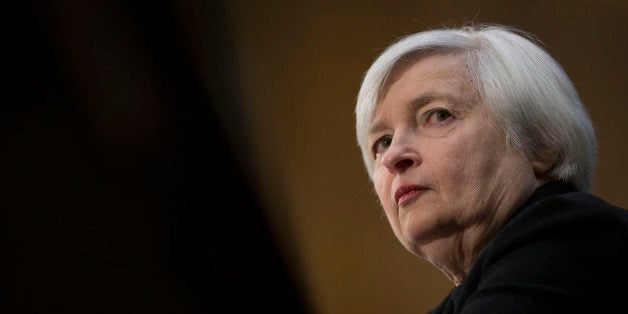 WASHINGTON, Dec 19 (Reuters) - The Democratic-led U.S. Senate set debate to begin on Friday on President Barack Obama's nomination of Janet Yellen to head the Federal Reserve, with confirmation expected on Saturday.
Democrats had hoped to confirm on Yellen on Thursday or Friday, and then adjourn for the year. But they failed to get a time agreement with Republicans to speed up the process.
Regardless, Yellen, now the Fed's vice chair, is expected to be confirmed with bipartisan support to replace Ben Bernanke, whose term expires next month.
A senior Democratic aide said that unless a time agreement is suddenly reached, the Senate would begin consideration at close to midnight EST on Thursday (0500 GMT Friday) of Alejandro Mayorkas as deputy secretary of the Department of Homeland Security, the first of four of Obama's pending nominees.
Under a tentative schedule and working around the clock, the Senate would vote to confirm Mayorkas before dawn on Friday, followed later in the day by John Koskinen to head the Internal Revenue Service and Brian Davis to be a federal judge in Florida.
The confirmation vote on Yellen is expected to occur at about 6 p.m. on Saturday (2300 GMT), the aide said.
The stage was set for this end-of-year battle when Democrats, who hold the Senate, 55-45, changed the rules last month to strip Republicans of their power to block most of Obama's nominees with procedural roadblocks known as filibusters.
Under the new rules, a nominee needs the support of only a simple majority of the 100-member Senate, rather than the earlier 60, to be confirmed.
The change, however, did not strip Republicans of their ability to slow down matters by refusing to yield back allotted debate time, which for a Cabinet-level nominee like Yellen is 30 hours.
For most lower-level picks, Democrats and Republicans get four hours each.
Earlier Thursday, Senate Democratic Leader Harry Reid accused Republicans of obstructionism, and vowed to get the nominees confirmed.
"These are crucial nominations, and if that means working through the weekend and next week, so be it," Reid said.
Assistant Senate Republican Leader John Cornyn said, "The irony is that none of these nominations are particularly urgent."
"Even Ms Yellen - Bernanke's term doesn't end until the end of January - so this is all gratuitous from my perspective," Cornyn said.
After the Senate votes on Yellen, it could begin consideration of six more nominees, all of them for relatively lower-level posts.
Democrats have asked Republicans to agree to carry over the six until next year. But so far Republicans have refused.
Any nominee not confirmed by the end of the year would face the prospect of having to begin the process all over again next year with Obama renominating them.
McConnell said in a Senate speech that he would oppose the IRS nominee, denouncing as inadequate an investigation into the tax-collection agency's "incredible abuse of power" in targeting conservative groups for added scrutiny.
"The American people deserve answers about how and why this targeting happened. They deserve justice too. And I will not be supporting any nominee to lead this agency until the American people get the answers they deserve," McConnell said.
Reid urged confirmation of Koskinen to head the IRS, saying, "With all the problems we've had with the Internal Revenue Service ... we need to have someone running that agency."
REAL LIFE. REAL NEWS. REAL VOICES.
Help us tell more of the stories that matter from voices that too often remain unheard.
BEFORE YOU GO
PHOTO GALLERY
The Women Behind Obama's Presidency