Fathers don't always know best, but in the case of recently married long lost loves Janice Rude and Prentiss Willson, mothers might have.
Fifty years ago, Janice Rude was a sophomore and Prentiss Willson a freshman at Occidental College in Los Angeles.
"I believe we were simply meant to be," said Willson. "I even remember the first time I laid eyes on Janice." Rude was working the breakfast shift at the school cafeteria and Willson was the first in line, "every day, at 6 a.m., because I just wanted to see her and have our little morning exchange."
"I actually didn't think I had a chance with her," he added. "She was a year ahead of me and just so beautiful."
But she surprised him. When he didn't show up for the college's pre-Thanksgiving dinner, she sent another student out looking for him. She found out where his family lived and drove 150 miles to Santa Maria on Thanksgiving day to knock on his door.
Willson recalled how his mother, while startled at first, invited her in and was immediately enchanted by her. "Just like I was," he added.
Shortly after, the two announced their engagement in the local paper with an announcement that ended: "No date has been set for the wedding."
But Rude's father had other plans. For reasons beyond anyone's memory, he disapproved of his daughter's engagement and threatened to cut off her tuition and financial support unless she broke things off with Willson.
"We tried to figure things out but I guess we weren't smart enough," Willson lamented. Rude's mother took out a second mortgage hoping to help her daughter, but the pieces just didn't fall into place. The young lovers tried desperately to stay together but eventually, under the intense financial pressure, parted ways.
"We had to. We didn't want to, but we had to," Willson said.
Willson graduated from Occidental, then Harvard Law School before going on to become a successful Bay Area tax attorney. He married someone else, as did Rude, who ran a swimming pool business in Reno, Nevada. Through the next five decades, their paths crossed only a handful of times. But when their mothers died within months of one another, they discovered something remarkable: The mothers had never met, yet both had kept copies of that original engagement announcement. Rude's mother had kept a laminated copy in her wallet, carrying it around with her for more than 35 years.
"The mothers got it," said Willson. "The mothers simply knew, and I think we [he and Rude] also knew."
Rude and Willson looked each other up and met for lunch a year ago. The pair, now both 69, were married last summer on the Occidental campus, literally 50 years after that engagment notice first appeared in the Arcadia Tribune. In fact, they used it as their wedding invitation, circling "No date has been set for the wedding" and adding "the date was finally set... " Their story is featured in the upcoming winter edition of Occidental Magazine.
"Some things were just meant to be," Willson said.
Do you have a great long lost love story you'd like to share with us? Email SayItOnHuffPost50@huffingtonpost.com.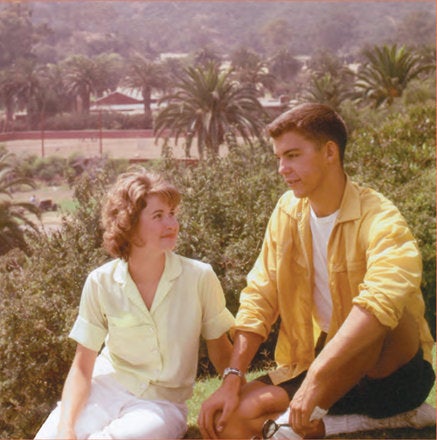 Janice Rude And Prentiss Wilson: Long Lost Lovers Reunite
Popular in the Community