Cambodia is booming in many ways: the people are full of energy and work hard; the cities are bustling; and positivity abounds. As I've tried to bear witness to here (here, here, and here), the Cambodian people have suffered greatly--from the French Occupation, the Civil War, the American bombings; from the Vietnamese invasions; and the brutal genocide at the hands of the Khmer Rouge. But, during my recent visit there with the U.S. State Department, I learned that the Cambodians are at peace with this history. And more so, the warm Cambodian population may have found their moment as the economy grows eager for greatness. I was in the country on the lookout for social entrepreneurs, so I was floored when I met Janice Wilson. A graduate of Washington University in St. Louis and Columbia University's Law School, Janice is a 40 year-old woman with a lot to brag about.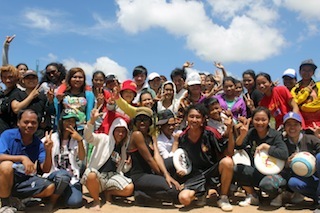 She found her way to Cambodia through an unlikely path -- after initially dropping out of law school to pursue her dance career with Wynton Marsalis, she eventually returned to and graduated from Columbia after a 6-year hiatus. She came to Cambodia in the late 2008 to provide legal assistance during the condominium boom their economy experienced. During that time she began to notice the prevalence of women who had been involved in and abused by the sex trafficking market. Janice wanted to help, but she also wanted to start her own business and to make something of her own.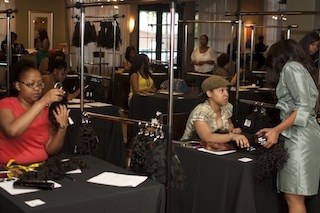 A flash event held in Atlanta, Georgia.
Determined to get involved in building better lives for women out of the trade, she soon found a way to start a business. Something she always wanted to do, make something, and help women at the same time. Her idea was simple: hair.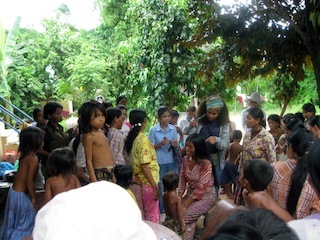 Janice cutting one woman's hair.
In the early days, Janice traveled to villages around the Cambodian countryside to meet with women interested in getting involved. When a woman wanted to sell her hair, Janice would cut it in exchange for an amount equal to four months of salary. Now her company has several collection teams to travel the countryside and they have performed this life-changing exchange with over 7,000 women! In the past three years, the business has quadrupled.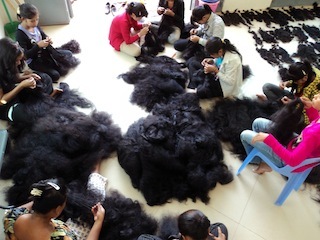 Sorting the world's purest hair.
Cambodian hair has a global reputation for its quality, and Janice's company is the leading manufacturer. Her company, Arjuni (www.arjuni.com), is now housed in a factory, where they fabricate, clean, and package the hair before shipping it and selling it all over the world. Because of the company's success, Janice has been able to hire 42 women, many of whom have emerged from traumatic circumstances related to sex trafficking and domestic violence. Together, they are working through to come out ahead.
Popular in the Community