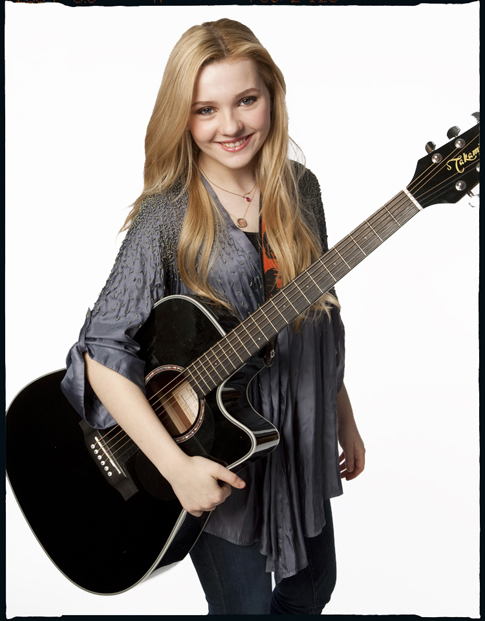 Abigail Breslin. Portrait by Leslie Hassler.
For those who best remember Abigail Breslin with her tear-away pants, gyrating to the Commodores' song "Brick House" while her grandfather cheers her on from the sidelines, well, a lot has happened since then.
Nine years of solid acting past her 'dancing' days, in Janie Jones, Abigail Breslin (Little Miss Sunshine, My Sister's Keeper) plays Janie, a thirteen-year old who is abandoned at her father's rock concert, a man she's never met, by her drug-addicted mother (Oscar-nominee Elizabeth Shue).
Janie Jones is based on writer/director David M. Rosenthal's own experience of meeting the daughter he never knew when she was eleven. He calls the experience, "Perhaps the most profound of my life."
Janie's father Ethan, played by Alessandro Nivola, (Coco Before Chanel, Face/Off) doesn't recognize Janie's mother when she asks to speak with him privately and refuses to move from his chair. The casual rock star cruelty with which he treats her, amidst jeers from his band and girlfriend, when she tells him that they have a child together, feels harsh, obscene, and is utterly gripping.
Nivola strikes the chord between struggling rocker and father beautifully. Getting his undergraduate degree at Yale, he debuted on Broadway as Helen Mirren's young lover in A Month in the Country, and he weaves Ethan's pain as a musician and a man, into a rich tapestry.
Ethan has to decide in an instant whether to care for a girl he has just discovered is his daughter or to hand her over to foster care. For an agonizing moment, it looks like Janie's future lies in the health services van waiting outside. But, very reluctantly, he takes her with him on the road. As his drug- and booze-fueled rages scare off everyone on tour except his daughter, they form a strong and unusual bond through music. A gift, it turns out, they share.
Sitting with Alessandro and Abigail, they have a kind of father-daughter banter going, at all times. What starts out as a lighthearted discussion of the finer points of Pokémon ends up being a telling discussion about the life sacrifices and demands of being an artist.
(Alessandro upon seeing a Pokémon backpack in the studio)
Alessandro: (to Abigail) Is that yours?
Abigail: No!
(It belongs to photographer Leslie Hassler's eight-year-old son.)
Alessandro: I tell you, the Pokémon industry has bled me dry.
Cynthia: I think Pokémon has probably bankrupted many a family.
Abigail: My brother used to trade the Pokémon cards.
Alessandro: The cards! It's all about the cards. And we keep having to send away for these rare cards that you can only get on eBay, from 1983!
Cynthia: Alessandro, you're a long-time musician, and you've played guitar in films before, like Laurel Canyon. But Abigail, was this all new to you?
Abigail: Yes, and it was nerve-racking, definitely. I think we started filming in September, and I had only started taking voice lessons three months earlier, by coincidence. It made me nervous to think that I was going to be playing opposite someone in the film who was already a very good musician.
Alessandro: And it made me nervous knowing that I was going to be playing opposite someone who could cry on cue! (laughter)
Cynthia: On a dime!
Alessandro: I call her Abigail "the machine" Breslin! (laughter)
Abigail: It's a skill that comes in handy when you're talking to your dad about getting a puppy. (laughter)
Cynthia: So here these two characters are forced together, suddenly. They are father and daughter, but they've never met. What did you find most unusual about the situation?
Abigail: I think what's great about the way that it was written is that it's kind of uncomfortable between them in the beginning. I don't see him and say, "Daddy!" It's very real, because they don't instantly find a connection.
Alessandro: And the situation is also not helped by the fact that my character is a prick. (laughter)
The challenge of the role for me was, early on in the movie, to allow him to be as unpleasant as possible. I wanted to let him be as narcissistic and out-of-control as I could, and then to try and turn that around.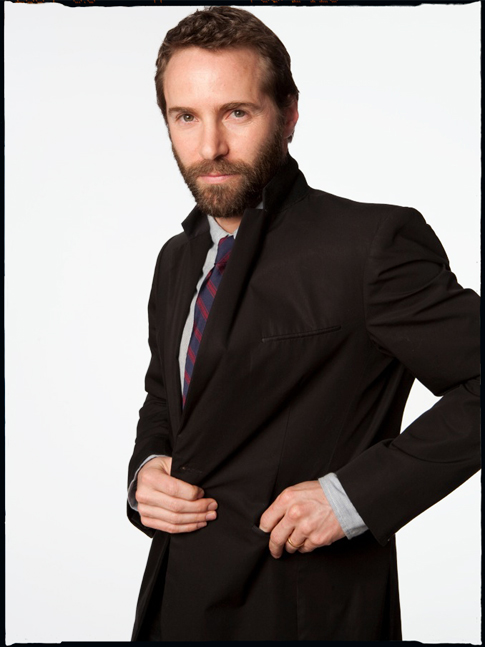 Alessandro Nivola. Portrait by Leslie Hassler.
Cynthia: You're a musician and you've been in some bands. How closely do you relate to Ethan?
Alessandro: Well, I've never been in a touring rock band, it was all just high school and college, playing toga parties in frat houses. (laughs) So I haven't had anything on the line as far as music goes. What's going on in the beginning of the film is that he's feeling desperate about his life and his career.
Cynthia: Have you ever experienced a moment like that in acting? Were you able to apply the life of an actor to that of a musician?
Alessandro: Oh, yeah!! Anybody who is in freelance work, especially artistically, knows that it comes with all the insecurity and the ups and downs. It's a really frightening life. There are definitely days where you think you want to kill yourself. (all three laugh) And you try not to take it out on the people nearest and dearest to you, like Ethan did. Sometimes it's unavoidable.
Cynthia: Abigail, how did you become an actor?
Abigail: I sort of fell into it, I did a commercial when I was three. My mom didn't ever think I would take to acting because I was a very shy, very reserved kind of child. But obviously, something changed!
Cynthia: Often in films with new music, there is only one songwriter. Here, you were each given your own songwriters, Gemma Hayes and Eef Barzelay, to ensure you had different musical voices. How did that change your dynamic?
Alessandro: It was very important because there's so much awkwardness between the two of us for such a long time that the music becomes the thing that we bond over.
Cynthia: Do you have a daughter, in real life?
Alessandro: I have a daughter and a son.
Cynthia: What aspects of having your own children did you apply to this part?
Alessandro: The thing that resonated in my own life, was the challenge of living an artistic life. Acting can be very selfish and all-consuming. The idea of having a family and trying not to sell them short. That's a constant balance I'm trying to find in my own life, because I usually end up feeling that I've tipped one way or the other. You live with this guilt all the time. In a lot of ways, that's what the movie is about.
Cynthia: Is it a juggling act?
Alessandro: Definitely! I was just telling Abby's mom that I felt terrible last week, I was on a film set, it was Easter, and I couldn't visit my kids, and she was saying, "I feel the same way, with my kids." (to Abby) But you'd never know it, in your case. She so dedicated to you.
Abigail: I know. I'm incredibly lucky.
Cynthia: In the story, you're supposed to be on tour. Where did you shoot this film?
Abigail: Des Moines, Iowa. I had never been there before in my life, but I became very well acquainted with the Jordan Creek Mall. I could really be a spokesperson. "On the left here, we have Hot Topic and Abercrombie..."
Alessandro: You were there when you had only ten minutes in between scenes! (laughter)
Cynthia: Did you ever go to the mall together?
Alessandro: I was always wanting the tour, but you guys were gone before sun-up! (laughter) You guys were the ones banging on the glass doors on the dot of nine to open up!
Abigail: The Jordan Creek Mall. I love it so much. I wish I could go back.
Cynthia: (to Alessandro) The rapturous look on her face right now is like how some people describe Lourdes, the religious shrine in France.
Alessandro: At least she doesn't smoke!
Cynthia: True, a much-lesser vice for 'young Hollywood!' Alessandro, how did you come to this project?
Alessandro: I was cast in this movie in the 11th hour. When I did Laurel Canyon, it was a whole different deal because we had a fancy record producer who was recording the music and it was only one song. Here, we had no producer. This was: Can you fly to Des Moines Iowa in three days and record fifteen songs between the two of you? Learn them yourself, and figure it out. In a basement!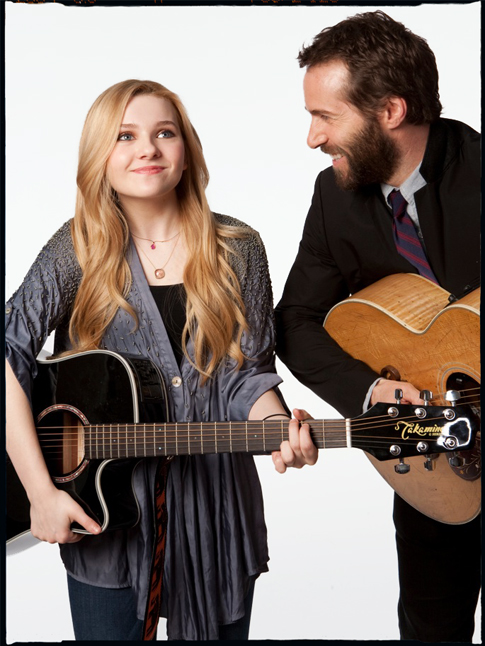 Abigail Breslin and Alessandro Nivola. Portrait by Leslie Hassler.
Cynthia: What do you think this movie says about fathers and daughters?
Alessandro: It's about the commitment that you have to give to your child. From Ethan's perspective, it's about someone who never had any responsibility to anyone other than himself. And suddenly having a huge responsibility, to someone, to his own flesh and blood.
Abigail: For Janie, all she's ever had was her mom, and her mother was not someone that she could ever really rely on.
Alessandro: And neither was I! (laughter)
Abigail: I think what's kind of great about them is that, in a strange way, they are a good fit for each other. He wasn't ready to be there for her, and she was already used to taking care of herself.
Alessandro: I think that might have been part of what was attractive to Ethan, in terms of accepting you as his daughter. That you were so independent and didn't ever let on that you were needy for a parental figure. You are this girl who is constantly impressing him with her autonomy. And musical talent.
REAL LIFE. REAL NEWS. REAL VOICES.
Help us tell more of the stories that matter from voices that too often remain unheard.