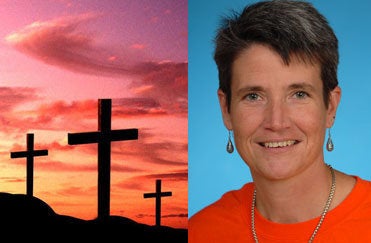 A Chicago woman who devoted her life to the Catholic Church and advocated that the church accept women as priests died Monday, and now the church will not allow her to be buried at her own parish.
Janine Denomme was ordained a priest in April by a group called Roman Catholic Womenpriests, according to Chicago Public Radio. Though the church excommunicates women who pursue ordination, Denomme had "always wanted to be a priest," and decided to be ordained anyway.
Denomme was diagnosed with cancer before she was ordained, and blogged about her relationship with the church and dealing with her illness. The Windy City Times reports:

Denomme was active in the church throughout her life. Over the years her family and friends watched her struggle between her belief that she was called to ministry and the Catholic Church's refusal to open ordination to women. Deciding to accept ordination through RCWP brought her peace, says her brother Mark: "For the first time, she felt she could fulfill her vocation in ministry and not abandon the faith, the rituals, the liturgy she loved."

The 45-year-old Denomme was director of youth programs for the Center on Halsted and served as a lay preacher, church musician, parish council member, spiritual director and religion teacher for the Catholic church. Despite her strong faith and close ties to the church, the Archdiocese of Chicago refuses to allow her to be buried at her Catholic parish.
Chicago Public Radio reports:
The Catholic church never recognized Denomme's ordination. The Archdiocese of Chicago says Denomme automatically separated herself from the Church when she participated in "the simulation of the sacrament of Holy Orders." The diocese says she knowingly and willingly participated in the simulation and brought excommunication upon herself. And because of that Denomme is denied a Catholic funeral. The Archdiocese says Denomme would only be allowed a Church burial if she gave "some sign of repentance before death."
Instead, Denomme's funeral mass will be held at First United Methodist Church in Evanston.
Related
Popular in the Community