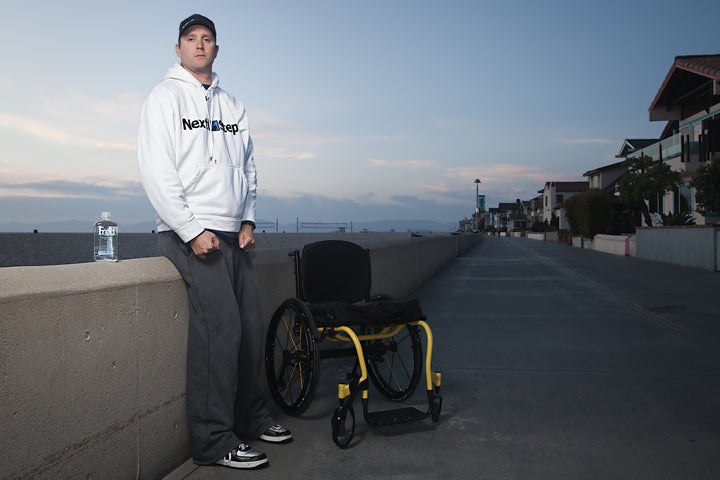 Janne Kouri had a great life -- a successful career as director for a digital entertainment company, a new California beach home, a beautiful girlfriend and terrific friends. "I was living the dream," Kouri said. "I couldn't have been happier. I had a lifestyle most people aspire to live."
On Monday, NextStep announced its first national fundraising effort, Wheelchair For A Day 2012, where able-bodied people spend one day in May in a wheelchair and document the experience through video and photographs, to raise awareness for patients with spinal cord injuries. Kouri points out that these patients spend only 36 days in rehabilitation before being discharged home -- he hopes to provide not only the next step after rehab but their first step out of the wheelchair.
What happened on that day you fractured your vertebrae?
I was playing volleyball with some friends. It was a hot summer day, so I decided to run to the ocean like I had every day I was at the beach, dove into a wave and hit a sandbar hard.
Did you know immediately that something was wrong?
I was in a state of shock. A wave struck me over and I was floating on my back -- I was able to take some breaths of air when I wasn't swallowing water and to keep myself afloat for about 30 or 45 seconds until someone saw me and pulled me ashore. I remember thinking, "This could be my last breath." But I fought hard to stay alive as long as I could.
When did you first hear the diagnosis?
Soon after the injury, a nurse and doctor told my girlfriend I would never walk again and there was no hope for my recovery. It was hours afterward when I heard the news. It was actually a pretty short conversation. They told me medically what happened, and said, "We don't know if you're going to walk again."
Did you ever have a moment lying in ICU where you wanted to give up?
There was never a moment I wanted to give up. Once I realized I was lucky to be alive, that changed everything. There are people who experienced what I experienced and didn't make it out alive. So that realization motivated me. I love life. I wanted to show myself and my family and all my friends I was capable of getting out of this on top.
From there, it just became a process of figuring out what was the next step in my recovery. I was a hard-working, determined individual, and I wasn't going to listen to what any doctor told me. I was going to fight the fight and beat this thing. My girlfriend at the time, who's now my wife, researched the best options across the country and found the most progressive type of rehab.
Where did you have to go to find this progressive rehab center?
Louisville, Kentucky. There wasn't a single progessive rehab center anywhere in California, not a single facility west of the Mississippi that offered Locomotor training, which involves harnessing somebody living with paralysis over a treadmill, with trainers moving your legs for you and stabilizing your hips. You're basically simulating what it is like to walk, in an attempt to retrain the nervous system. It's the best therapy for people living with spinal cord injury. And there are lots of other health benefits to it beyond just training the body to walk again -- blood circulation, improved blood pressure, increased bone density, muscle mass.
I was an inpatient at Frazier Rehab for six months and stayed on for another six months as an outpatient. It was an absolutely fabulous experience. They pushed me every single day. It was a very intense program and that's what I was looking for. Their thinking was you can recover from this type of injury, that there was hope -- that type of positive attitude.
You started and sold a mobile gaming company after college. Do you think the entrepreneurial drive that helped you to do that also helped you get through this personal challenge?
Without a question. It's just another challenge. Starting a business is a challenge you face each and every day, and this is the same type of thing, just overcoming obstacles and having a great attitude, staying mentally positive no matter what you face. And it's just as much a mental battle as it is a physical battle.
When did it occur to you that you should start a rehab center yourself?
Six months after the injury, after getting out of the hospital and starting to think about what I was going to do for the rest of my life. I knew I wanted to go back home to Hermosa Beach and continue to live same lifestyle I was living. I wouldn't let the injury stop that from happening, but at the same time I knew I needed to keep doing progressive therapy. That was what sparked something -- to do this not only for me but for others who are living with paralysis. We took everything they offer at the most progressive rehab center in the country and created a community-based facility. We want to ensure that anybody with a physical disability has access to the best type of rehab for the rest of their life.
What was it like starting a company in a completely different industry?
With any startup, it's never a smooth operation. We were the first ones to do what we were doing, so we were just building from the ground up. We made mistakes along the way. Obviously it's a difficult economic climate for fundraising, and we require a lot of funding. But we persevered and figured out a business model that works.
We want to expand to communities across the country, so people don't have to quit their job or have their family leave their homes while they're in rehab. The next one we want to open is in Washington, D.C., in 2013. We are researching other communities as well -- Vegas, New York, Phoenix -- as well as globally.
Hundreds of people have come through NextStep since you opened. Do their stories inspire you?
Absolutely. We hear unbelievable life-altering stories every day. Imagine you're stuck at home and have no access to any type of exercise or therapy. It can be very depressing, not only physically but mentally debilitating. We hear countless stories of people who were stuck at home and had given up on life to becoming independent, going back to work, driving a car, traveling, getting married, having children getting up out of that chair for the first time walking with a walker.
Considering I was told I would never be able to walk, to be able to stand completely independently for 30 seconds has been miraculous for me. That happened about two weeks ago.
This is such a true passion in life. I love what I'm doing. When I wake up, I'm excited about the day, excited about the lives we're changing. What we're doing is an incredible experience. This has been a blessing in disguise.
So instead of questioning why, you're saying this all happened to you for a reason?
I realized that very quickly. For a couple years before I got injured, I told my girlfriend I really needed to do something with my life to help others. I had always been involved with charities loosely but never really dove into that completely. So when this happened, it was like a slap in the face, saying this is your opportunity to do something. This is your mission in life.
Name: Janne Kouri
Company: NextStep
Age: 36
Location: Los Angeles
Founded: 2007
Employees: 11
Website: www.nextstepfitness.org
Popular in the Community