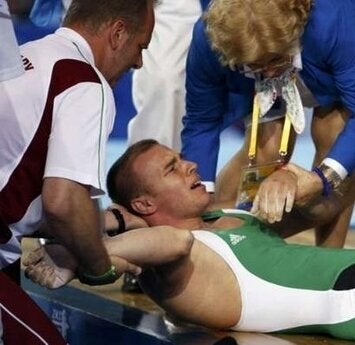 ***WARNING: GRAPHIC IMAGES AND VIDEO BELOW***
Scroll down for pictures and video of Janos Baranyai's elbow turning inside out
London's Daily Mail reports on Janos Baranyai, the Hungarian weightlifter who turned his elbow inside out in a horrific display in Beijing Wednesday:
This is the moment Hungarian weightlifter Janos Baranyai's first Olympics ended in agony when he dislocated his right elbow in the ugliest moment yet of the Olympic weightlifting competition.

Baranyai was trying to snatch 148kg in his third lift in the men's 77kg division, when his elbow popped out of its socket.

No longer able to support the weight of the barbell, his right forearm bent backward. The 24-year-old Hungarian fell to the floor in shock, shaking and crying out in pain.

Hungary's coaching staff and competition officials rushed to Baranyai's aid as he lay trembling on the floor, his arm limp and twisted out of position.
Read the entire article here, or view photos and video of the accident below: