While the economics of the Los Angeles art scene are still a long way off from the peak in 2006, the activity at exhibitions and in studios is as frenzied as ever. January sees three art fairs (PhotoLA, the Los Angeles Art Show, Art Los Angeles Contemporary) bringing in dozens of galleries from around the world as well as corralling the local spaces in a setting that does not require fighting traffic more than once nor multiple feats of parking meter ESP between gallery visits. Read on to hear the buzz that people are not talking about...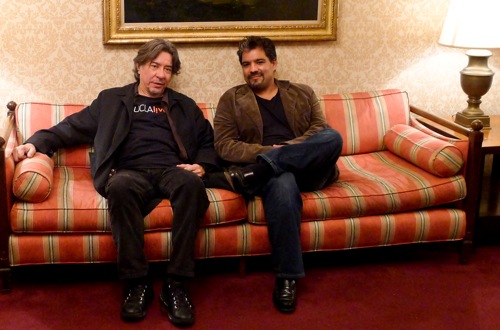 Eloy Torrez and Roberto Oregel
•Known as one of L.A.'s most outstanding muralists, Eloy Torrez is second only to Kent Twitchell in my book, but a new film by Roberto Oregel, Eloy Take Two is a trilogy exploring the creative process of a man who is also an accomplished musician as likely to be found in the recording studio as the scaffolds. A recent screening at Downtown's L.A. Athletic Club dazzled a partisan crowd, who enjoyed the lyrical first installment of the film with scene-stealing Cheech Marin, one of Eloy's biggest collectors. In one memorable exchange, the workaholic Torrez (who won a 2009 City of Los Angeles (COLA) grant for his studio painting painstakingly composed in his Spring Street studio), explains to Cheech that he wouldn't get anything done if he smoked pot. A delighted Cheech looks anything but disappointed in the master painter's process, cracking a smile that just screams "well, there will be more for me then!"
•Southern California is home to many too-big-to-fail art schools that conspire with big banks to seduce students into debt pied-piper style with visions of art stardom padded with theoretical prose. And since everyone gets passed along, especially at the MFA levels, one can at least rely on our local art teachers to turn in their (inflated) grades. Somewhere in this great land of ours, a "genius" art writer left his Fall semester students high and dry, going awol after the semester's end. On January 5 a furious student forwarded his pathetic email excuse for missing a grade posting due on Christmas: On 5 September I fell into my tub, which wasn't where I expected it to be, dislocated three fingers and splintered my shin, this make it hard to type and walk. I am making a comeback but not too fast. So sorry. You might forward this to my Tuesday night class.
•The artsiest, edgiest pornographic movie in years, Carlos Batts' Artcore starring April Flores, has nothing to do with the venerable Los Angeles non-profit exhibition space by the same name, L.A. Artcore. You might have some explaining to do if someone looks over your shoulder as you google the 2011 show schedules of the gallery's downtown locations.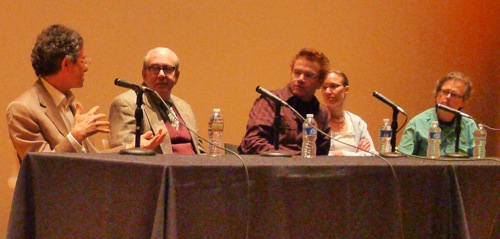 Panel talk at MOCA with (L-R) Jeffrey Deitch, Robert Williams, the author, Meg Linton, Jim Shaw.

•MOCA director Jeffrey Deitch joined a panel discussion that I moderated for artist Robert Williams after the screening of "Robert Williams Mister Bitchin" (full disclosure: I appear in about 90 seconds of the film). Deitch had endless praise for Williams, master painter and founder of Juxtapoz magazine; he also reminisced with artist Coop about the old Deitch Projects days, but was forward looking in his simple assessment of MOCA's mission: He told me that Los Angeles was the capital of cultural creation and convergence culture and that these had to be seized upon to make the museum relevant. When Jaime Zacarias, aka Germs, stopped by the afterparty and introduced himself, Deitch immediately googled the artist on his iPhone and was brimming with questions. One thing I forgot to ask him about was the big controversy. No, not that so-last-month mural controversy (about which he firmly stands). The big cauldron of complaints this month is the reproduction of a Daniel J. Martinez installation on the membership calendar. It is just a visual of a rabbit impaled on a human forearm with a pistol shaped hand emerging from the mouth and pointing toward a wall of dripping blood. Apparently lots of local schools get the museum calendar of events and they apparently still teach "Peter Cottontail" as a singalong and were aghast at the stunning Martinez image.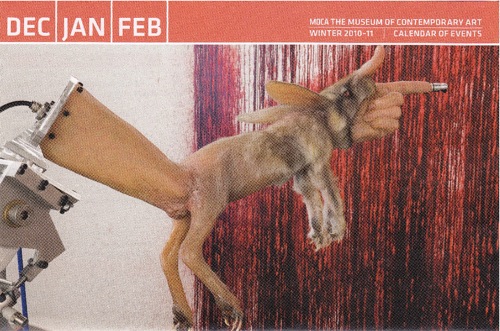 MOCA Quarterly Calendar
•Here is an easy blind item to see if you are paying attention. What big name but notoriously anti-social photographer succumbed to his anxieties at the opening of his recent museum retrospective? Word is he drank so heavily just to do the glad-handing routine that a half-hour into the party, sick from drink, he vomited in the museum galleries.
•Art in America honcho Peter Brant wooed Stephanie Seymour back into his arms, which is one thing Axl Rose cannot say. The rocker dated Seymour when Guns N Roses were at their hottest and the flames of success did not mix well with the flames of love. How bad was it all? One well-known Los Angeles fine art photographer has the goods, having shot with a bulky Hassleblad, in the early 90s, the then-couple's magnificently graffiti-trashed Laurel Canyon love nest. Seems Axl was as poetic with a can of spray paint in his hands as he was when welcoming listeners to the jungle. Having sat on tabloid history for two decades, this fine artist snapper is currently considering gallery representation in Los Angeles. Her photo series exploring the dissolution of domestic bliss under the duress of fame and fortune was produced in her signature style of set-up and constructed large-scale images. And rock 'n roll, of course!
•Want to see a picture of Robin Gunningham, aka Banksy? Erik Brunetti, proprietor of the FUCT clothing and as early a developer/proponent of what is now termed "Street Art" as exists, is shopping his polaroid portrait of the now-legendary stenciler shot in the early 1990s at Slam City Skates, the then-UK distributor for Bruneti's influential streetwear label. Bruentti told me a half million dollars will buy the shot and all the rights to publish/market it. Few if any have the street cred of Erik Brunetti to make such a boast and not back it up.
Calling all HuffPost superfans!
Sign up for membership to become a founding member and help shape HuffPost's next chapter