Senate Minority Leader Mitch McConnell (R-Ky.) on Tuesday issued a rare rebuke of Fox News after one of its hosts downplayed the Jan. 6, 2021, riot at the U.S. Capitol.
Speaking to reporters on Capitol Hill, McConnell said his party's favorite cable network erred in its airing of Capitol security footage from that day on conservative host Tucker Carlson's program Monday night. Carlson claimed the violent attack on the Capitol was overhyped, pointing to cherry-picked footage of Donald Trump supporters calmly walking through the Capitol.
"It was a mistake for Fox News to depict this in a way that's completely at variance with what our chief law enforcement official here at the Capitol thinks," McConnell said Tuesday, holding up a letter from the head of the Capitol Police that he said "correctly" summed up the events.
Capitol Police Chief Tom Manger's letter to his department said the Fox News report was "filled with offensive and misleading conclusions" about the attack, in which more than 140 police officers were injured after a mob of Trump supporters stormed the Capitol in an attempt to prevent the certification of the 2020 presidential election.
"I want to associate myself entirely with the opinion of the chief of the Capitol Police about what happened on Jan. 6," McConnell said Tuesday.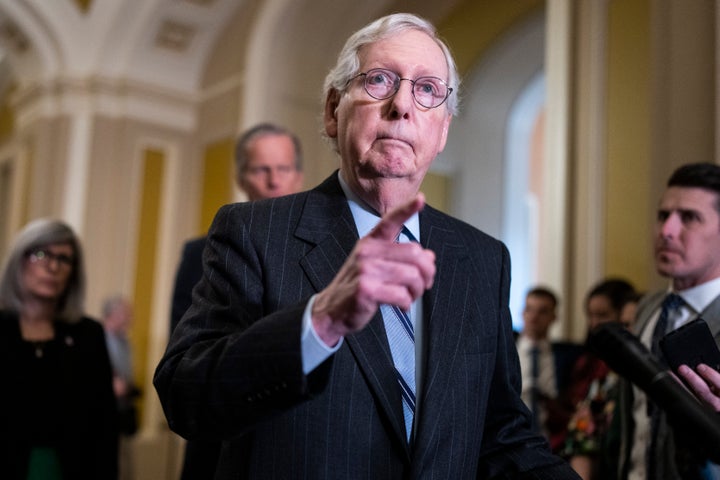 It is very rare for McConnell to bring up, unprompted, anything having to do with Trump and the Jan. 6 insurrection. It's even more unusual for him to criticize a GOP-friendly network on which he often appears.
Other GOP senators also ripped Carlson on Tuesday after he attempted to whitewash the Jan. 6 riot. Sen. Thom Tillis (R-N.C.) called it "bullshit"; Sen. Kevin Cramer (R-N.D.) said the event "was clearly more than a peaceful protest of some rowdy boy scouts"; and Sen. John Kennedy (R-La.) called the events of Jan. 6 "an abomination."
McConnell's decision to call out Fox News stands in sharp contrast to House Speaker Kevin McCarthy (R-Calif.), who gave Carlson exclusive access to the Capitol security footage. The speaker has yet to address Fox News' use of the footage.
Last week, McCarthy defended his decision to grant Carlson access to the footage. "It almost seems like the press is jealous," he told The Washington Post.
Senate Majority Leader Chuck Schumer (D-N.Y.), meanwhile, called on Fox News chief Rupert Murdoch to stop Carlson from airing more falsehoods about the Jan. 6 attack on Tuesday evening.
"I don't think I've ever seen an anchor treat the American people, and American democracy, with such disdain," Schumer said of Carlson. "And he's going to come back tonight with another segment. Fox News should tell him not to. Fox News — Rupert Murdoch — tell Mr. Carlson not to run a second segment of lies. You know it's a lie. You've admitted it's a lie."
Popular in the Community