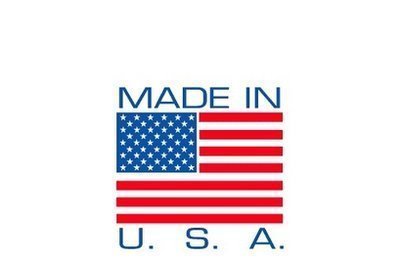 Last month, and for the first time, car sales in China were better than those in America, an estimated 790,000 Chinese sales versus 657,000 in the US. The US market was down last month 37.1% over January, 2008, and the big question is: When will -- and can -- the sales drought end?
January's US car sales were the worst in more than a generation, in fact, since 1982, which was the height of the sales repercussions from the first gas shortages and the then-terrible quality of too many American-made cars and trucks.
Our recession could morph into the Second Depression, easily and quickly, if the US auto industry continues to suffer losses like those experienced last month.
There are over 3 million people in the US who depend directly on the car-making business for their paychecks, and each and every one of them is now in real danger of losing their job.
And US auto parts suppliers are asking for up to $20.5 billion in federal aid to survive this worst industry downturn in decades.
Suppliers are requesting $10 billion in direct loans from the Treasury Department, said Neil De Koker, president of the Original Equipment Suppliers Association in suburban Detroit. They also are asking for an additional $10.5 billion that will flow through the Detroit Three so that suppliers can be paid in 10 days for parts delivered instead of the traditional 45.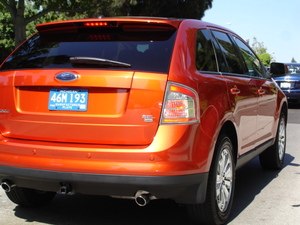 (Ford's Edge was all the rage just 2 or 3 years back; today, the company, with a slew of gas-thirsty vehicles but a highly-anticipated 41mpg Fusion hybrid which doesn't go on-sale until later this year, may - once again, as it was for a few years in the 1970s and '80s - be in danger of failure in the US).
One piece of good car industry news yesterday came from Maryland's democratic Senator Barbara Mikulski and her Auto Assistance Ownership Amendment, passed by the Senate and now part of the stimulus package. The rule makes interest payments on car loans tax-deductible for new cars purchased between November 12, 2008 and December 31, 2009, which, according to the Senator's office, "will help more Americans afford cars during these tough economic times and spur investment in America's ailing automobile industry." For more information, click here.
January's US sales losses for almost all carmakers were simply remarkable and unprecedented this century, and for much of the last. In Detroit, Ford's January sales were down 41.6%, General Motors' losses amounted to a 48.9% loss and Chrysler - poor, now Euro-owned-again Chrysler, which had the chairman of their new 35% owner Fiat marching through their headquarters and factories last week - saw their January sales drop 54.8% over the first month of 2008. Fiat and Chrysler have some good ideas for working together -- But who's going to pay to retool the US Chrysler factories to build small, efficient Fiat cars and engines? And who's going to prepare Chrysler's "viability report" for Washington, and then pay back the loans? Chrysler's (now) minority owner Cerberus Capital says: Let Fiat do it.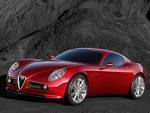 (Fiat's new and gorgeous Alfa Romeo 8C might be sold at Chrysler dealerships in the US if the company's combine to their best strategic advantage; but it's selling for about USD$160,000 in Europe, a price which won't be bringing a lot of minivan or Challenger or Caliber or Jeep buyers into Chrysler's US stores).
Irony Department: When Daimler bought Chrysler in 1998 for $36 billion, they said one of the major reasons they made the purchase was to take advantage of Chrysler's then-vaunted small-car, small-engine development and manufacturing capabilities.
GM and Chrysler are to submit turnaround plans to Congress this month, and both have said they would need additional funding to remain afloat. Ford has said it does not need government help but has reserved the right to seek a line of credit from the government.
In response to the crisis, automakers have taken significant strides to cut costs. This week GM and Chrysler made buyout offers worth up to $75,000 to all hourly employees.
Though carmakers, especially Detroit's, blamed some of their losses on daily rental companies cutting back on purchases as the travel industry suffers, the Detroit Three had actually been cutting their fleet sales for some time, because their profit margins on those units are so thin. Why sell a Malibu fleet unit to Hertz and make $200, when you can sell a retail Silverado and make over $10,000 in profit? However, even GM said today that, at this point, a sale is a sale, big profit or not, and they'll be doing what they can to stoke fleet, lease and daily rental sales.
It's just another unreasonable expectation for Detroit -- Until the travel business picks up and businesses in general start replacing their vehicle fleets, Detroit will be outside looking in.
In the 1980's, when I was editor of the industry monthly Automotive Fleet, which covered that then-gigantic fleet/lease/rental business, Detroit carmakers sold nearly 1/3 of all their cars and trucks in that marketplace, and had been doing so for decades. Many companies and municipalities had "buy American" rules governing their fleets, from police departments, which often bought up to 100,000 US-made cars in a good year, to phone company and public utility trucks and fire department engines and ambulances and more.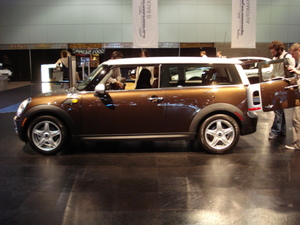 (Mini's new wagon is a hit, seen here at the 2007 Los Angeles Auto Show, and a new, less-expensive version is being prepared for US' sales; Chris Bangle, chief designer for BMW, Mini's owner, responsible for the poorly-received and quickly-redone "bustle-back" rear-end of the 7-series, and the X6, BMW's design answer to the Pontiac Aztek, announced yesterday he is leaving the auto industry for "new opportunities").
Large outfits like Xerox and Big Pharma companies would buy 1,000's of new cars every year for their service- and sales-people (and executives, of course -- a new company car has always been a big US corporate perk). As imports moved into that end of the business, Detroit lost market share and today, industry-wide, fleet/lease/rental buys make-up only about 20% of all US car and truck sales.
In 2008, the industry sold 13.2 million vehicles in the US for an 18% drop from 2007's 16.1 million. According to industry journal Automotive News, January's results indicate an annualized selling rate of just 9.8 million units, matching a rate last seen in August, 1982. The sales total of 656,881 vehicles was the lowest since December, 1981 and marked the 15th-straight monthly decline.
Imports were hard hit last month, too. Daimler, including Mercedes, Smart and Maybach, was down 35.5%, Isuzu dropped 61.9%, Porsche lost 36.1% and mighty Toyota (including Scion and Lexus) saw their US sales drop 31.7%.
Only Subaru and Hyundai saw small gains last month over their January, 2008 sales.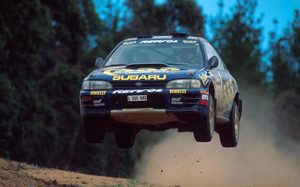 (The late Colin McRae gets his Subaru Impreza WRX World Rally Car airborne; the company always does well with their wintertime sales; their all-wheel drive wagon has been the best-selling station wagon in the US for many years, doing especially well in snow belt states).
Overseas, the numbers were bad, too. Japan was down almost 5%, Mexico lost nearly 20% of their sales, while in Europe, December '08 marked the eighth straight month in which sales were down year-on-year. For all of 2008, sales in 28 European markets fell by 1.2 million units to 14.7 million, about 1 million more than were sold in the US last year.
So when does this trend turn around? In their conference calls with reporters yesterday, none of the Detroit Three predicted any sales increases until - possibly - the second half of 2009.
GMAC, now a bank holding company, and which just received $5 billion from Washington (and another $1 billion from GM via Washington) financed barely 5% of GM's paltry January sales, and lost $1.34 billion the last quarter of 2008. In past years, GMAC financed new cars and trucks for as many as 50% -- or more -- of GM's customers.
But GMAC swung to a $7.46-billion profit, thanks only to proceeds from a huge debt swap.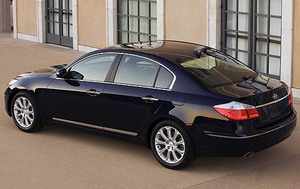 (Someone say "Korean BMW?" The good-looking Hyundai Genesis 300-horsepower V8-equipped sedan; Hyundai's offer of allowing customers who lose their income within one year of buying a new Hyundai helped the company to a sales increase in January, and only Hyundai and Subaru achieved that mind of January success).
At the Washington, DC Auto Show, which was opened to the media and politicians (and lobbyists) Tuesday, manufacturers took aim at the Obama administration's decision last week to reconsider California's request to waive federal rules in favor of the state's own stricter limits on greenhouse gas emissions.
Some are questioning if Detroit is using money from government loans to lobby politicians.
One major question from all this: Is Ford now also in danger of failing? So far, the company has avoided taking loans from Washington, but their 2008 loss of $14.6 billion, compared with $2.7 billion lost in 2007, doesn't bode well for the company's stability in the US market, especially.
Popular in the Community