This 19th warmest ranking also means that January was the "coolest" month in the past four years.
The overall cooling tendency of La Nina, record cold in Alaska (not counted in the stats for the contiguous U.S.), and widespread cold in Eastern Europe, the Middle East, and Asia tempered the unusual warmth across the United States.
The combined global land and ocean average surface temperature in January was 54.3 degrees Fahrenheit, which is 0.7 degrees Fahrenheit above the 20th century average. Separately, the land surface temperature was 1.1 degrees Fahrenheit higher than the 20th century average (26th warmest on record), and the global ocean surface temperature was 0.54 degrees Fahrenheit warmer than the 20th century average (17th warmest on record).
There are a number global temperature measurements and a number of rankings, which can lead to confusion. The statistics referenced here are based on NOAA's preliminary global climate data, which is released each month. Each month is compared to itself (January versus all previous January months, July versus all previous July months, etc.), and the result is individual lists of the months ranked in order from warmest to coolest, with the data extending back to the 1890s.
In these terms, January 2012 ranks as the "coolest" individual month since January 2008, which was the 31st warmest January on record, and January 2012 is only one of five months out of the past 48 that has not been in the top 10 warmest on record. For comparison, eight of the 48 months have been the warmest or second warmest on record.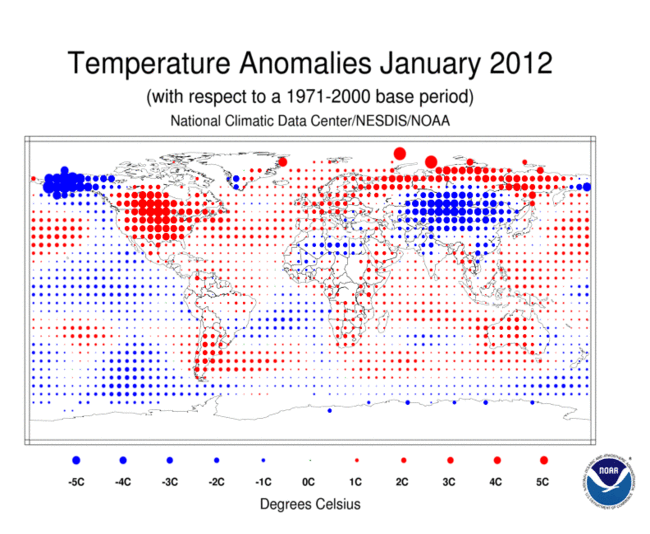 It will be interesting to see how the battle between the U.S. warmth and European cold will play out in the global temperature statistics for February, and I'll include an update when those stats become available.
Related
Popular in the Community