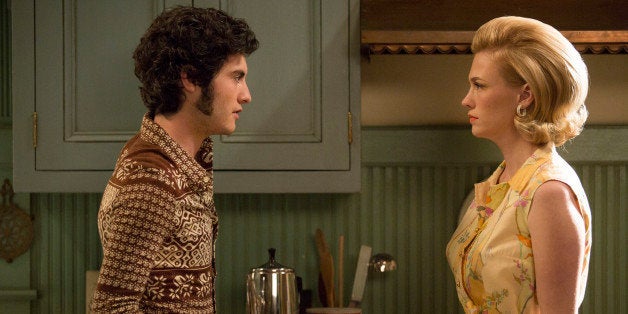 Warning: This interview contains spoilers for "The Forecast," the 10th episode of the final season of "Mad Men."
When we sat down with January Jones on Monday to discuss the new movie "Good Kill," which premiered this weekend at the Tribeca Film Festival, she wasn't sure which "Mad Men" episode had aired the previous night. We told her it was the one with Glen Bishop's return, and Jones smiled knowingly. The strange neighbor child who once kept a lock of Betty Draper's hair in his treasure box is grown up and preparing to enlist in the military during the Vietnam War after one final visit to the woman who fired her housekeeper for letting him enter the house. Before gabbing about "Good Kill" (directed by "Gattaca" and "Lord of War" maestro Andrew Niccol), we asked about Glen's big return and what Jones thinks the future has in store for Betty and Sally.
In your eyes, what is Glen Bishop's significance in Betty's life?
Well, I think it's changed. I just watched a clip from the first season when she comes up to him in the car outside the bank. I hadn't seen it in forever. I think at that point he was a confidant, in a way, and just a reflection of who she was, and you saw in that relationship just how emotionally immature she was. It's gone through many phases. There was a phase when she was jealous of Sally's relationship with him, and now this new thing made her realize how inappropriate she was actually being, or how inappropriate the relationship was. Or she maybe is flattered.
She's still primping her hair upon seeing him.
Right. I think, selfishly, she's never really thought about how meaningful it is. She never really thought about what it meant for him.
She says she can't take the relationship further because she's married, but would she have been more willing were she not?
No, I don't think so. I mean, being married hasn't really changed any of her moves.
Is it awkward to shoot those scenes, especially knowing the actor is Matt Weiner's son?
Yeah, but I've known him since he was little now. Some of that stuff was awkward. I felt his hesitation and awkwardness. Not in the earlier stuff, but in the new stuff, because he's, like, a man now. He's 18 and he gets what he's saying. Before, I don't even know if he did. Yeah, they were awkward, but I think they needed to be. I think that's what made it beautiful, but I haven't seen it to know how it actually turned out.
Do you see any of yourself in the way Sally is growing up and embracing her generation's rebelliousness?
I think Peggy and Sally very much represent a modern version of a woman, and I feel like Joan and Betty were kind of the old-fashioned versions, for the show anyway. So I see a lot more of myself in Sally than in any other character, and I think most modern women would say that. And I also see a lot of myself in Kiernan Shipka, just because I've known her since she was 6. It's a very interesting dynamic. I feel like if I had lived in the '60s and had been her age, I would have been more like her than anyone else. I feel like I would have asked questions, but it's hard for me to say because I don't know how I would have been raised then. What if I was raised like Betty, which is just to keep my opinion to myself and not have any aspirations? It's hard to say.
Do you think Sally will bring out more open-mindedness in Betty as the '70s continue?
I think she already has. I think that Betty sees in Sally what she's always wanted for herself. She's raised this child, unintentionally creating this person she does admire but is probably jealous of. And Betty's still sort of emotionally stunted, and the pride she takes in telling Don she's going back to school is sort of sweet. I think Sally may have been a motivation for that, or else she just wanted to educate herself because she felt so trapped in the times. There was a scene last season where she feels like she's bolstering Henry's political career by spouting her opinion and realizes that his opinion on it had changed, and then she feels so foolish for being disrespected. I think that also might have been another catalyst.
Other than Betty, which "Mad Men" character will you miss the most?
Don. Cliché.
The final season of "Mad Men" airs Sundays at 10:00 p.m. ET on AMC.
"Good Kill" opens May 15.
Calling all HuffPost superfans!
Sign up for membership to become a founding member and help shape HuffPost's next chapter
BEFORE YOU GO