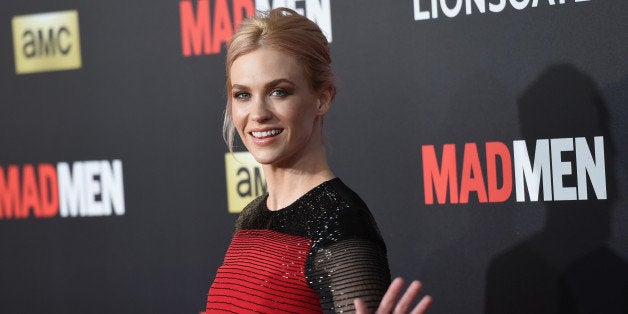 Warning: This post contains spoilers for "Person to Person," the series finale of "Mad Men."
"Mad Men" made a concerted move to bid farewell to each of its principal players during Sunday's finale, with most of them sailing off to happier horizons. Even Meredith had a smile on her face after Roger sacked her. Arguably the only character guaranteed an unhappy ending -- depending how you interpret Don Draper/Dick Whitman's semi-ambiguous future, of course -- is Betty, who was diagnosed with lung cancer in the penultimate episode. That tragic news gave January Jones an Emmy-worthy scene in which she told Don over the phone not to assume care of Sally, Bobby and Eugene, seeing as he hasn't exactly been a hands-on father lately (or ever).
Betty was long ago cemented as one of the show's defining characters. The obvious winner of television's Monster-Mother Award, Jones -- like much of the "Mad Men" cast -- will forever be followed by the shadow of her iconic contributions to the show. And for good reason: None of her screen roles since "Mad Men" premiered in 2007 have eclipsed the impact, and corresponding fan debates, of Betty. (Jones' most substantial gig came with 2011's "X-Men: First Class," in which she portrayed Emma Frost.)
So how does the woman who gave us Betty Francis (formerly Betty Draper) determine her next career moves? The same way she did throughout the show's run, Jones told The Huffington Post during last month's Tribeca Film Festival, where she had a supporting role in the new movie "Good Kill," which opened this past weekend in limited release. "I tried to do all kinds of different things and not put myself in a place where I'd be typecast," she said.
That meant Jones, 37, initially "balked" at the "Good Kill" script, which casts her as the wife of a U.S. Air Force pilot (Ethan Hawke) who cares for their children while her husband grows increasingly disillusioned and distant. (Sound familiar, "Mad Men" fans?) Not wanting to step into the shoes of another suffering housewife, Jones was reluctant to draw again from the same headspace that dictated her tenure in the House of Matthew Weiner.
"She had severe communication problems with her husband and she didn't know much about him," she said of her "Good Kill" character, indicating another connection to the AMC series. "But the parallels ended there, and I also felt like if I'm going to limit myself from playing a wife and a mother for the rest of my career, I'm not going to work because women are wives and mothers, and it doesn't make them any less interesting."
Now that "Mad Men" has actually ended, Jones will have to hunt for the role that becomes her next Betty. After "Good Kill" premiered at the Toronto International Film Festival last year, Jones appeared as reported boyfriend Will Forte's love interest on the Fox hit "The Last Man on Earth." ("I didn't want to do another TV show right away, but it was just too good to pass up," Jones told Entertainment Weekly.)
She overcame that resistance rapidly, as she did her desire not to play more wife-mother combinations. "I had to overcome that," she said. "I can't play another wife? That's silly and foolish, so I got over that really quickly and just realized it's very different subject matter and a different character than I'd ever played before."
Whatever path Jones' career takes, we'll miss you, Betty.
Calling all HuffPost superfans!
Sign up for membership to become a founding member and help shape HuffPost's next chapter
BEFORE YOU GO