It's only January, but you're probably already behind on all the high-profile shows Netflix has released in 2018. Unlike past years when you could easily have an idea about all of Netflix's originals ― remember when watching the now-culturally-banished "House of Cards" was enough to feel in the loop? ― it's likely you're already lost.
In this abundant streaming age, you might be wondering what the heck is the bizarrely named "DEVILMAN crybaby" and whether "The End of the F***ing World" is really as good as its 97 percent rating on Rotten Tomatoes. Maybe even whether the Barack Obama and David Letterman show follows a standard interview format or is something else entirely, like the best buddy-cop comedy ever created. (Unfortunately, it's the former.)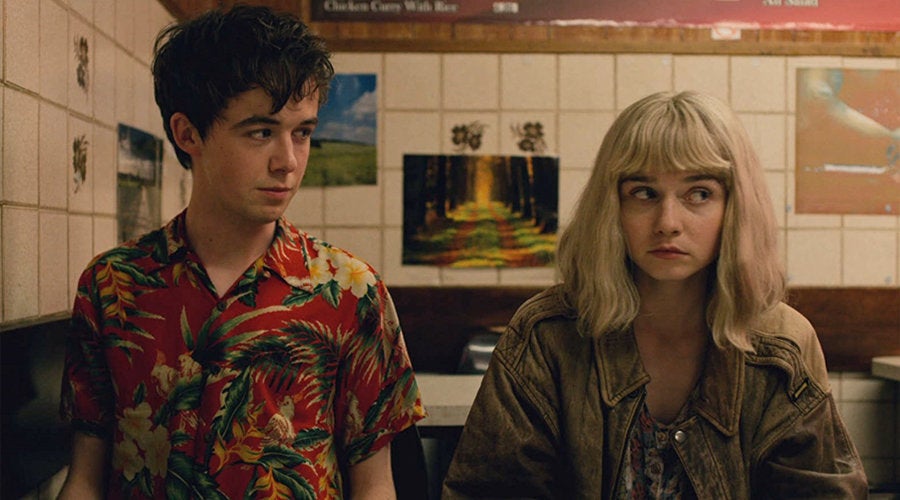 With this avalanche of new shows in mind, Streamline will now be rounding up the best of the best each month, rather than waiting until the end of the year.
Streamline already does a weekly ranking of Netflix shows, but because of a  methodology choice, those rank newness heavily and also include some shows from the past. This monthly series will just be a straightforward ranking of what Streamline thought was best. The monthly rankings will also consider nonfiction shows ― a category that doesn't get included in the weekly roundups.
This month, the aforementioned "The End of the F***ing World" tops the list. Despite "My Next Guest Needs No Introduction," the Obama and Letterman show, not being a contemporary take on a city-based sitcom where Obama is a successful comedian and Letterman is a man-child sidekick, that new project still comes in second.
Read on for the rest of the rankings, plus explanations into what makes these new shows and seasons special.

This is part of Streamline, HuffPost's weekly recommendation service for streaming shows and movies. Every Saturday, Streamline ranks the best shows to watch online, including a specific focus on Netflix.
#1. The End of the F***ing World
"The End of the F***ing World" debuted to just about universal praise, with only one negative review on Rotten Tomatoes.

This isn't necessarily because the show is great though. Rather, it's just clearly not bad. The actors are really fun to watch do their thing and the writing is fine enough.

Still, the conceit of the show -- comedic fantasies of killing a young woman -- is hard to get past, regardless of where the show ends up.
Bonus: An example of the misdirected marketing around this show.

Yes, this show is technically in the genre of two alt-esque kids falling in love.

Though the Netflix teasers have all played up that this is like "Paper Towns" or "Paper Heart" or some other teen movie with "Paper" in the name, that isn't really what this show is about.
#2. My Next Guest Needs No Introduction
Assuming that the constant, overwhelming reality that Donald Trump is president greatly dismays you, it's hard not to find comfort in simply watching former President Barack Obama talk for an extended period of time.

This Letterman interview with Obama isn't hard-hitting or even that entertaining, but it certainly has enough going for it to check out. As mentioned, Netflix should now just cast them in more shows using other, non-interview formats.
Netflix changed the name of this show for the third season. Its original ridiculous, insane and beautiful name, "Scrotal Recall," turned into the much more bland "Lovesick."

The actual content of the show has remained strong, though. This is a perfect mindless watch. The writing isn't inventive, but the chemistry is strong between all the actors, and the jokes are fun and easy to get behind.
The only sitcom on this list, "One Day at a Time" is a well-reviewed reboot of the Norman Lear show that ran in the 1970s and 80s.

While it's hard for sitcoms to get much critical acclaim these days, the strong writing and casting decisions have made this show a standout in Netflix's lineup.

Another easy watch.
Although "Grace and Frankie" originally debuted to fairly bad reviews, the show has gotten stronger and stronger as it goes on.

Now in its fourth season, the writing is far less shaky and the two stars, Jane Fonda and Lily Tomlin, have built enough chemistry to carry this.

Also, Lisa Kudrow joined the cast this season, which positively shook things up a bit.
This docuseries focuses on different ills in the contemporary food industry. If you make it through the different episodes, there's certainly a ton to learn about the myriad ways you're being scammed as a consumer and contributing to various ethical atrocities.

The editing and reporting in these episodes isn't as top-notch as other similar projects, making the pacing of these stories sluggish. But these do focus on important issues that need more coverage, so it's hard to say you shouldn't watch this.
Streamline will never get over how amazing the name of this anime show is — there's just so much going on there.

If the name doesn't entice you by itself, though, and you're still wondering what this show is about, basically "DEVILMAN crybaby" is an anime about taking on demon powers to fight evil.

It's fine.
Calling all HuffPost superfans!
Sign up for membership to become a founding member and help shape HuffPost's next chapter