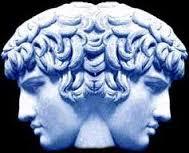 January is a time of renewal and regression, happiness and sadness, life and death. It's two-faced Janus, looking backward and forward. It's a time of resolutions, renewed vigor, and gut wrenching sadness. It's always a beginning, and too often an end.
Okay, I admit it, I have the mother-of-all-colds, and a cough that resembles a rumbling freight train, but still... January.
And soonest our best men with thee do go,
Rest of their bones, and soul's delivery -- Jonne Donne, Holy Sonnets: Death Be Not Proud
There is evidence that January is the month when the most people usually die.
From the staggering number of famous deaths so far in this very young year, it's quite apparent that death has renewed vigor from the holidays. The list grows each day -- David Bowie, Alan Rickman, Glenn Frey, Celine Dion's husband and brother, Pierre Boulez, Natalie Cole, and so many more that it becomes frightening. Their deaths, especially Bowie and Rickman, bruised my heart. They were brilliant, and gifted and the world will be dimmer for their passing.
As this month winds down and the list grows, it's like waiting for the other shoe to drop and being bombarded with an entire rack of stiletto high-heels. It's Chronos, moving forward, never backward, without recourse or sympathy and death taking the famous as well as the not-so-famous.

My mother, Stella, died on a frigid January evening several years ago. As the twilight began to change to darkness, she took her last breath. Earlier that day, I had finally worked up the courage to tell her it was okay for her to go. That her next adventure was just ahead, and that my father, (who I never met but for whom she mourned throughout her life), Uncle Mike and Yiayia were waiting for her.
Saying those words were the hardest, and least selfish, thing I've ever done. I was scared of being alone, of losing another anchor in my life, of death. I wanted to turn back the clock, to be a carefree child again, and not have to tell my mother it was okay to leave me. I assured her in those moments, though, I'd be fine, no matter what inevitability threw at me. Then I sang every hymn I've ever known, in English, Greek and even Welsh. I played her beloved Mozart and I sat with her until it was dark and she was gone.
Stella waited until mid-January before passing. She was considerate that way, not wanting to ruin anything important like the holidays or my birthday, even though I knew what was coming. Now, every four years, as a President is inaugurated, I raise a special toast to her. I know she would have been pleased to realize that even as the new President makes all his or her promises to govern wisely , that she is front and center in my memory. I can hear her chuckle, "Yeah, like that's going to happen."
It kills me sometimes, how people die. -- Markus Zusak, The Book Thief
In 1979, Stella had a particularly virulent form of uterine cancer that necessitated that she have a radium pellet inserted inside her for three days to kill it and keep it from spreading rapidly throughout her body. Then surgery and massive radiation treatments. She recovered from the disease but somehow never the treatment. It left her with scar tissue and radiation burns that remained constant reminders of her struggle with her cancer.
Every five years became a survival celebration, until we reached 25 years later. Then we learned that the effects of that radium pellet had slowly destroyed her insides, requiring radical surgery to try and repair the damage. She never rebounded from this. When the doctor at the rehabilitation center signed her death certificate eight weeks later, she actually was correct in citing the cause was cancer, even though Stella's cells had never gone awry again.
According to estimates by the American Cancer Society's Cancer Facts and Figures Report 2015, more than 1.5 million Americans were diagnosed with cancer in 2015 and over half a million died. I am guessing that doesn't even count the people who died from complications decades later.
Cancer doesn't care if you are rich or poor, male or female, Democrat or Republican, or black, white, or brown. It's an equal opportunity offender. I've had too many friends and relatives affected by breast cancer, lung cancer, bone cancer, liver cancer, pancreatic cancer, leukemia and all the other permutations of this vile disease. Some have beaten the odds and are recovering. Others, sadly have lost the good fight -- two just this past summer within days of each other. I miss those gone every day and I celebrate those still here. I applaud the new "moonwalk" effort to put our ingenuity, intelligence and drive to find a cure, not just a treatment. It's well past time to do this and I hope we can stop this disease soon.
In response to a death, Greeks utter two phrases: Αἰωνία ἡ μνήμη (Memory eternal) for the departed and ζωή σε μάς (life to us) for the rest of us. I share these with everyone who has lost a loved one no matter when or how. They are excellent sentiments. They offer comfort and sincere wishes to keep those gone ahead in our hearts and minds, and for those left behind, a reminder to live life to the fullest. So life to us all!
Even in January.
REAL LIFE. REAL NEWS. REAL VOICES.
Help us tell more of the stories that matter from voices that too often remain unheard.