One year after the tsunami and earthquake that devastated the northeast coast of Japan and left thousands of people dead, Robert Michael Poole and photographer Benjamin Parks traveled to Ishinomaki, one of the worst-hit towns, to ask survivors how the recovery is progressing, about the government's response to the disaster, and how the people are coping.
Survivor: Mikuni Fumitaka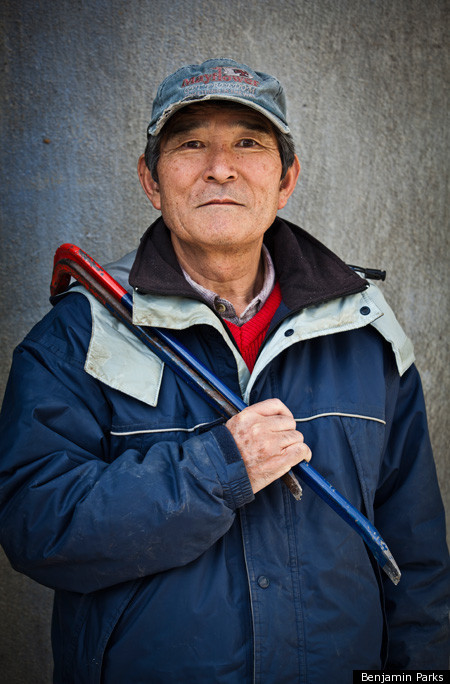 A year after the tsunami, retired 68-year-old Mikuni Fumitaka has lost none of his sprightliness. In fact, like many elderly locals, he can be found in the thick of the rebuilding effort. We found him chopping wood for a reconstructed bathhouse with all the vigor of a man half his age.
Next to his workshop stood one of many homes destroyed by water. Its first two floors were hollow and in decay, but its attic remained intact aside from mushrooms now growing on its floor -- a symbol of both the speed in which nature is reclaiming much of the land, and of new life, which Mr Fumitaka is energetically embracing.
Where were you when the tsunami struck? Fumitaka: I was in my home, which is about twenty kilometers [about 12 miles] away from the center of Ishinomaki.
How did you survive? The first thing for survival was the stove because there was no water or electricity. I had a stove, so I felt lucky, but I had to fix it first.
There was no power for the fridge, but that didn't matter, because it was winter. I had some food in there like miso soup. There was no water, but there are many wells in this area. For us older people, we couldn't lift the water -- I'm pretty powerful but the well was ten meters deep. If two people lifted the water it was OK.
I experienced the 1960 Great Chilean Earthquake when I was in high school. The tsunami wave was about thirty meters high. So I kind of knew what to expect. We couldn't understand what was happening because we didn't have TV -- because there was no electricity -- but we could use the car radio.
If we had seen the tsunami footage on TV, we might have gone crazy watching it. But in this case, because there was no TV, we could feel more calm.
What is your hope for the future? My friends and relatives died in the tsunami, so I don't want to forget them.
Is the government doing enough? They're not helping enough, and they're charging high taxes, plus the problem with the power plant in Fukushima has become more important now, so they're focusing on that instead of us.
What can we learn from this disaster? The most important thing is the connections and bonds between people.
How are the elderly coping? Older people are very calm and mature, because they had similar experiences when they were younger -- the Second World War, burned fields, and earthquakes -- compared to young people they are more experienced and are coping well.
About the co-author and photographer: Robert Michael Poole is a Tokyo-based writer, editor and entrepreneur whose work has been published by Newsweek, Wall Street Journal, CNN and Associated Press. He focuses primarily on the Asian entertainment scene, as well as lifestyle, travel and international issues affecting the region.
Benjamin Parks is a Canadian photographer based in Tokyo. He specializes in editorial and corporate portraits as well as product photography and videography. Some of his clients include Eurobiz, Metropolis, In Style, Columbia Law School and Bluetooth Signature magazines, as well as Ferrari, DHL and United Colors of Benetton.
More Ishinomaki Survivors Speak:
PHOTO GALLERY
Tsunami Survivor Stories
Calling all HuffPost superfans!
Sign up for membership to become a founding member and help shape HuffPost's next chapter