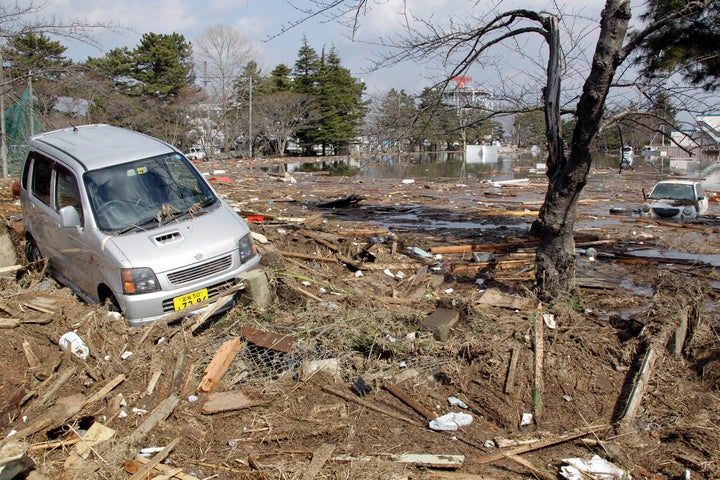 SENDAI, Japan -- Huge earthquakes rocked northeastern Japan on Saturday, a day after a giant temblor set off a powerful tsunami that killed hundreds of people, turned the coast into a swampy wasteland and left two nuclear reactors dangerously close to meltdown.
The United States Geological Survey said a strong earthquake struck just before noon in the sea in virtually the same place where the magnitude 8.9 quake on Friday unleashed one of the greatest disasters Japan has witnessed – a 23-foot (7-meter) tsunami that washed far inland over fields and smashed towns.
Saturday's magnitude 6.8 quake was followed by a series of temblors originating from the same area, the USGS said. It was not immediately known whether the new quakes caused any more damage. All were part of the more than 125 aftershocks since Friday's massive quake, the strongest to hit Japan since officials began keeping records in the late 1800s.
It ranked as the fifth-largest earthquake in the world since 1900 and was nearly 8,000 times stronger than one that devastated Christchurch, New Zealand, last month, scientists said.
The official death toll stood at 413, while 784 people were missing and 1,128 injured. In addition, police said between 200 and 300 bodies were found along the coast in Sendai, the biggest city in the area of the quake's epicenter. An untold number of bodies were also believed to be lying in the rubble and debris. Rescue workers had yet to reach the hardest-hit areas.
"The flood came in from behind the store and swept around both sides. Cars were flowing right by," said Wakio Fushima, who owns a convenience store in this northern coastal city of 1.02 million people, 80 miles (125 kilometers) from the quake's epicenter.
Smashed cars and small airplanes were jumbled up against buildings near the local airport, several miles (kilometers) from the shore. Felled trees and wooden debris lay everywhere as rescue workers coasted on boats through murky waters around flooded structures, nosing their way through a sea of detritus.
"The tsunami was unbelievably fast. Smaller cars were being swept around me and all I could do was sit in my truck," said truck driver Koichi Takairin, 34, who was pinned in his four-ton vehicle and later escaped to a community center.
His rig ruined, he joined the steady flow of mud-spattered survivors who walked along the road away from the sea and back into city. Smoke from at least one large fire could be seen in the distance.
But basic commodities were at a premium. Hundreds lined up outside of supermarkets, and gas stations were swamped with cars. The situation was similar in scores of other towns and cities along the 1,300-mile-long (2,100-kilometer-long) eastern coastline hit by the tsunami.
Japan also declared its first-ever states of emergency for five nuclear reactors at two power plants after the units lost cooling ability in the aftermath of the earthquake, and workers struggled to prevent meltdowns.
Two of the reactors at the Fukushima Daiichi plant in Futaba town were in danger and could face a meltdown if all possible safety procedures fail.
Authorities said the breakdown happened after the quake knocked out power, turning off the water supply needed to cool the system. Although a backup cooling system was being used, Japan's nuclear safety agency said pressure inside the reactor had risen to 1 1/2 times the level considered normal.
Authorities said radiation levels had jumped 1,000 times normal inside Unit 1 and were measured at eight times normal outside the plant.
They expanded an earlier evacuation zone more than threefold, from 3 kilometers to 10 kilometers (2 miles to 6.2 miles). About 3,000 people were urged to leave their homes in the first announcement.
Japan gets about 30 percent of its electricity from nuclear power plants. Authorities warned citizens to be prepared for severe power cuts. More than 1 million households across Japan, mostly in the northeast, still didn't have access to water.
In Sendai, as in many areas of the northeast, cell phone service was down, making it difficult for people to communicate with loved ones.
"I'm waiting for my son to come here. But I cannot tell him he should come over here because mobile phones aren't working," a woman in her 70s at a shelter told Japanese TV in the town of Rikuzentakada, which appeared to be largely destroyed by the tsunami.
"My husband is missing," she said. "Tsunami water was rising to my knees, and I told him I would go first. He is not here yet."
The tsunami swept inland about 6 miles (10 kilometers), and beyond that most buildings appeared undamaged from the outside.
TV footage showed several people standing on the roof of a three-story building in Miyagi prefecture (state), surrounded by mud. A man waved a big white flag, and a woman was lifting two pink umbrellas, signaling for help.
Elsewhere, aerial footage showed military helicopters lifting people on rescue tethers from rooftops and partially submerged buildings surrounded by water and debris. At one school, a large white "SOS" had been spelled out in English.
"The energy radiated by this quake is nearly equal to one month's worth of energy consumption" in the United States, USGS scientist Brian Atwater told The Associated Press.
The entire Pacific had been put on alert – including coastal areas of South America, Canada and Alaska – but waves were not as bad as expected.
President Barack Obama pledged U.S. assistance following what he called a potentially "catastrophic" disaster. He said one U.S. aircraft carrier is already in Japan and a second was on its way. A U.S. ship was also heading to the Marianas Islands to assist as needed, he said.
Most trains in Tokyo started running again Saturday after the city had been brought to a near standstill the day before. Tens of thousands of people had been stranded with the rail network down, jamming the streets with cars, buses and trucks trying to get out of the city.
The city set up 33 shelters in city hall, on university campuses and in government offices, but many spent Friday night at 24-hour cafes, hotels and offices.
Japan's worst previous quake was a magnitude 8.3 temblor in Kanto that killed 143,000 people in 1923, according to the USGS. A magnitude 7.2 quake in Kobe killed 6,400 people in 1995.
Japan lies on the "Ring of Fire" – an arc of earthquake and volcanic zones stretching around the Pacific where about 90 percent of the world's quakes occur, including the one that triggered the Dec. 26, 2004, Indian Ocean tsunami that killed an estimated 230,000 people in 12 countries. A magnitude-8.8 quake that shook central Chile in February 2010 also generated a tsunami and killed 524 people.
Associated Press writers contributing to this report: Malcolm J. Foster, Mari Yamaguchi, Tomoko A. Hosaka and Yuri Kageyama in Tokyo; Jeff Donn in Boston; Seth Borenstein and Julie Pace in Washington; Ryan Nakashima in Los Angeles; Alicia Chang in Pasadena, California; and Mark Niesse in Ewa Beach, Hawaii.
Calling all HuffPost superfans!
Sign up for membership to become a founding member and help shape HuffPost's next chapter