Japan's 2011 earthquake anniversary provides an opportunity to look back at the worst natural disaster of 2011 and the individuals it affected. The Huffington Post worked with Tokyo-based writer Robert Michael Poole and photographer Benjamin Parks to put together a series examining the lives of those who lived through the disaster in Ishinomaki, one of the hardest-hit cities both in terms of the number of lives lost and structural damage.
The people they spoke with -- from a cab driver to a sake store owner -- shared how their lives were changed and how they have set about to rebuild in the years ahead.
MIKUNI FUMITAKA: 68-Years-Old, Retired
A year after the tsunami, retired 68-year-old Mikuni Fumitaka has lost none of his sprightliness. In fact, like many older locals, he can be found in the thick of the rebuilding effort. We found him chopping wood for a reconstructed bathhouse with all the vigor of a man half his age.
.
TOSHINOBU SATO & YUKI AMANO: 75 And 23-Years-Old, Sake Store Owner & Artist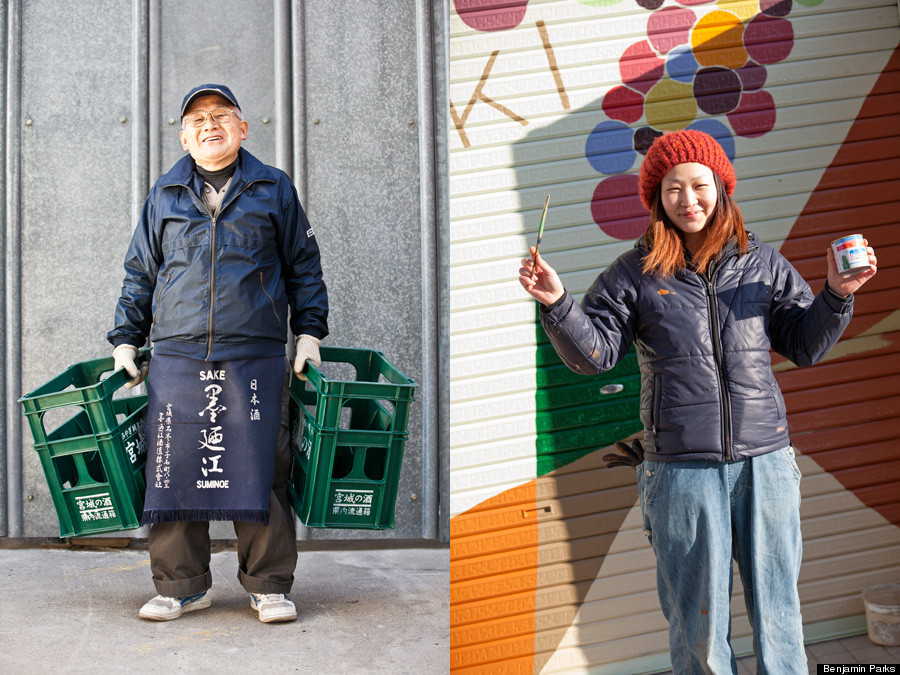 75-year-old Toshinobu Sato's sake store, Kotobukiya, has shown few scars of the damage inflicted on Ishinomaki. Yuki Amano, a 23-year-old hairdresser and artist from Osaka, is bringing back color to the town by painting the walls and entrances of shops in vibrant patterns. Both are embracing the future with a positive spirit, keen to resurrect their businesses and rebuild the community. CLICK HERE TO READ THEIR STORIES.
MORI HEIZABURO: 75-Years-Old, Flower Shop Worker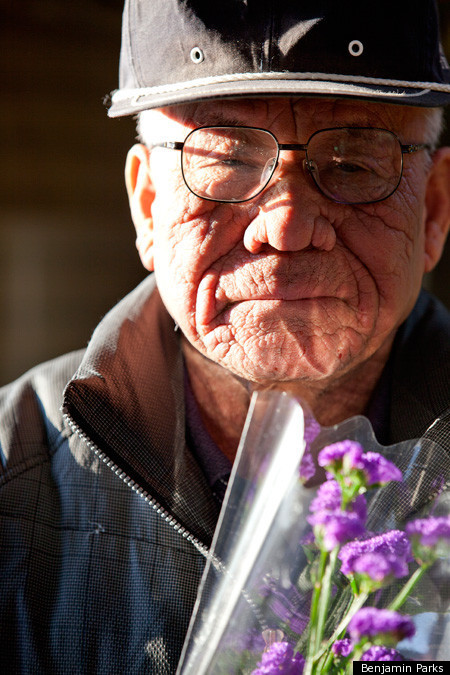 At one of several flower shops in Ishinomaki, funeral-bound white chrysanthemums line the forefront of the store. Behind them stands Mr. Heizaburo, whose smile, weathered by 75 years of coastal living, comes through to warm all those who speak to him. CLICK HERE TO READ MORI'S STORY.
YUICHI KOWATA: 70-Years-Old, Taxi Driver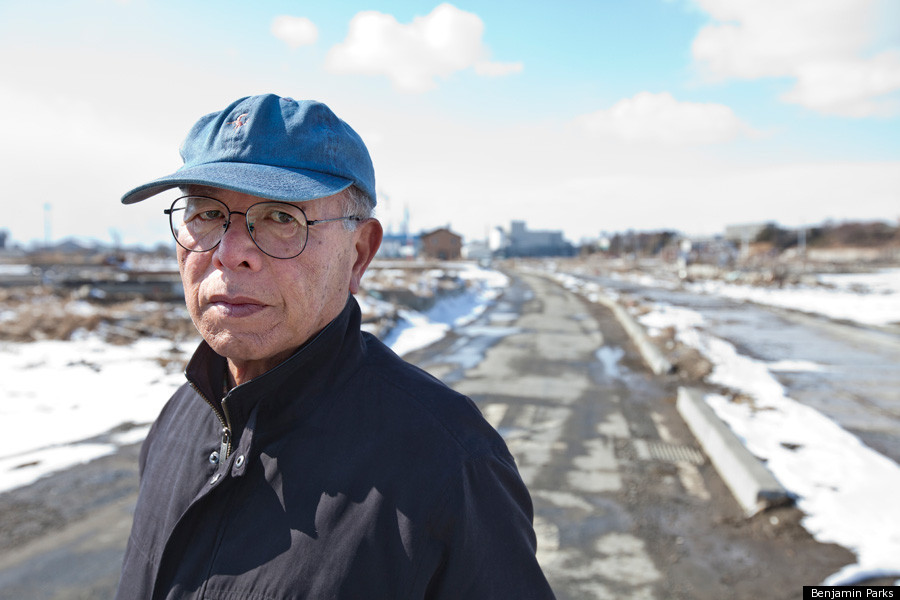 Outside Ishinomaki train station, the taxis line up for visitors and commuters as normal. Here though, like so many of the coastal towns that found themselves in the way of the tsunami, the population is largely elderly and the drivers are often retirees. Mr. Kowata, who knew the town and its inhabitants better than most, bears the weight of the town's losses in his expression. While the camaraderie of the drivers remains strong, the sense of sadness and grief is all too apparent. CLICK HERE TO READ YUICHI'S STORY.
YORIKO MIURA: 65-Years-Old, Art Gallery/Cafe Owner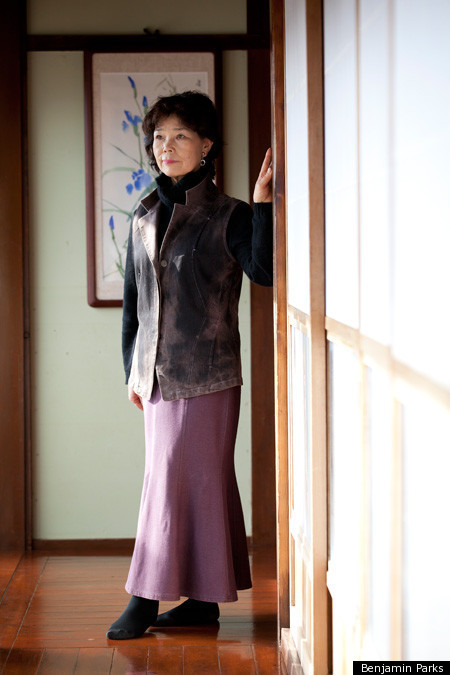 65-year-old art gallery and cafe owner Yoriko Miura runs one of the few hives of social activity for the youth of Ishinomaki. The business displays her own work as well as exhibitions of other locals artists. Ms. Miura's strength and determination are visible as she holds back the tears from the loss of her daughter in the tsunami.CLICK HERE TO READ YORIKO'S STORY.
About the co-author:Robert Michael Poole is a Tokyo-based writer, editor and entrepreneur whose work has been published by Newsweek, Wall Street Journal, CNN and Associated Press. He focuses primarily on the Asian entertainment scene, as well as lifestyle, travel and international issues affecting the region.
About the photographer:Benjamin Parks is a Canadian photographer based in Tokyo. He specializes in editorial and corporate portraits as well as product photography and videography. Some of his clients include Eurobiz, Metropolis, In Style, Columbia Law School and Bluetooth Signature magazines as well as Ferrari, DHL and United Colors of Benetton.
More Ishinomaki Survivors Speak: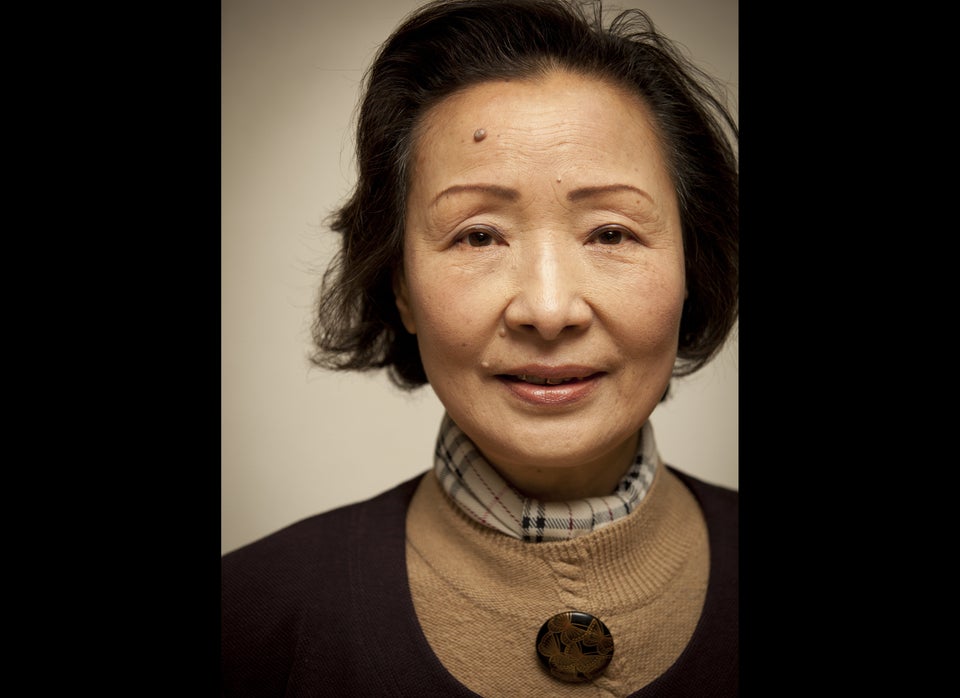 Tsunami Survivor Stories
Popular in the Community