After a 9.0 earthquake -- and subsequent tsunami -- struck Japan one year ago today, the world showed its support for the costliest natural disaster ever by donating online, via text, through the mail and on the phone. Donors organized fundraisers, campaigns, canvassed the streets and more. So, where did all that money go?
U.S. donors gave a total of $352.2 million to three major charities -- the Red Cross, World Vision and Save the Children -- the organizations told the Huffington Post.

Since the disaster, the Red Cross -– which raised $4.95 billion globally –- has shifted its relief priorities. Initially the relief organization focused on survivors' immediate medical needs and is now working on developing structural long-term solutions, including building temporary and permanent health facilities, Reuters reports.

Initial donations went to bringing relief supplies, including food, water and blankets. As contributions poured in, the 320,000 people who lost their homes were provided with appliances such as refrigerators, rice cookers and washing machines, and more than 87,000 people got lifesaving health services, according to the Red Cross. Save the Children and World Vision implemented school lunch programs and school supplies for thousands of children each day.

There was some speculation as to whether people were giving enough to Japan. Donors contributed $47 million after the disaster in Japan, according to The Chronicle of Philanthropy. In comparison, after the 7.0 earthquake struck Haiti in January 2010, more than $150 million had been raised in the same amount of time.

To be sure, the perceived need wasn't as great in Japan as it was in Haiti, since charities weren't taxed with critical rebuilding, Daniel Borochoff, president of the American Institute of Philanthropy, a charity watchdog group, told ABC.

"With Haiti there was a lot of guilt about how poor the people were and how much suffering they endured. But with Japan, it's a rich country, their GDP is similar to ours, and in many ways the needs of their people can be met by the Japanese government and the systems they have in place," he said.

"The point of charity is to address need. Japan is not making desperate pleas for aid, and charities aren't going to do rebuilding. That's going to be government and private insurance. So people need to balance this with the problems in the rest of the world, even in our own country which has been hit by the recession," Borochoff said.

Still, with about 326,000 people still homeless, the Japanese government has received criticism for not coming up with a "master plan," Reuters reports.

"The central government has proposed different scenarios, but they were met with strong opposition from local governments and also people affected directly by the earthquake and tsunami," Japanese Red Cross President Tadateru Konoe told Reuters and other news outlets.

There was initial criticism that the Japanese government and the Japanese Red Cross were slow to distribute money to the victims in the immediate aftermath. A month after the disaster, the $1.3 billion donated had yet to be doled out. The problem lay in streamlining the distribution, as many of the local governments weren't operational, according to the Los Angeles Times.

Saundra Schimmelpfennig, HuffPost blogger, relief worker in Asia and former American Red Cross program coordinator, told Marketplace it wasn't a surprise that the money was sitting.

She said in addition to initial setup complications, organizations also faced distribution and logistics obstacles. They had problems managing money transfers and determining whether to split aid based on need, family size or other factors, for example.

"I think that the average person has misconceptions about how quickly you can truly respond well to a disaster," Schimmelpfenning said, "and there have been numerous instances where spending the money quickly is not spending it well."
INFOGRAPHIC: WHERE DID YOUR DONATION GO?
HOW YOU CAN STILL HELP:

The American Red Cross was on the of the largest private international contributors, raising more than $312 million. The Red Cross provided shelter, supplies, counseling and health services. Donations accepted online.

World Vision remains on the ground providing relief efforts including providing emergency supplies, boats and school support for children. Ongoing work will focus on the specific needs of children. Donations accepted online.

Save the Children has worked to ensure that students are transitioning back to school by providing supplies, lunches and more. Donations accepted online.

The Salvation Army raised more than $9.6 million from U.S. donors for Japan. It has committed to rebuilding infrastructure and livelihoods by providing appliances, boats and basic supplies. To contribute to earthquake relief, text 'JAPAN' or 'QUAKE' to 80888 to make a $10 donation or visit SalvationArmyUSA.org.

GlobalGiving.org distributes funds to organizations such as International Medical Corps to provide on-the-ground support. Donations accepted online.

Find more ways to help here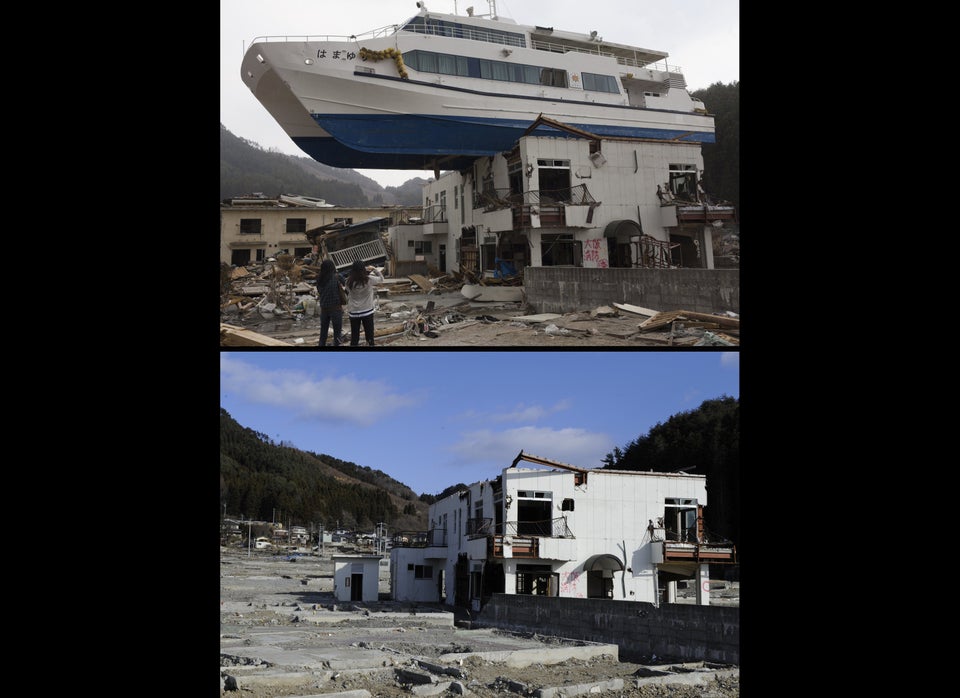 Japan Tsunami One Year Later