The news of the earthquake in Japan can only remind us again of how fragile life is. We try to build safety into our lives; we acquire, submit to security when we travel, surround ourselves with gates and huddle with like-minded people. Yet tragedy and heartache are going to find us. Mother Nature today, yesterday the loss of a job, the illness of a friend or the unspeakable violence of someone wielding a gun in Arizona forces us to re-decide where to place our faith and what really matters.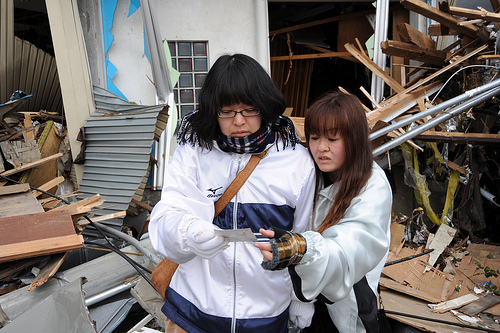 This is where a community and a neighborhood have a job to do. They become first responders in hard times. Here is an excerpt from a touching letter from Alexandra JaYeun Lee, an architecture Ph.D. student from Auckland, New Zealand:
Dear John, I am a research student from New Zealand, and I came across your speech on community necessities through the folks who have been part of New Zealand Social Entrepreneurs Fellowship. It was so inspiring and resonated with me because New Zealand is also a country of high social capital. On Tuesday, February 22, our country was struck by a tragedy -- a 6.3 magnitude earthquake right in the middle of our second largest city, Christchurch. Our Prime Minister has declared the national state of emergency this morning, and the emergency task force is trying to save as many people as possible from destroyed properties. I have been coordinating the Auckland chapter of Architecture for Humanity and its response to the devastating earthquake by raising awareness and funds for reconstruction. It's been a tremendous experience working with some of the leading entrepreneurs and community mobilisers locally.We're all in this together, and I feel that every day. In the last two weeks, Aotearoa has witnessed its citizens and local communities demonstrating that there are no shortages in the three things that you mentioned as being fundamental ingredients for an abundant community: giving of gifts to each other, however large or small; power of association, joining of our gifts to amplify their effects; hospitality to friends and strangers alike.
Similarly, in Japan, after all the media attention has passed, the emergency people have restored some order, the aid has poured in from around the world and the nuclear reactor fears and discussions have run their course, it will be local neighbors, citizens and those within walking distance who will do the real work of care and reconstructing lives. Renewal will not be about the money, or the actions of government, or the private and non-profit sectors doing all they can. It will be what Alexandra says: the recognition of the gifts of a neighbor, the welcoming of strangers and the willingness of people to associate together and do what none can do alone.