Japan is still reeling after two major earthquakes on April 14 and 16 — magnitudes 6.5 and 7.3 respectively — hit the Kumamoto prefecture in quick succession on the southern island of Kyushu. It's the most devastating natural disaster the country has seen since the earthquake and tsunami that struck Japan in March 2011, leaving 22,000 people dead and missing.
Forty-eight people were killed and another 263 people were injured in this month's earthquakes and in their aftermath, according to Japanese Prime Minister Shinzo Abe's office. There was significant damage to Kumamoto's infrastructure: 1,527 houses were destroyed.
The photos below were taken in Mashiki -- one of the towns hit the hardest -- a week after the quake.
The walls inside the town hall were cracked. The main gymnasium was off-limits, its windows still shattered. Most of the buildings around had sustained severe damage.
The town conducted an emergency risk survey shortly after the second earthquake hit on April 17, and classified 209 buildings (62.6 percent of the total building stock) to be "dangerous," according to Japanese daily newspaper Nishinippon.
Officials have warned that the unfolding aftershocks — smaller earthquakes that follow the main quake — may cause additional damage to the weakened buildings. It would therefore be dangerous to begin renovations on wrecked structures.
The authorities have focused on evacuating people in the Kumamoto and Oita prefectures. Approximately 50,000 people are now living in as many as 500 evacuation shelters, Bloomberg reports.
Residents of the quake-hit Mashiki town feel stuck. The beauty salon that 63 year-old Yoko Yoshimoto ran has collapsed, and her home has sustained significant damage. She is currently living with all seven members of her family in one of the available shelters.
"I've lost my house and my work. Right now, I am grateful just to be able to lie down, and to be able to get out of the rain and wind," Yoshimoto said, smiling and eating curry supplied by relief workers in the square opposite the town hall.
Even residents who haven't lost their homes find it hard to look ahead. Mii Tomomura, 37, worries that aftershocks could collapse her house. Her family has been sleeping in her car. Like Tomomura, many people are opting to spend the nights in their vehicles, either out of fear of being indoors, or to avoid the lack of privacy and crowdedness in evacuation shelters.
Her daughter's school was closed in the aftermath of the quake, and it is unclear when it will reopen. "She has exams this year, and was looking forward to her school's athletics festival in May. I don't know what to do," she said.
This post originally appeared on HuffPost Japan and has been translated into English.
Before You Go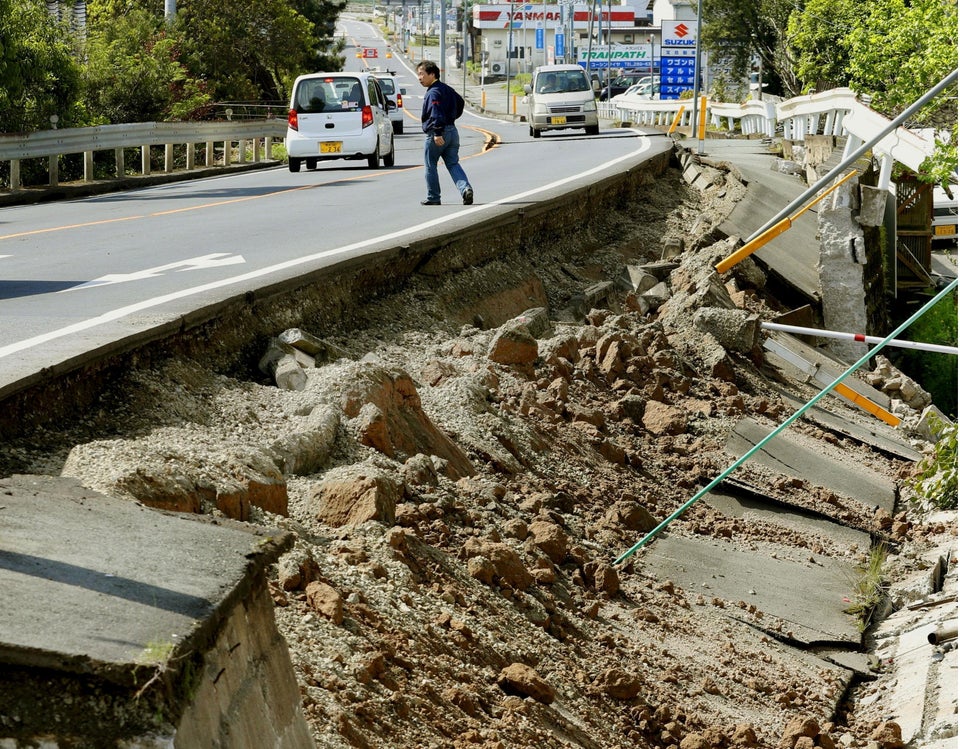 Earthquake Rocks Japan, April 2016
Popular in the Community