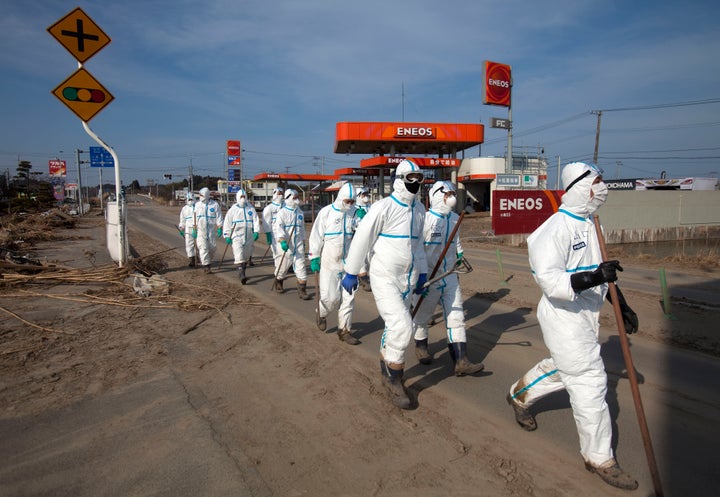 By Shinichi Saoshiro and Chisa Fujioka
Tokyo -- (Reuters) - Japan said on Monday it may extend some parts of an evacuation zone around its crippled nuclear plant if tests show high radiation outside the area, imposed after an earthquake and tsunami sparked the worst nuclear crisis since Chernobyl.
Japan has steadfastly refused to extend its 20 km (12 mile) evacuation zone, despite international concerns over radiation spreading from the six damaged nuclear reactors in Fukushima which engineers are still struggling to bring under control a month after they were wrecked by the 15-meter tsunami.
Chief Cabinet Secretary Yukio Edano said the existing area was sufficient as the risk of an accident was now lower.
But the government might extend the evacuation zone if tests show high levels of accumulated radiation in specific areas, he said. The Asahi newspaper said evacuations may extend 30 km out from the plant.
"This won't be based on a radius zone-type (evacuation)...from the perspective of accumulated radiation, we need appropriate steps to ensure safety," Edano told reporters.
Japanese Prime Minister Naoto Kan told parliament last month that widening the area would force 130,000 people to move in addition to 70,000 already displaced.
Residents of one village, Iitate which is 40 km from the Fukushima Daiichi plant, have been told to prepare for evacuation because of prolonged exposure to radiation, a local official told Reuters by phone. The village has a population of 5,000.
The International Atomic Energy Agency has urged Japan to extend the zone and countries like the United States and Australia have advised citizens to stay 80 km away from the plant.
The Japan Times said authorities would soon forcibly close the 20 km zone, stopping people returning to their shattered homes to pick through the rubble for belongings.
The president of Tokyo Electric Power Co (TEPCO), which operates the plant, plans to visit the area on Monday, the first by Masatake Shimizu since the March 11 disaster.
Shimizu has all but disappeared from public view apart from a brief apology shortly after the crisis began and has spent some of the time since in hospital.
Fukushima Governor Yuhei Sato was quoted by media as saying he would refuse to meet Shimizu during his visit.
Sato has criticized the evacuation policy, saying residents in a 20-30 km radius were initially told to stay indoors and then advised to evacuate voluntarily.
"Residents in the 20-30 km radius were really confused about what to do." Sato told NHK television on Sunday.
Engineers at the damaged Daiichi plant north of Tokyo said they were no closer to restoring the plant's cooling system which is critical if overheated fuel rods are to be cooled and the six reactors brought under control.
In a desperate move to cool highly radioactive fuel rods, operator Tokyo Electric Power Co (TEPCO) has pumped water onto reactors, some of which have experienced partial meltdown.
But the strategy has hindered moves to restore the plant's internal cooling system, critical to end the crisis, as engineers have had to focus how to store 60,000 tons of contaminated water.
Engineers have been forced to pump low-level radioactive water, left by the tsunami, back into the sea in order to free up storage capacity for highly contaminated water from reactors.
China and South Korea have both criticized Japan for pumping radioactive water into the sea, with Seoul calling it incompetent, reflecting growing international unease over the month-long atomic disaster and the spread of radiation.
TEPCO hopes to stop pumping radioactive water into the ocean on Monday, days later than planned.
Engineers are also pumping nitrogen into reactors to counter a build-up of hydrogen and prevent another explosion sending more radiation into the air, but they say the risk of such a dramatic event has lowered significantly since March 11.
The triple disaster is the worst to hit Japan since World War Two after a 9.0 magnitude earthquake and a huge tsunami battered its northeast coast, leaving nearly 28,000 dead or missing and rocking the world's third-largest economy.
Concern at Japan's inability contain its nuclear crisis is mounting with Kan's ruling party suffering embarrassing losses in local elections on Sunday.
Voters vented their anger at the government's handling of the nuclear and humanitarian crisis, with Kan's ruling Democratic Party of Japan losing nearly 70 seats in local elections.
The unpopular Kan was already under pressure to step down before March 11, but analysts say he is unlikely to be forced out during the crisis, set to drag on for months.
"The great disaster was a double tragedy for Japan. The first tragedy was the catastrophe caused by the earthquake, tsunami and the nuclear accident. The other misfortune was that the disaster resulted in prolonging Prime Minister Kan's time in office," Sankei newspaper said in an editorial on Monday.
(Additional reporting by Issei Kato, Masahiro Koike and Linda Sieg in Tokyo; Writing by Michael Perry; Editing by Jonathan Thatcher and Sanjeev Miglani)
Related
Popular in the Community