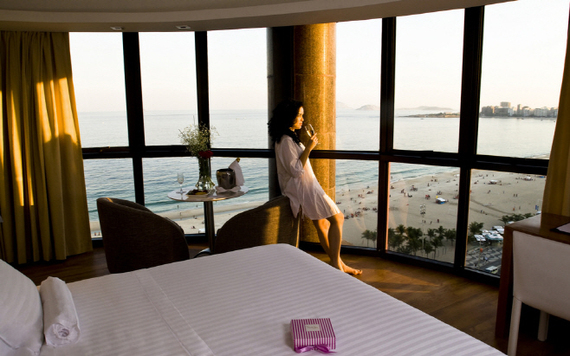 [The photo above is not relevant to the article. /Image: Flickr@PortoBay Hotels & Resorts]
By AsiaToday reporter Kim Ye-jin - Before "honbab" (eating by oneself) and "honsul" (drinking by oneself) culture have become increasingly in vogue in Korea, the solo living trend first occurred in Japan. In Japan, buzzwords like "ohitorisama" and "herbivore men" are nothing new anymore. "Ohitorisama" refers to people living and doing things alone and "herbivore men" refers to men who have no interest in getting married or finding a girlfriend. In fact, Japan's "ohitorisama" market is much bigger than Korea's.
And now, even married and unmarried couples are enjoying "ohitorisama" culture to spend time alone, reported the Yomiuri Shiimbun on Nov. 1. In Japan, more and more people are spending time alone regardless of their marital status. For instance, they don't wait for their spouse to enjoy dinner together and choose to dine out alone instead. Also, they travel alone instead of fixing their time with their lover.
What's noteworthy is that there is a possibility that the number of "ohitorisama culture" consumers will not decrease even if the number of married people rises. And the reason behind this comes from the increasing number of people who want to spend their time alone.
This led to the development of the third phase of Japan's ohitorisama culture boom. Megumi Ushikubo, a social trend analyst who brought terms like "herbivore men" and "ohitorisama" into vogue, pointed out that the third phase of ohitorisama culture has been booming since 2012. Unlike the first and second phase, where people enjoyed spending their time alone at cafes and restaurants, the third phase is extended to entertainment fields.
The key to the third phase boom lies in the popularity of smartphones and social media. Since being alone is not seen as pathetic anymore as social media allowed people to communicate with others while being alone, there are more people who go to Disneyland alone and watch fireworks alone.
Those who led the third boom are young women in their teens and 20s. They spend less time in enjoying the all-by-myself culture than previous generations. However, they prefer to spend their time doing various kinds of activities, including going to karaoke and visiting new cafes and restaurants. Among those women who take a break alone at hotels, there is a growing number of women prefer to spend their own time and space without even stepping out of the hotel as if they are "stuck in a bird's nest," the Nikkei Style, the online version of the Nihon Keizai Shimbun (Nikkei), reported on Nov. 1.
According to a media outlet, a hotel manager revealed that the number of female customers who came alone increased when they changed bath towels and bathrobes to more luxurious products. In Japan, the concept of "gohoubi", or giving yourself rewards, is a characteristics of the first phase boom of ohitorisama which occurred in 2004-2005.
The first boom, led by the generation of the 1986 equal employment opportunity law, spread as women who wanted to treat themselves with a luxurious prize started to either enjoy dinner at a hotel alone or go to beauty salon for facial massage.
The second boom was led by Dankai Jr. generation, with members born between 1971 and 1974, as they started drinking coffee alone and drinking at standing bars. There were a lot of people who wanted to spend time alone comfortably.
Within male culture, the herbivorous male phenomenon brought the ohitorisama culture. Since "herbivorous men" became a buzzword in 2007, companies have been launching herbivorous-men-targeted products in fashion, beauty, cooking and travel fields.
Recently, there are claims that such trend has passed and the number of active men have increased thus marketers should pay attention to the purchasing power of those men. Kazuhisa Arakawa, creative chief promotional director of Japanese PR firm Hakuhodo that has published Men Who Won't Marry, said that companies should watch the purchasing power of solo men.
He explained in the Mainichi Shimbun that unmarried men are no longer viewed by others as pathetic losers and their consumer market is higher because the number of men in their 20s to 50s is higher than that of women.
As the ohitorisama culture is being settled down, there is a growing interest in how to spend the golden years alone. Japanese media outlets pour out articles such as "10 things to prepare for ohitorisama golden years", "8 secrets to avoid ohitorisama bankruptcy", and more.
A growing number of single women are buying mansions to either live or prepare property, reported the Mainichi Shimbun on Nov. 6. The number of members of "Workshop of Improving Women's Residence", which has been hosting lectures on purchase of mansions for single women since 1991, increased annually to nearly 82,000 as of 2016.
70% of the members of the research association are single women in their 30s and 40s. They seem to be interested in purchasing mansions to alleviate their anxiety about the future.
The Sankei Biz recently reported that collective houses are gradually being looked to by single middle-aged people and seniors. The biggest difference from the guesthouse is that collective houses typically have a common living and dining space but private bathrooms and kitchens.
Those middle-aged people, who wish to be connected with the others while at the same time staying independent, are creating a new way of living.
Related
Popular in the Community