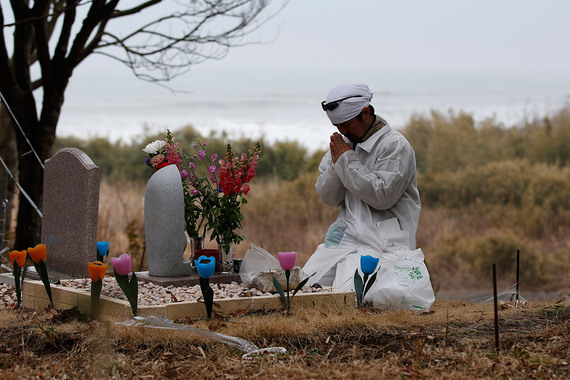 Joshua W. Walker and Hidetoshi Azuma
Five years on, rays of hope are beginning to penetrate the gloom cast over Naraha, an idyllic coastal town in Fukushima, Japan. On March 11, 2011 triple disasters---earthquake, tsunami, and nuclear meltdown---wreaked havoc on this small town as well as much of Tohoku (Japan's northeast), turning habitable areas within the 20 kilometer- radius of the crippled Fukushima Daiichi plant into an "exclusion zone."
Naraha recently became the first town in the exclusion zone open to evacuees who have been displaced for the last five years. Returning residents have demonstrated tenacity in the face of adversity, united in their forward-looking pursuit of turning Fukushima into an alternative energy hub by 2020, a regional vision recently unveiled by Prime Minister Shinzo Abe. In turn, Naraha's commitment to a brighter future is becoming a model for other disaster-stricken areas as well as Japan's neglected, aging rural regions.
In fact, Naraha is a microcosm of Japan that found itself in an unprecedented political crisis five years ago today. In the run-up to the 3/11 disasters, Tokyo's leadership had changed almost annually, spawning five prime ministers in the 2006-11 period. The United Nation's General Assembly meeting held every September essentially served as the de facto platform to showcase the revolving door of Japanese prime ministers while inviting international mockery. Just as in rural neglect, Tokyo's leadership inertia led to political frivolity, leading evanescent leaders to toy with their risky agendas, including attempts to relocate the Futenma Air Base outside of Okinawa.
Japan's feckless leadership reached the nadir of absurdity when the former prime minister Naoto Kan handled the 3/11 crisis. Poor communication and lack of disaster preparedness exacerbated Kan's crisis management, which he himself later acknowledged as "a fiasco." By contrast, Japan's American ally swiftly mobilized its military as part of Operation Tomodachi (friend) and shared crucial intelligence on radiation in Fukushima, which Kan's government failed to act on in a timely manner. Ironically, it took triple disasters for the two allies to reaffirm "friendship," but Tokyo largely failed to live up to Washington's expectations due to its years of leadership deficiency.
Despite the government's leadership paralysis, Japanese people largely remained steadfast in their commitment to recovery. Of course, various issues, such as unemployment, still linger among the approximately 100,000 displaced evacuees from Fukushima. Fukushima's slow recovery also casts a grim outlook on their ability to return home any time soon. Nonetheless, unlike in other countries, no riots, let alone revolution, have taken place despite the government's inept crisis management. From the ashes of Fukushima's nuclear wasteland, Japanese people emerged born again to rediscover their historical potential of maintaining exceptional national solidarity by "bending adversity" into prosperous new beginnings.
Just as in other past crises, such as Japan's surrender in 1945, the 3/11 also functioned as a bitter purgatory allowing the country to shed inefficiencies to realize its full potential. When Abe returned to office in December 2012, he went on to end years of Tokyo's leaderless drift with a series of his signature initiatives, including Abenomics. Moreover, he increasingly looks to leverage Japanese people's oft-overlooked potential. While boosting reconstruction efforts in Fukushima, Abe has been seeking to tap the potential of burgeoning young entrepreneurs who struggle to realize their ambitions in a risk-averse society. Although various challenges still remain, these initiatives represent Abe's eagerness to maximize Japan's potential.
On the fifth anniversary of 3/11, Abe is increasingly setting his sights overseas to showcase Japan's global leadership as this year's G7 chairman At a time most G7 members find themselves enmeshed in multiple regional crises, including the endless Syrian civil war, Tokyo is expanding its global security role and is in a strong position to channel its foreign policy energy around the world. In particular, Japan's incredible track record for recovery from major catastrophes, including 3/11, is a powerful soft power appeal for various development needs around the world. While Japan's competitors, such as China, often prioritize profit above all else, Tokyo could leverage the country's post-crisis reconstruction experience in Fukushima to inspire development recipients to find hope for the future.
As spring dawns on snow-heavy Fukushima, a veteran carpenter Yasumasa Igari busily saws wood to meet the growing local demand for his business. Igari, a 66 year-old Naraha native, immediately resumed his occupation when his hometown reopened last year and feels a sense of mission to contribute his artisanship to Fukushima's reconstruction. To be sure, Fukushima's reconstruction is far from finished. Yet, Igari's commitment to "bending adversity" is a living testimony to Japan's national potential its people rediscovered after 3/11. Five years after Fukushima, Tokyo's leadership has largely caught up with its people's forward-looking pursuit of a better future. As Abe looks to boost Japan's global leadership this year, nothing could be a more powerful soft power appeal than the country's own track record for weathering apocalyptic crises.
Joshua W. Walker, PhD (@drjwalk) leads the Japan work at the German Marshall Fund of the United States, teaches Security Policy at George Washington University and is the Founding Dean of the APCO Institute where Hidetoshi Azuma is an Adjunct Fellow and Master's student studying Security Policy at GWU.
Popular in the Community