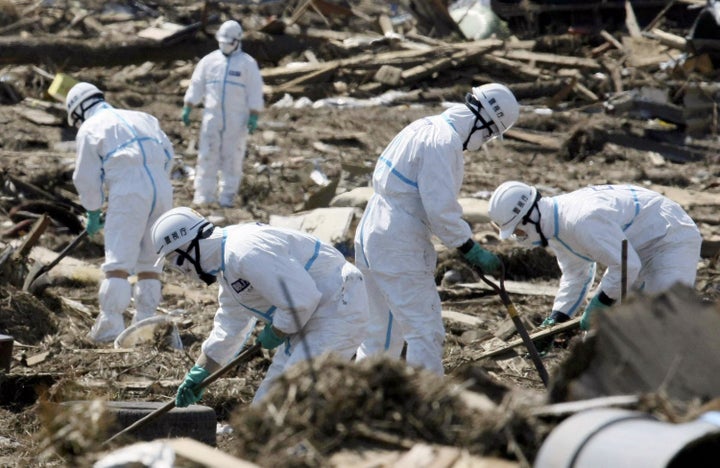 March 31, 2011 10:40:09 PM
TOKYO (Reuters) - TOKYO, April 1 (Reuters) - Japan's government plans to take control of Tokyo Electric Power Co
But the government is unlikely to take more than a 50 percent stake in the company, an unnamed government official was quoted by the daily as saying.
"If the stake goes over 50 percent, it will be nationalized. But that's not what we are considering," the official was quoted by the paper as saying.
The company, also known as TEPCO, has come under fire for its handling of the emergency at its Fukushima Daichi nuclear complex, triggered by a March 11 earthquake and tsunami that left more than 27,500 people dead or missing.
Mainichi quoted an unnamed government official as saying: "It will be a type of injection that will allow the government to have a certain level of (management) involvement."
A series of missteps and mistakes, combined with scant signs of leadership, have further undermined confidence in the company. Poor communication has led to some heated exchanges in media conferences as journalists demanded information.
TEPCO could face compensation claims topping $130 billion if Japan's worst nuclear crisis dragged on, Bank of America-Merrill Lynch estimated this week, further fuelling expectations Japan's government will step in to save Asia's largest utility.
Investor concern about the future of Tokyo Electric mounted after its president, Masataka Shimizu, was admitted to hospital and the company said on Wednesday that 2 trillion yen ($24 billion) in emergency loans from Japan's major banks would not cover its mounting costs.
Liabilities for compensation claims alone could be up to 11 trillion yen ($133 billion) -- nearly four times TEPCO's equity -- if the nuclear crisis drags on for two years, an analyst at Bank of America Merrill Lynch wrote in a report.
TEPCO shares are down almost 80 percent since the disaster.
Bank of America-Merrill Lynch said shareholders were very likely to take a big hit and a rapid resolution of the crisis was the only way to keep costs down.
If the situation can be turned around within the next two months, compensation costs may be less than 1 trillion yen. Costs will rise to 3 trillion yen if it drags on for six months, analyst Yusuke Ueda wrote.
Experts, however, say a final resolution of the nuclear disaster is likely to take decades and there could be many further setbacks.
TEPCO could burn through 2 trillion yen in about a year, said CLSA equity analyst Penn Bowers, as it pays extra for fuel to run its thermal plants, among other costs.
TEPCO has around $91 billion in debt including some $64 billion in bonds. That excludes about $24 billion recently secured in loans from domestic lenders.
At the end of December, TEPCO had equity of about $35 billion, its accounts show.
(Reporting by Yoko Nishikawa, Kazunori Takada and Taiga Uranaka; Writing by Dean Yates; Editing by Alex Richardson)
Related
Popular in the Community