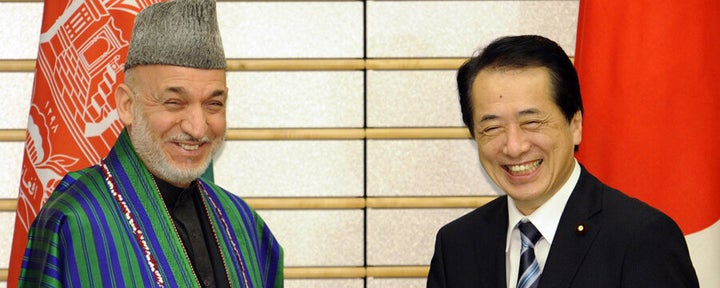 Afghan President Hamid Karzai said this week that Japan -- not the U.S. -- takes priority over other nations when it comes to mining his country's vast mineral deposits.
During an appearance at the Japan Institute of International Affairs, Karzai focused on his country's mineral deposits. He pointed to Japan's status as Afghanistan's second-biggest donor, and reasoned that Japan should enjoy special access to Afghan resources with estimated values that range from $1-3 trillion dollars.
"Morally, Afghanistan should give access as a priority to those countries that have helped Afghanistan massively in the past few years," Karzai told the institute.
"What . . . we have to reciprocate with is this opportunity of mineral resources, that we must return at the goodwill of the Japanese people by giving Japan priority to come and explore and extract," Karzai said.
Looking to the future, Karzai echoed an internal Pentagon memo and said that the mining will define Afghanistan, "Whereas Saudi Arabia is the oil capital of the world, Afghanistan will be the lithium capital of the world.... And Japan is welcome to participate in the lithium exploration in Afghanistan."
"Countries with a history of conflict have perverse effects from mineral wealth -- more war, more corruption, less democracy and more inequality," said Terry Lynn Karl, a political science professor at Stanford and the author of "The Paradox of Plenty," which shows how the populations of poor countries like Nigeria often get poorer after oil is discovered and a tiny elite benefits.
American military deaths in Afghanistan total 1,103. Last month, the total cost of wars in Afghanistan and Iraq surpassed $1 trillion, according to National Priorities Project's Cost of War.
Related
Popular in the Community