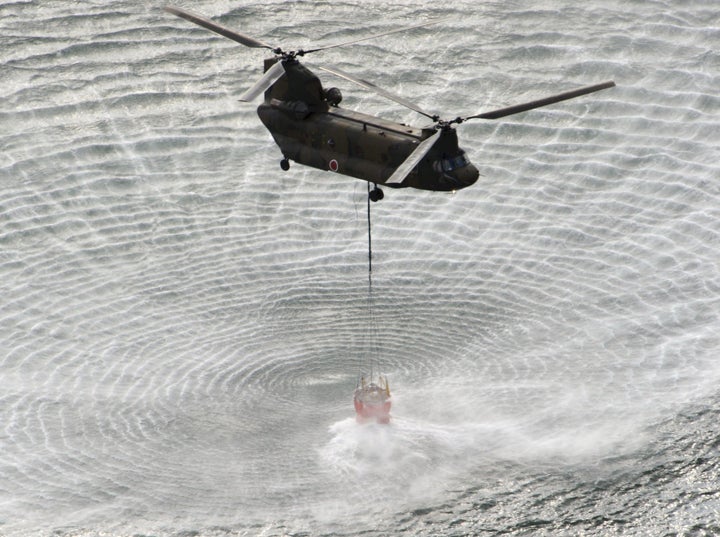 ZAO, Japan -- Japanese military helicopters dumped loads of seawater onto a stricken nuclear reactor Thursday, trying to avoid full meltdowns as plant operators said they were close to finishing a new power line that could restore cooling systems and ease the crisis.
(SCROLL DOWN FOR LIVE UPDATES)
Meanwhile, Japan's trade minister Banri Kaieda warned of an "unscheduled, large-scale blackout" in Tokyo and surrounding areas if demand for energy exceeds this morning's, Reuters reports. Due to increasingly cold temperatures, this morning's power demand already almost reached capacity, even though electricity demand usually peaks later in the day.
According to Japan's Kyodo News, Kaieda's warning came despite Tokyo Electric Power Company's implementation of "rolling blackouts" for the fourth day in a row. An estimated ten million households will be affected by the rationing. The country's Land, Infrastructure, Transport and Tourism Ministry has also requested train operators reduce the number of vehicles running during evening commuter hours in an effort to curb energy usage.
U.S. officials in Washington, meanwhile, warned that the Fukushima Dai-ichi plant in northeastern Japan may be on the verge of spewing more radioactive material because water was gone from a storage pool that keeps spent nuclear fuel rods from overheating.
The troubles at several of the plant's reactors were set off when last week's earthquake and tsunami knocked out power and ruined backup generators needed for their cooling systems, adding a major nuclear crisis for Japan as it dealt with twin natural disasters that killed more than 10,000 people and left hundreds of thousands homeless.
A Japanese military CH-47 Chinook helicopter began dumping seawater on the damaged reactor of Unit 3 at the Fukushima complex at 9:48 a.m., said defense ministry spokeswoman Kazumi Toyama. The aircraft dumped at least four loads on the reactor, though much of the water appeared to be dispersed in the wind.
At least a dozen more loads were planned in the 40 minutes that each crew can operate before switching to limit radiation exposure, the ministry said.
The dumping was intended both to help cool the reactor and to replenish water in a pool holding spent fuel rods, Toyama said. The plant's owner, Tokyo Electric Power Co., said earlier that the pool was nearly empty, which might cause the rods to overheat.
The comments from U.S. officials indicated there were similar problems at another unit of the Dai-ichi complex.
U.S. Nuclear Regulatory Commission Chairman Gregory Jaczko said at a congressional hearing in Washington that all the water was gone from a separate spent fuel pool at the plant's Unit 4. Japanese officials expressed similar worries about that unit, but that it was impossible to be sure of its status.
Emergency workers were forced to retreat from the plant Wednesday when radiation levels soared, losing precious time. They resumed work after radiation levels dropped, but much of the monitoring equipment in the plant is inoperable, complicating efforts to assess the situation.
"We are afraid that the water level at unit 4 is the lowest," said Hikaru Kuroda, facilities management official at Tokyo Electric Power Co. But he added, "Because we cannot get near it, the only way to monitor the situation is visually from far away."
The storage pools need a constant source of cooling water. Even when removed from reactors, the rods retain radioactivity and must be cooled for months, possibly longer, to prevent them from posing a threat of meltdown.
Japanese officials raised hopes of easing the crisis earlier Thursday, saying that they may be close to bringing power back to the plant and restoring the reactors' cooling systems.
The new power line would revive electric-powered pumps, allowing the company to control the rising temperatures and pressure that have led to at least partial meltdowns in three reactors. The company is also trying to repair its existing disabled power line.
Tokyo Electric Power spokesman Naoki Tsunoda said the new power line to the plant is almost finished and that officials plan to try it "as soon as possible," but he could not say exactly when.
Reflecting the state of alarm over the issue, Japan's 77-year-old emperor expressed deep concern in a rare unexpected television broadcast on Wednesday, saying "I hope things will not get worse."
He urged the Japanese to care for each other and not give up hope. Millions of lives were disrupted by the magnitude 9 earthquake and subsequent tsunami, which are believed to have killed more than 10,000 people.
Nearly a week after the disaster, police said more than 452,000 were staying in schools and other shelters, as supplies of fuel, medicine and other necessities ran short. Both victims and aid workers appealed for more help.
More than 4,300 people are officially listed as dead, but officials believe the toll will climb to well over 10,000.
"There is enough food, but no fuel or gasoline," said Yuko Niuma, 46, as she stood looking out over Ofunato harbor, where trawlers were flipped on their sides.
The threat of nuclear disaster only added to Japanese misery and frustration.
"The anxiety and anger being felt by people in Fukushima have reached a boiling point," the governor of Fukushima prefecture, Yuhei Sato, fumed in an interview with the Japanese television network NHK. He said evacuation preparations were inadequate, saying centers lacked enough hot meals and basic necessities.
Tens of thousands of people have been evacuated from a 20 kilometer (13 mile) radius around Fukushima Dai-ichi.
A Cabinet spokesman, Noriyuki Shikata, said the government had no plans to expand the evacuation plan. But the U.S. Embassy issued an advisory urging all Americans living within 50 miles (80 kilometers) of the plant to leave the area or at least remain indoors.
The chief of the U.N. nuclear agency, Yukiya Amano, said he would go to Japan to assess what he called a "very serious" situation and urged Tokyo to provide better information to his organization.
Other countries have complained that Japan has been too slow and vague in releasing details about its rapidly evolving crisis at the complex of six reactors along Japan's northeastern coast.
The 180 emergency workers who were working in shifts to manually pump seawater into the overheating reactors to cool them and stave off complete meltdowns were emerging as heroes as they persevered in circumstances in which no radiation suit could completely protect them.
Japan's health ministry made what it called an "unavoidable" change Wednesday, more than doubling the amount of radiation to which the workers can be legally exposed.
"I don't know any other way to say it, but this is like suicide fighters in a war," said Keiichi Nakagawa, associate professor of the Department of Radiology at University of Tokyo Hospital.
The government asked special police units to bring in water cannons – usually used to quell rioters – to spray onto the spent fuel storage pool at unit 4.
"By deploying defense personnel and riot police, we're doing our best to tackle the situation by spraying water to cool down the reactors. We sincerely hope that this mission will go well," Shikata said.
Elevated levels of radiation were detected well outside the 20-mile (30-kilometer) emergency area around the plants. In Ibaraki prefecture, just south of Fukushima, officials said radiation levels were about 300 times normal levels by late Wednesday morning. It would take three years of constant exposure to these higher levels to raise a person's risk of cancer.
A little radiation has also been detected in Tokyo, triggering panic buying of food and water.
Related
Popular in the Community