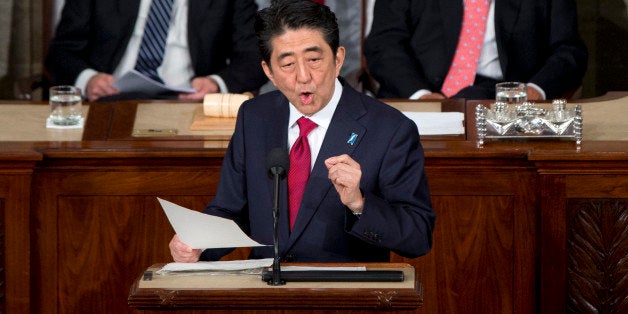 WASHINGTON -- Ahead of Japanese Prime Minister Shinzo Abe's state visit to Washington this spring, the government of South Korea hired a lobbying firm to try to sully his trip with some bad PR.
On March 18, the South Korean Embassy hired BGR Group to "[f]acilitate communications between [Korea] and news outlets, academia, think tanks, and other individuals within the United States," according to BGR's foreign agent registration form. In practice, that's meant the firm has pushed a public relations campaign highlighting Japan's World War II history, particularly its use of forced prostitutes from Korea, known as "comfort women."
The lead lobbyist for BGR's effort is Frank Ahrens, a onetime PR executive with the Korean car maker Hyundai and a former journalist with The Washington Post.
What stands out about South Korea's employment of BGR to muck up Abe's visit is that the lobbying firm also holds major contracts with the U.S. subsidiaries of Japanese car maker Toyota and pharmaceutical company Eisai.
The symbiotic corporate-state relationship has been dubbed Japan Inc., a catch-all term that covers how the government has used its power to boost corporations overseas and corporations have worked to bolster the government back home. While there are signs that the bond may be weakening, the government significantly devalued the yen during the Great Recession to make Japanese exports, specifically Toyota cars, cheaper. And it viewed the 2010 Toyota recall scandal as a potential disruption to U.S.-Japanese relations.
Fortunately for Japan, Toyota's construction of car and car-part factories in southern U.S. states like Mississippi and Tennessee has created domestic spokesmen for the industry -- and, in turn, for U.S.-Japanese relations.
The boldest of these was Mississippi's Republican Gov. Haley Barbour, who championed the construction of a Toyota factory in his perpetually depressed state. Amid the recall scandal, Barbour defended Toyota in The Washington Post. He also attacked the U.S. bailout of automakers General Motors and Chrysler while remaining silent on the Japanese currency devaluation meant to boost Toyota.
After his public defense of Toyota, the car maker signed a lobbying contract with Barbour's former firm, BGR. In 2013, following his second term as governor, Barbour returned to that firm, becoming a lobbyist for Toyota.
Given all that, it's interesting to see BGR working for South Korea, too.
Lobbyists are generally expected to discuss their potential conflicts of interest with clients who might have diverging positions. According to the Code of Ethics promulgated by the Association of Government Relations Professionals (formerly the American League of Lobbyists), a lobbyist should inform a client if the lobbyist's work for another client "may have a significant adverse impact" on the first client's interests.
In this case, Ahrens himself is not registered to work for firm clients Toyota and Eisai, and no other BGR lobbyists are currently registered as foreign agents for the South Korean government. A BGR spokesman declined to comment.
In the lead-up to and throughout Abe's state visit to Washington from April 26 to May 3, news outlets published numerous stories and editorials regarding the comfort women issue. Abe was called on to directly acknowledge and apologize for the past abuses. Members of Congress like Rep. Mike Honda (D-Calif.), who is Japanese-American, and Rep. Charles Rangel (D-N.Y.) wrote op-eds calling for an apology. A large number of academics signed a letter condemning Japanese efforts to whitewash that history.
The Japanese prime minister did not apologize to the comfort women in his speech to Congress or otherwise during his time in Washington. He did, however, offer his "eternal condolences" for the many U.S. soldiers who died in World War II.
Japanese troops, of course, were not the only ones who historically forced women into sexual slavery. South Korean troops, for instance, engaged in some of the same practices during the Vietnam War.
But Japan won't get the chance to turn the tables on South Korea's President Park Geun-hye, who had planned to be in Washington this coming weekend. A deadly outbreak of the respiratory illness MERS canceled the trip.
Language has been adjusted to better reflect Prime Minister Abe's remarks to Congress about the Americans who died in WWII.
Calling all HuffPost superfans!
Sign up for membership to become a founding member and help shape HuffPost's next chapter
BEFORE YOU GO
PHOTO GALLERY
Obama's Handshakes Around The World