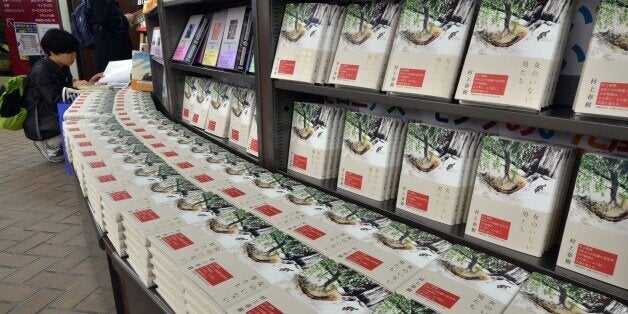 Twenty years after Kenzaburō Ōe won the Nobel Prize in Literature, Japanese publishing appears to be on the upswing, with 3.3 percent growth in the number of new titles published in 2012. In the literature of a language that even has a word for piles of unread books that accumulate on shelves and bedside tables — tsundoku — it can be hard to know where to start. Here's your cheat sheet.
"Murakami Kaizoku no Musume" (Daughter of a Murakami Pirate)By Ryo Wada
Winner of Japan's Booksellers Award — an annual prize whereby Japanese storekeepers and publishers honor the titles they most enjoyed reading — "Murakami Kaizoku no Musume," or "Daughter of a Murakami Pirate," otherwise known as "The Pirate's Daughter," is a hefty, two-volume historical novel that follows a 400-year-old fracas between Japanese pirate clans. The political conflicts at stake in the novel are far from resolution: Amy Conchie of Melville House Press writes that descendants of all three clans faced each other for the first time when Wada came to speak about the book near the site of the feud.
"Scheherazade"By Haruki Murakami
Major literary magazines often cull their content from existing stables of writers whom they've published previously. The New Yorker has such a niche set aside for Haruki Murakami. His second work of short fiction to appear in the magazine in 2014, "Scheherazade," ran in early October. The story homes in on the relationship between Habara, a man confined to his house, presumably by illness, and his female caregiver, who visits once a week to deliver groceries, perform housework and have sex with him. Michelle Huneven, novelist and professor of creative writing at UCLA, notes that the story — as evident from the titular allusion — is "a story about stories themselves." Murakami's latest novel, "Colorless Tsukuru Tazaki and His Years of Pilgrimage," which sold more than 1 million copies in a month in Japan, was also published in English in 2014.
"Last Winter We Parted"By Fuminori Nakamura
Historically, Japanese writers have difficulty selling translated work in Western markets, but Nakamura may be the spearhead of a generation poised to change this. His previous novels, "The Thief and Evil and the Mask," were met with popular critical acclaim, and his newest work of crime fiction, "Last Winter We Parted," published in October 2014 by Soho Press, stands out as a chilling, philosophical look at murder and the nature of guilt. Paul Oliver, director of marketing and publicity for Soho, told OZY that the novel "has been a great book for us this fall," and Nakamura is "one of two or three authors who naturally comes up in casual conversation."
"Breakfast"By Toshiki Okada
Toshiki Okada's short story "Breakfast" revisits the 2011 Fukushima nuclear disaster, which took place just 150 miles from Tokyo. The narrator's wife abandons Tokyo after the disaster, where the aftereffects remain harrowing and tangible: "Tokyo was gone, but only because she had loved the city, living here, and because if none of this had happened she would still be living here." The story, published in English by Granta, revives that which may have fallen from the headlines but not from the minds of the Japanese.
Related
Popular in the Community