In bizarre inter-species encounters, macaque monkeys have been engaging in "sexual activity" with sika deer in Japan, researchers report.
Scientists from the University of Lethbridge in Canada witnessed several encounters between the animals in the Meiji Memorial Forest of Minoo Quasi-National Park in central Japan. Most involved "pelvic thrusting" by adolescent female monkeys on the back of a deer. The monkeys also made squeaking sexual sounds, and bit, sniffed and pulled on the deer's antlers.
The deer remained calmly standing or walking as they foraged for food during the encounters.
Monkeys have long been known to ride the deer while they travel from place to place or as part of play. The deer benefit by sometimes sharing food that the macaque find and by being groomed by the monkeys.
According to the study, scientists observed the adolescent female macaques initiate sexual interaction with a sika deer 258 times. Of these, 13 monkeys had a "temporary, but exclusive, sexual association" with the deer. In five cases, a "rival" monkey chased another off.
Almost all of the successful interactions involved an adult male deer. Adolescent male and adult female deer usually avoided the monkeys.
When the deer walked away from the monkeys, the female monkeys "often displayed sexually-motivated tantrums, which consisted of crouching on the ground, body spasms and screaming, while gazing at the deer," the scientists wrote in the Archives of Sexual Behavior. They described the pattern of behavior as "unusual" and "intriguing," and called the encounters a possible "fad" or "cultural phenomenon."
Scientists speculate that the encounters were a way for the monkeys to practice and develop their sexual behaviors. The monkeys may also be seeking some kind of sexual activity because male monkeys prefer female adults, not adolescents.
"Adolescent females may seek stag mates as an outlet for sexual frustration," the authors wrote.
Ten percent of animals are known to exhibit sexual activity with members of other similar species. This is the first time a pattern of such behavior has been seen between two such different animals.
Before You Go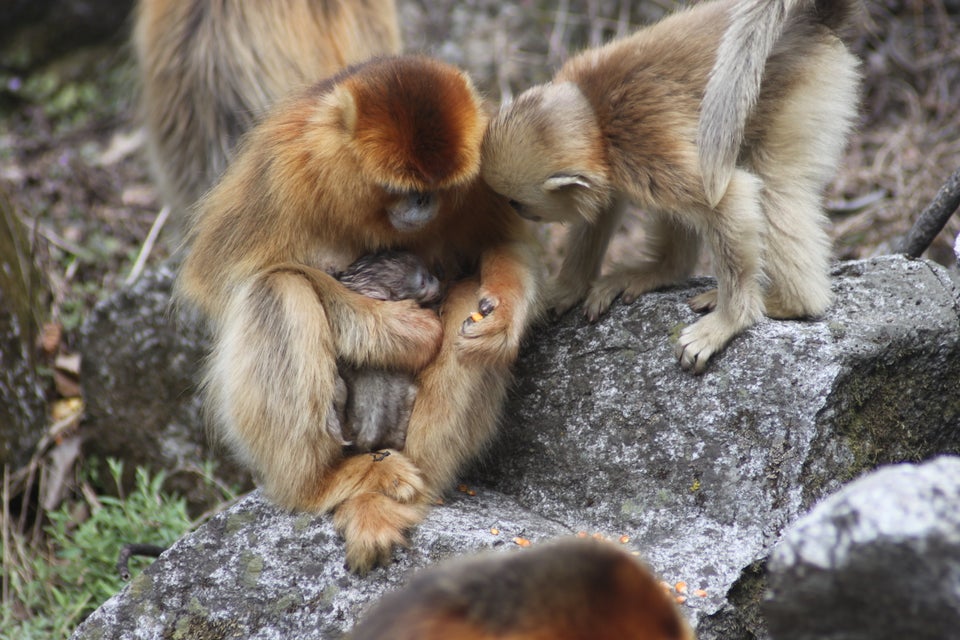 Secret Lives Of Monkey Midwives Revealed
Popular in the Community