Shortly after dawn on Aug. 29, residents of the northern Japanese island of Hokkaido awoke to sirens, emergency alerts and breaking news banners urging them to take cover and brace for an imminent attack.
"Missile launch. Missile launch. North Korea appears to have fired a missile. Take refuge in a solid building or underground," read one mobile alert that Tuesday morning.
Minutes earlier, North Korea had test-launched a long-range ballistic missile that flew over Japan's north into the sea ― the first North Korean rocket to travel over the country since 2009. Pyongyang would repeat the exercise less than a month later.
As U.S. President Donald Trump and North Korean leader Kim Jong Un exchange personal insults over Pyongyang's nuclear and missile programs, talk of military action has put governments across the region on high alert. For Japan, Pyongyang's twin missile launches over its territory have highlighted just how vulnerable it is as the threat of conflict grows.
Trump's Visit To Japan
Trump arrived in Japan on Sunday as part of a 12-day tour of Asia. During his stops in Japan, South Korea, Vietnam, China and the Philippines, he is likely to assure allies that the U.S. has their security in mind and to call for a unified international strategy to rein in North Korea's nuclear ambitions.
In Japan, Trump is meeting with Prime Minister Shinzo Abe to discuss trade issues and possible steps to prevent North Korean advancements and aggression. The leaders are also expected to talk about North Korea's history of abducting Japanese citizens ― Trump will meet with the parents of Megumi Yokata, a Japanese woman who was kidnapped by North Korea as a teenager in 1977.
Trump began his visit with a speech to U.S. military personnel at Yokota Air Base in Tokyo. Wearing a leather bomber jacket, he did not directly mention North Korea but said: "No one — no dictator, no regime and no nation — should underestimate, ever, American resolve."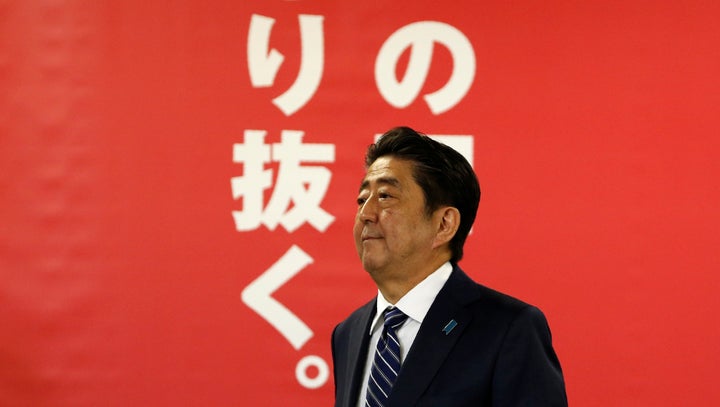 Japan's Perspective Of The North Korean Crisis
Although it's less often in the crosshairs of North Korea's belligerent propaganda than South Korea or Guam, Japan is one of Pyongyang's prime potential targets in the event of a conflict, Evans Revere, a former principal deputy assistant secretary of state who specialized in North Korea, told HuffPost.
"What is often overlooked as we deal with this crisis is that many of those North Korean missile systems are built and being tested for use against Japan and against U.S. military bases in Japan in the event of a conflict," Revere said.
The presence of U.S. forces, air bases and missile defense systems is partly intended to check North Korean aggression and guarantee Japan's security. But by hosting that deterrent to North Korea, Japan is also a target in any potential attack.
Prior to the missile launches in August and September, North Korean state media billed a different set of tests in March as practice for strikes against Japan and U.S. bases there, should Pyongyang be attacked. Analysts believe the North Korean military was hoping to test ways to get around U.S. missile defense systems and train for a quick deployment of its arms.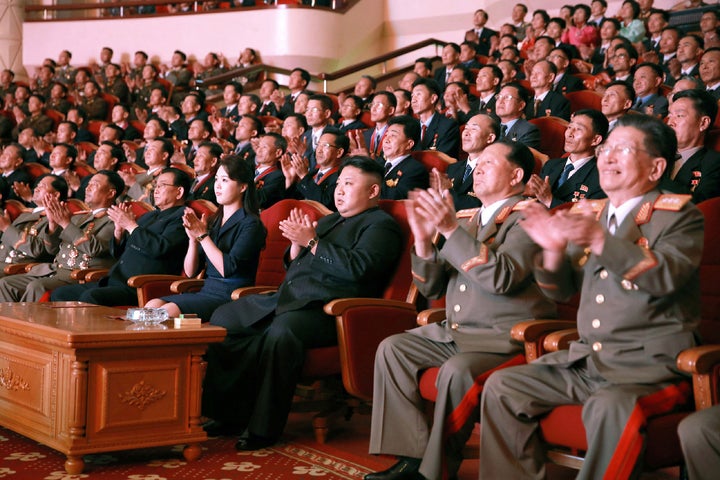 The assurance of U.S. support has been a pillar of Japan's defense strategy for decades, and Japanese governments have put a focus on missile defense since the late 1990s. The Japanese government's worries have increased this year, however, as North Korea grows more aggressive in the face of Trump's erratic threats.
Trump has repeatedly threatened North Korea and Kim with military action, saying he was prepared to unleash "fire and fury" on the country, or suggesting that U.S. Secretary of State Rex Tillerson is wasting his time with diplomacy. In September, Trump said in a United Nations speech that the U.S. would "totally destroy" North Korea if it was forced to defend itself or allies.
Kim, whom Trump has pejoratively called "rocket man," has issued his own threats and insults in response. He gave a rare direct address in late September, criticizing the U.S. and calling Trump a "mentally deranged dotard."
The belligerent back-and-forth has left countries on the front lines of a potential conflict in a precarious position.
Trump's "use of phrases like 'fire and fury' and 'locked and loaded' etc., phrases like that have really raised questions in the minds of many Japanese about U.S. intentions and caused many in Japan to worry about whether the U.S. really is focused on a diplomatic solution," Revere said.
Japan still very much favors a diplomatic solution and de-escalation of the crisis. Abe vowed to "pursue decisive and strong diplomacy" following his recent election win, and he has been careful to avoid any bellicose rhetoric or talk of military action, something that would raise alarm among the Japanese public.
"The [Japanese] public seems to be less enthusiastic about the military and the martial tone of rhetoric from Washington. The public wants firmness, but they don't seem to want to increase the level of rhetoric and potential misunderstanding" with North Korea, Revere said.
Around 61 percent of Japanese citizens want tougher economic sanctions on North Korea, according to a Pew Research Center survey taken in March and April this year ― months before Pyongyang sent missiles over Japan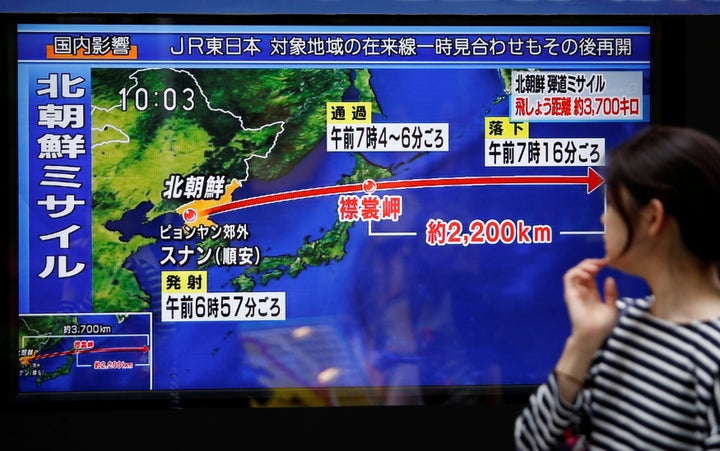 The Crisis Loomed Over Japan's Election
Japan's increasing worries over North Korea were evident this fall, when the crisis was a persistent campaign issue for Japanese voters.
Abe had called a snap election in late October to shore up support after months of circling domestic scandals. Throughout the run-up to the vote, he used the rising tensions to argue that the country needed his steady leadership.
"During this last election Abe campaigned on two issues. One was the long term Japanese challenge of its demographics ― its aging society and how it's going to cope with that ― and the other was North Korea," said Sheila Smith, an expert on Japanese politics at the Council on Foreign Relations.
Although Smith said that the North Korea crisis didn't singularly shape the way that Japanese voters cast their ballots, she added that Abe's image as a hawkish leader ready to take a strong stance against Pyongyang likely helped him at the ballot box.
The Pew Research Center poll of Japanese attitudes found that 66 percent of those surveyed were very concerned about North Korea possessing nuclear weapons ― a higher number than in both South Korea and the United States.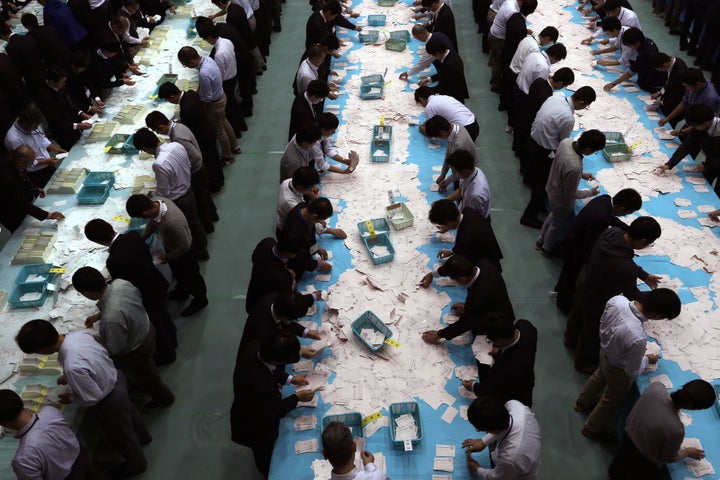 Abe has also long argued that his country needs to reform its pacifist constitution to give its military more leeway after decades of post-World War II restrictions. He and other lawmakers have recently pointed at the threat from North Korea to reinforce their case.
One of Abe's senior party officials, Masahiko Shibayama, argued during the campaign that revising the constitution would give the country a new security framework to address North Korea.
"We can't permit North Korea to keep making threats and ignoring the rules. We need a deterrent for those threats," Shibayama said.
Public opinion on revising Japan's constitution remains divided, and prior attempts to move away from the country's pacifist policies have set off rare, large-scale protests. Abe is set to use his landslide victory to attempt to push through his goal of constitutional reform.
Much of Japan's long-running debate over reforming its constitution has nothing to do with North Korea, instead focusing on domestic politics and governance issues. But the threat from Pyongyang is increasingly making Japan review its defense priorities and foster national debate over what role it should play in the crisis.
After Abe's victory, it's likely that Japan will advocate for stronger pressure on Pyongyang and back U.S. attempts to enforce economic sanctions against the regime. Yet Abe's administration will also likely take care to walk a careful line that avoids escalating the situation further amid the war of words between Trump and Kim.
Popular in the Community