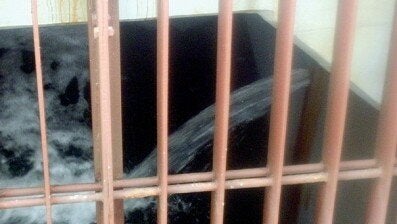 By Yoko Kubota and Kiyoshi Takenaka
TOKYO -- Japanese nuclear power plant operator TEPCO expects to stop pumping radioactive water into the ocean on Monday, days later than planned, a step that would help ease international concern about the spread of radiation from a smashed nuclear plant.
Prime Minister Naoto Kan's Democratic Party was likely to be punished at Sunday's local polls for his handling of the massive earthquake and tsunami that ravaged Japan's northeastern coast on March 11, killing 13,000 and triggering the world's worst nuclear accident since the 1986 Chernobyl disaster.
China and South Korea have also criticized Japan's handling of the nuclear crisis, with Seoul calling it incompetent, reflecting growing international unease over the month-long atomic disaster and the spread of radiation.
Japan is struggling to regain control of the Fukushima Daiichi nuclear plant that was damaged by the magnitude 9 quake and 15 meter tsunami.
The nuclear plant's operator, Tokyo Electric Power Co (TEPCO), has been pumping sea water into the reactors to cool the nuclear core, and then discharging the water, after it has become contaminated, back into the Pacific Ocean.
TEPCO had planned to stop the discharge on Saturday, but work was interrupted by a powerful aftershock late on Thursday. The firm then pushed the target back to Sunday, a goal it failed to meet.
"We are making checks on remaining water, and the final check is scheduled for tomorrow," a company spokesman told a press briefing late on Sunday.
TEPCO was forced to start pumping sea water into the power plant after failing to restart the reactors' cooling systems after the quake. It has been pumping in nitrogen to cool the core, but officials say they are unsure of what to do next.
"We cannot say what the outlook is for the next stage," Hidehiko Nishiyama, a deputy director-general of the Nuclear and Industrial Safety Agency (NISA) said on Sunday. "As soon as possible we would like to achieve stable cooling and set a course toward controlling radiation."
It is also grappling with a major humanitarian and economic crisis and facing a damages bill as high as $300 billion -- the world's biggest for any natural disaster.
Japanese who voted in local elections on Sunday were expected to shun Kan's ruling party, further weakening him and bolstering opponents who will try to force his resignation once the crisis ends. Results of the vote are expected on Monday.
Unpopular prime minister Kan was already under pressure to step down before the disaster, but analysts say he is unlikely to be dumped during the nuclear crisis, which is set to drag on for months.
In Tokyo, around 5,000 people took to the streets in two separate anti-nuclear protests on Sunday. Some carried placards reading 'No More Fukushima' and 'No Nukes'; others danced and played musical instruments.
One group of demonstrators marched to the offices of the operator of the stricken plant, which has apologized to Japan, and neighboring countries, for the crisis.
Radiation from Japan spread around the entire northern hemisphere in the first two weeks of the nuclear crisis, according to the Vienna-based Preparatory Commission for the Comprehensive Nuclear-Test-Ban Treaty Organization.
Japan's economy, the world's third largest, is reeling from the triple disaster and several countries have banned or restricted food imports after detecting radiation.
More critically, the nuclear crisis and power shortages have disrupted Japan's manufacturing and electronics global supply chains, hitting computer and automakers in particular.
Power blackouts and restrictions, factory shutdowns, and a sharp drop in tourists have hit the world's most indebted nation.
Efforts to regain control of six reactors hit by the tsunami, which caused partial meltdowns to some reactor cores after fuel rods were overheated, has been hindered by 60,000 tonnes of radioactive water.
NISA said efforts to restore cooling systems were not making clear progress.
TEPCO wants to start moving some of the highly contaminated water out of the reactors and into a condenser, a key step toward restoring the critical cooling system.
"We may be able to use (electric) systems that are currently functioning for cooling, and that may speed up the cooling restoration. But there is no concrete and clear option," said NISA's Nishiyama.
"It is one step forward, one step backwards." ($1=85.475 Japanese yen)
(Additional reporting by Chisa Fujioka, Issei Kato and Masahiro Koike in Tokyo; Writing by Daniel Magnowski; Editing by Miral Fahmy)