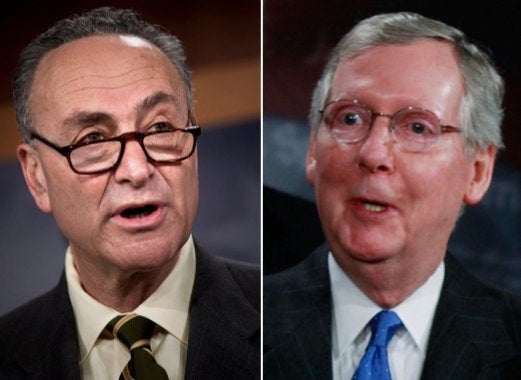 With additional reporting by Sam Stein
UPDATE: A spokesman for the Obama administration told the Huffington Post on Sunday that the president was waiting to get more information on the deterioration of Japan's nuclear power plants before making any policy decision about the White House's domestic energy approach. That said, the president continues to view nuclear power as a component of a broader policy needed to meet the nation's needs, provided it is "produced safely and responsibly."
"The administration's first priority right now is to support Japan, as well as American citizens in Japan, as they respond to and recover from this event, and we continue to monitor the situation and provide assistance," said Clark Stevens, a White House spokesman. "The president believes that meeting our energy needs means relying on a diverse set of energy sources that includes renewables like wind and solar, natural gas, clean coal and nuclear power. Information is still coming in about the events unfolding in Japan, but the administration is committed to learning from them and ensuring that nuclear energy is produced safely and responsibly here in the U.S."
WASHINGTON -- As Japan braces for the possibility of a nuclear meltdown, Sens. Chuck Schumer and Mitch McConnell said on Sunday morning they are still open to expanding nuclear power capabilities in the United States.
Schumer (D-N.Y.), one of the top Democrats in the Senate, said on NBC's "Meet the Press" that he is "still willing to look at nuclear" despite the catastrophic events in Japan.
"We are going to have to see what happens here -- obviously still things are happening -- but the bottom line is we do have to free ourselves of independence from foreign oil in the other half of the globe," he said. "Libya showed that. Prices are up, our economy is being hurt by it, or could be hurt by it. So I'm still willing to look at nuclear. As I've always said it has to be done safely and carefully."
Both sides of the debate over nuclear power have used recent global events in their arguments, with supporters of nuclear power claiming upheaval in the Middle East shows its necessity. A recent earthquake in Japan, however, demonstrated the possible dangers of nuclear power. The earthquake damaged two nuclear reactors, which workers are now working to cool to prevent core meltdowns that devastated Chernobyl and Three Mile Island.
McConnell, the Senate's leading Republican, told Fox News Sunday that he stands behind his support for nuclear power despite the devastation in Japan.
"I don't think right after a major environmental catastrophe is a very good time to be making American domestic policy," McConnell said.
Sen. Joe Lieberman (I-Conn.) offered a slightly different take on the issue, telling CBS' "Face the Nation" that he believes the United States should halt permits for new nuclear power plants until they can determine what went wrong with nuclear reactors in Japan. Still, he said he supports nuclear power in the larger sense.
"The reality is that we're watching something unfold and we don't know where it's going with regard to the nuclear power plants in Japan right now," he said. "I think it calls on us here in the U.S. naturally not to stop building nuclear power plants but to put the brakes on right now until we understand the ramifications of what's happened in Japan."
Support HuffPost
The Stakes Have Never Been Higher
Popular in the Community