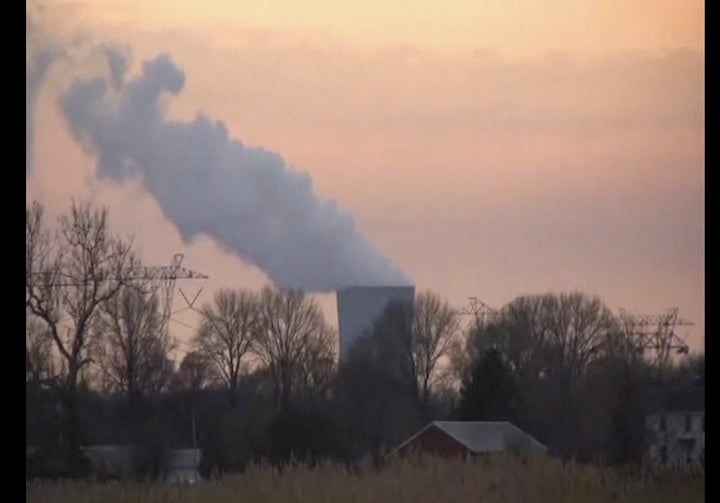 HANCOCKS BRIDGE, N.J. -- Driving along the meandering two-lane roads of this low-lying stretch of southern New Jersey meadows and wetlands, the towering Hope Creek nuclear power facility stands out above all.
Before daybreak and again in the afternoon, a steady stream of traffic to and from the plant fills the rural highways -- a basic rhythm of life here for nearly three decades. But on a recent afternoon at the town hall, locals accustomed to living in the shadow of industry were stocking up on potassium iodide, the same compound distributed to thousands in Japan to reduce the risk of certain kinds of radiation poisoning.
Designed in the mid-1980s, the Hope Creek reactor is a near-replica of Japan's crippled Fukushima Daiichi facility. It's also one of over 20 reactors across the United States with a massive elevated pool storing a hazardous -- and often overlooked -- byproduct of nuclear energy production: radioactive waste.
On-site nuclear waste storage has been at the center of the Fukushima crisis. When damage to a pool structure at one reactor caused water levels to drop, the combined energy of spent nuclear fuel rods went unchecked, sparking intense heat and radioactive releases.
The images and stories beamed from Japan have revived a scientific and public safety debate over nuclear waste storage in the United States, which a number of scientists have warned could be a prime target for terrorist attacks.
The massive stockpiles of superheated metal rods that emit more radiation than nuclear reactors themselves are constantly growing in the United States -- at a rate of 4.4 million pounds per year. Two-thirds of U.S. reactors have already reached their maximum storage capacity for the waste. Nearly all reactors will be maxed out within 10 years.
On-site radioactive waste storage has always been described as a temporary solution to a disposal process that plays out over tens of thousands of years. But for the last four decades, the U.S. government, environmental advocates and the nuclear industry have not come up with a permanent solution for radioactive waste. And in reality, on-site radioactive pools are acting as a long-term solution for discarded nuclear fuel in the United States.
"You wouldn't do that in your own household," said Helen Petrin, who lives about 15 miles away from the New Jersey plant and was picking up the iodide pills given out by the county health department at the town hall. "You wouldn't buy something that you didn't know how to get rid of."
For decades, as the nuclear industry has touted the front-end benefits of nuclear energy production -- virtually no contribution to greenhouse gas emissions, and highly efficient electricity production -- the back-end nuclear waste has piled up at plants across the country.
From a political standpoint, it has been a classic tale of pushback and procrastination over a thorny long-term dilemma. In the early days of nuclear power production in the United States, the industry thought spent nuclear fuel rods would be cooled for a short time and then recycled, or "reprocessed," for future use in reactors.
But in 1977, President Jimmy Carter banned the reprocessing of commercial spent nuclear fuel to limit the risk of plutonium, a key material of nuclear weapons, falling into the wrong hands.
Still, the waste needed to go somewhere. In the early 1980s, Congress passed a bill mandating the creation of a permanent waste storage site by 1998. The federal government later chose Yucca Mountain, a site in Nevada's Great Basin. A slew of lawsuits, political battles and environmental uncertainties held up that attempt at nuclear waste disposal for years.
Last year, the Obama administration decided to nix the project after intense opposition from the state of Nevada and many environmental groups. Several states have sued to reverse that decision, fearing that a future plan could saddle their state with the country's nuclear waste.
While the government has stalled over a permanent solution, most nuclear waste remains at the plants where it originated. Some fuel rods in "interim storage," as on-site waste storage is known, have not moved for decades.
"Originally it was not expected that spent fuel would stay at the reactor very long," said Charles Forsberg, executive director of the Nuclear Fuel Cycle Study at the Massachusetts Institute of Technology. "This is an anomaly of bad planning."
Political timeframes tied to two- and four-year election cycles have proved ill-suited to match a nuclear waste problem that spans millennia. The planned Yucca Mountain facility was designed to shield humans from the effects of nuclear waste for 10,000 years -- longer than the existence of human civilization itself. But even that timescale came up short in addressing all the problems of nuclear disposal; some of the radiation in spent fuel remains harmful to humans for up to a million years.
Although public concern has long focused on the harm caused by damage to nuclear reactors, such as at Three Mile Island and Chernobyl, the mounting stockpiles of nuclear waste might prove a significantly greater long-term risk. Nuclear scientists estimate the amount of low-level radiation in spent fuel pools is anywhere from five to 10 times as much as the amount of radiation in the nuclear reactor itself. And although reactors contain most of the harmful isotopes that cause acute radiation and rapid death, spent fuel pools contain many long-lived radioactive elements that cause cancer.
Absent a long-term repository for the radioactive waste, methods of storing spent nuclear fuel on-site at power plants break down generally into two categories: storage in massive pools of water and storage in dry casks, which are thick concrete cylinders that vent natural air to prevent the fuel rods from overheating.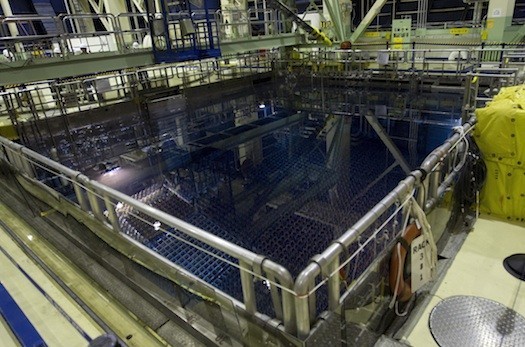 Spent fuel pool
Both approaches are necessary: when 10- to 15-foot-long nuclear fuel rods are first removed from the reactor, they emit high amounts of radiation and heat that dry cask storage cannot adequately contain. The water in the pool gradually cools fuel rods over time, and also serves as a shield to prevent the radioactive elements from escaping. But once the waste has cooled, the dry casks store the fuel rods in smaller concentrations, minimizing the risk of a fire.
For years, scientific debate has centered on how quickly waste should be transferred from the densely packed pools to less compact dry storage.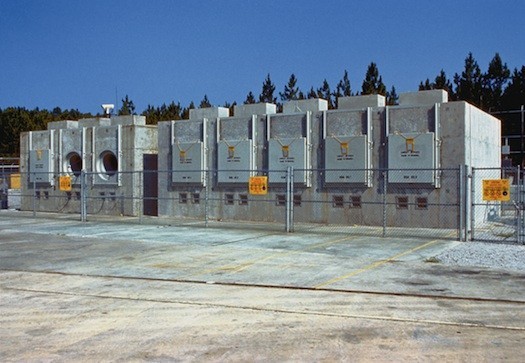 Dry cask storage. Credit: Nuclear Energy Institute
Over time, nuclear plant operators have reconfigured the way fuel rods are stored in the pools, packing them closer together as it became clear that a long-term, off-site storage solution was unlikely. In many cases, according to government reports, the pools contain more than three times as much nuclear waste as originally intended.
This has raised fears that on-site waste storage pools are targets ripe for terrorist attack. A National Research Council report on nuclear waste pools that was released to the public in 2006 noted that fuel pools could be considered a viable target for attacks because of the significant radioactive material inside.
"The committee believes that knowledgeable terrorists might choose to attack spent fuel pools because (1) at U.S. commercial power plants, these pools are less well protected structurally than reactor cores; and (2) they typically contain inventories of medium- and long-lived radionuclides that are several times greater than those contained in individual reactor cores," the National Research Council report concluded.
In 2003, there were nearly 50,000 metric tons of nuclear waste stored at United States plants, according to the National Research Council report, and 85 percent of the waste was stored in pools. At the current growth rate, that inventory of radioactive waste will double in less than 25 years.
"Spent fuel is going to stay at these reactors and accumulate for decades to come, and we should have a much better policy to ensure the safety and security of that fuel over time," said Robert Alvarez, a senior scholar on nuclear policy at the Institute for Policy Studies and a former advisor in the Department of Energy.
"Let's assume we have the ribbon-cutting ceremony this morning. It's still going to take 25 to 30 years to transport and place the current inventory of spent fuel," Alvarez said, noting that the managing the transportation of all of the different waste stockpiles to a single site would be a herculean effort.
In 2003, a number of nuclear scientists, including Alvarez, published a study in the journal Science and Global Security suggesting that the Nuclear Regulatory Commission require the spent fuel be transferred to dry cask storage within five years, instead of continually operating the pools at full capacity. They estimated shifting more spent fuel to dry cask storage would cost between $3.5 billion and $7 billion.
The Nuclear Regulatory Commission challenged the study, saying it had overplayed the risk of a terrorist attack compromising a storage pool and underestimated the cost of shifting to dry cask storage.
"Potential societal costs of [a] terrorist attack on spent fuel pools do not justify the complex and costly measures proposed," Nuclear Regulatory Commission staff noted in a response.
The costs of storage have been an increasing concern for the industry in recent years. With no long-term storage site on the horizon, and faced with the rising costs of purchasing more dry casks over time, more than a dozen utilities and the industry's lobbying group have sued the Department of Energy seeking to nix a law that requires nuclear operators to pay into a waste disposal fund.
The fees generate upwards of $700 million each year, but utility companies argue they should not have to pay for an undefined long-term disposal plan.

The Nuclear Regulatory Commission has incorporated some security recommendations made in the 2006 National Research Council report. A spokesman for the commission said he could not go into detail on most of the safety provisions, but noted that the commission now requires plants to install spray systems above the spent fuel pools in the event of a significant drop in water levels.
In an effort to reduce the risk of a fire if water levels drop, the commission also now requires plants to arrange pool-stored fuel rods so that newer, hotter spent fuel rods are scattered among cooler rods that have been in the pool longer.
The commission has not required greater physical reinforcement of the buildings surrounding the fuel pools, and has not required plant operators to move fuel into dry cask storage within a certain timeframe, according to the spokesman.
"The NRC views fuel as safe in either pool or cask, and therefore we haven't seen a safety reason to direct the licensees to move fuel to casks sooner than they otherwise would," said the spokesman, David McIntyre. "They do it when they need to do it."
Since the disaster in Japan, much of the focus has turned to the specific design of the Fukushima Daiichi plant. It's an older model that features an elevated spent fuel pool close to the reactor.
The situation in Japan has led to increased concerns about the nearly two dozen U.S. reactors that have elevated waste pools, where the belief is that water could more easily drain than designs that feature below-ground pools.
In southern New Jersey, where the Hope Creek nuclear plant has an above-ground storage pool, many have lived within eyesight of the massive cooling tower for decades. Hope Creek and the adjoining Salem nuclear power plant have a long intertwined history with the small communities of Lower Alloways Creek Township, near the Delaware River.
During the past three weeks, New Jersey health department ads for iodide distribution in local newspapers and wall-to-wall media coverage of the disaster in Japan have caused some reflection. But many area residents still know little about nuclear waste, or the local plant's similarities to Fukushima.
"Believe it or not, I don't think the people here think much about waste storage," said Petrin, a local resident who works about 10 miles from the plant. "Maybe this will cause more attention to the safety factor, particularly with the older models."
Others have a wry sense of realism about the risks.
"The ex-husband says, 'Put the house up for sale.' My daughter, she doesn't know why I don't put it up for sale," said Dorothy Bailey, who lives less than a mile from the plant. "I think that it doesn't matter, because if that thing blows up, it's not just going to happen here. It's going to happen down the road where they live, too."
But not everybody sees the plant as a risk to the community. Alan Craycraft, who also lives nearby, says he is reassured by what he sees as upgraded security since the Sept. 11, 2001, terrorist attacks. He recalled duck hunting back in the 1980s within a mile of the plant.
"I remember when I could actually get in my truck and sit right underneath the cooling tower, and nobody would say nothing," he said. "You could probably walk around the plant for an hour before somebody came up and told you to leave."
But over the past two decades, Craycraft said, security has tightened and he's felt comfortable.
"I'm sure if something was wrong, they would let us know," he said confidently.
Despite the changes Craycraft has noticed, some remain less than assured by the industry's upgrades. In response to post-9/11 security changes implemented by the Nuclear Regulatory Commission, the Government Accountability Office said that the new rules appeared to be made "based on what industry considered reasonable and feasible to defend against rather than an assessment of the terrorist threat." And nearly 10 years after the attacks on the World Trade Center and the Pentagon, some plants still have not yet fully complied with the revised safety and security requirements.
Although the industry had said most plants had adopted the post-9/11 safety measures years before, soon after the Nuclear Regulatory Commission published updated rules in 2009, an industry lobbying group -- the Nuclear Energy Institute -- requested that implementation of the new rules be delayed by nine months.
The NRC denied that request, but granted extensions to around 40 nuclear plants that had asked for individual exemptions from the original March 2010 deadline.
"If they were really fully prepared immediately after September 11, as many in the industry claimed, I just can't square that with these extensive delays in meeting these requirements that we've seen," said Edwin Lyman, a senior staff scientist with the Union of Concerned Scientists, an environmental health and safety group.
Many of the specific safety provisions were redacted from the public documents regarding extensions for plant compliance, but an NRC official said the delays usually dealt with unforeseen circumstances, such as inclement weather or purchasing delays for new equipment.
"By no means does that mean there's a vulnerability at the site," said Doug Huyck, an NRC branch chief who deals with reactor security and rulemaking. "That's a question that we always evaluate up front."
At the H.B. Robinson nuclear facility in South Carolina, the security compliance deadline has been extended twice to Sept. 16, 2011 -- a year and a half later than the original deadline and 10 years after 9/11. Although most extension requests do not reveal which upgrades are needed for compliance, the operators of the South Carolina plant noted that a fire last year prompted a reactor shutdown -- delaying slated safety improvements.
Jessica Lambert, a spokeswoman for Progress Energy, which operates the H.B. Robinson plant, said in a statement that security at the company's plants is "absolutely critical."
"The security modifications currently underway at Robinson Plant," she said, "will strengthen a program which is already very robust."
The NRC announced a comprehensive review of safety regulations at nuclear plants earlier this month. McIntyre, the commission spokesman, said, "It's too early to say what might come of that." But he said the waste storage issue is "certainly something that we will be looking at."
Popular in the Community