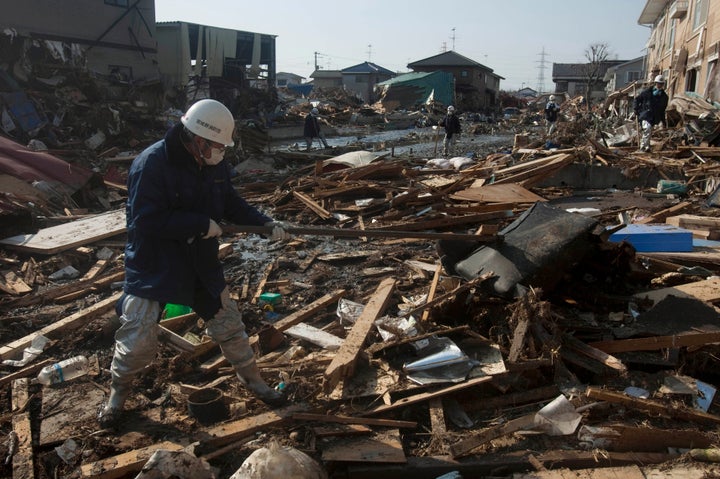 For those not used to working in disasters, the first week is chaotic, filled with stories of heroism and despair. The first responders are not the charities but the families of those who are injured or missing. For those caught in this tragic situation, this is an overwhelming situation to be in.
It is also not the time for architects or urban planners to show up thinking they can rebuild. People are trying to find their loved ones, not think about what their lives will look like in 5, 10 or 15 years. For those of us who are part of the reconstruction effort, we need to think about immediate needs for shelter while planning for the next three to five years of rebuilding.
Architecture for Humanity makes it a policy that we do not go anywhere without being asked. Within hours of the disaster we were approached by a number of Japanese groups, including our local chapters in Kyoto and Osaka, for our support and services. We stay focused to our mission of reconstruction, but in the first few weeks, when architects are not needed, we respond to the needs on the ground.
A coalition of individuals are trying to help update foreign nationals in Japan with the latest information regarding unfolding events. This is also being done via twitter the hashtag #honyaquake
We are looking at implementing a 10-phase approach.
Next Six Weeks
1. Support the #honyaquake movement with global translators
2. Distribute lessons learned [underway]
3. Engage Our Network of Building Professionals [underway]
4. Pre-Planning Assessments and Damage Analysis
Six Weeks to Nine Months
5. Identify ey projects and begin design and development process
6. Sorting Out Land Tenure and Building Ownership
7. Produce and File Construction Documents
Nine Months Onwards
8. Bid and Tender Process
9. Construction
10. Post Occupancy Analysis
Focus and Team
Our focus will be to support the building of the following;
Transitional Shelters, Health Clinics, Community Structures, Schools, Hospitals and Civic Structures
To implement our long-term plan we are partnering with our Kyoto and Osaka chapters as well as a number of Japanese architects in our global network. If we need to we will broaden our reach to our entire network. Thanks to long-term supporters and individual donations we now have the resources to start this process.
However, an organization should only work within a scope that fits the scale of the response. In Haiti we raised close to $2 million and are undertaking a three-year construction plan building many schools, in partnership with studentsrebuild.org. However in Chile we raised around $50,000 and focused resources on building a small youth center in Talca. Let us not forget Christchurch.
For Japan if we raise between $50,000--$200,000 we will provide pro bono design services and construction management. If we raise more than $200,000, our organization will provide a suite of design and construction services as well as construction financing for small 'urban acupuncture' centers.
As always, we believe in open source. So if you want to do your own thing and like it, steal this plan If you like it but think it needs improvement, comment below.
Calling all HuffPost superfans!
Sign up for membership to become a founding member and help shape HuffPost's next chapter