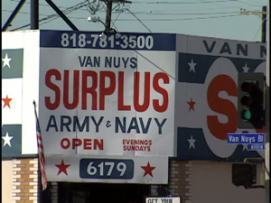 Local response to the disaster in Japan is creating a demand for gas masks and earthquake survival materials here in the San Fernando Valley.

"We've sold more gas masks the past two days than in the past year," said Paul Kershaw, manager of the Van Nuys Army & Navy Surplus store at 6179 Van Nuys Blvd. "Some of the people buying gas masks are worried about the potential for nuclear fallout," said Kershaw.
I have received numerous calls from patients and friends worried that Japan's nuclear power plant woes will release a cloud of radioactive iodine that will affect us on the West Coast. Though events continue to develop, this would be most unlikely to occur. The Fukushima No. 1 power station has significantly better safety systems than did Chernobyl, and even if there were a total coolant failure, there will be much less radiation released than in 1986. Japanese authorities also acted rapidly to take control of their situation, again minimizing the major environmental risk. Finally, the distance between Japan and the West Coast is so large, the risk of a significant increase in radiation being detected here is very low. So, while it is nice to be prepared with information, I would not suggest running out to stock up on KI at this time.