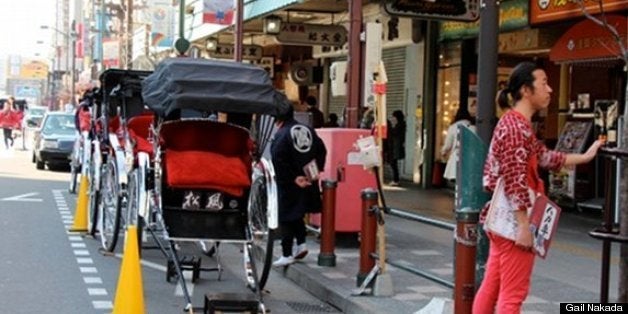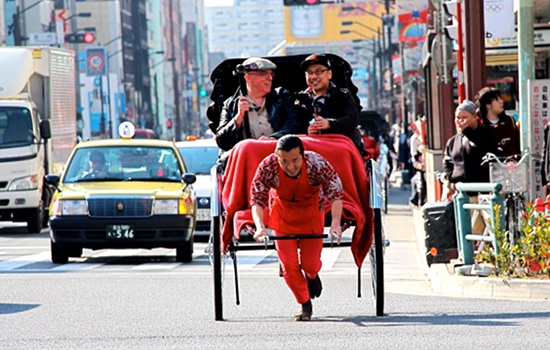 Leave uptown, high-tech Tokyo behind and tour the city's historic Asakusa quarter the old fashioned way. Go slow. Go retro. Go rickshaw!
You'll see these little black, two-wheeled vehicles with their iconic bright red-blankets and high-perch seats all over the traditional shitamachi (old downtown) district. It's super kitschy fun and everyone is doing it -- especially the Japanese!
The rickshaw as we know it was invented in Japan in the late 19th century during the modernizing Meiji Period. People power was seen as a cheap, convenient mode of city transport in those pre-taxi days. From Japan, they spread across Asia and all the way to Africa. Many countries eventually banned the use of rickshaws as inhumane. The tradition, however, lives on in motorized versions like the Tuk Tuks of Thailand.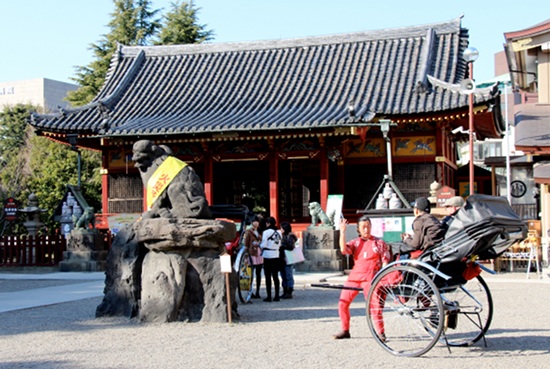 Asakusa Jinja is a popular stop on rickshaw tours.
Here in Japan, they're back, part of a nostalgic rush as Japanese rediscover the romance of their own culture. The ancient capitols of Kyoto, Nara and Kamakura also have lines of rickshaws ready to roll out the red blanket for visitors, foreign and domestic.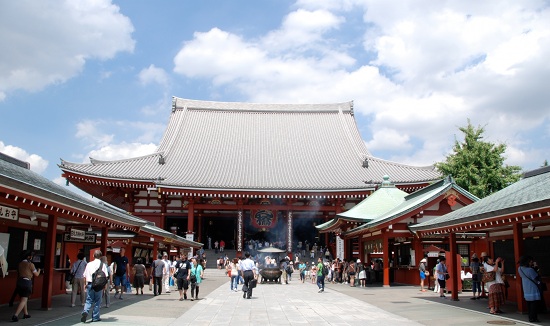 Sensoji Temple, Asakusa. Photo courtesy S.Nakada
Asakusa is the only place in Tokyo they are currently allowed to operate. A sensible choice as no where else in this rambling metropolis will you find so many shrines and temples crowded together. Rides are available seven days a week.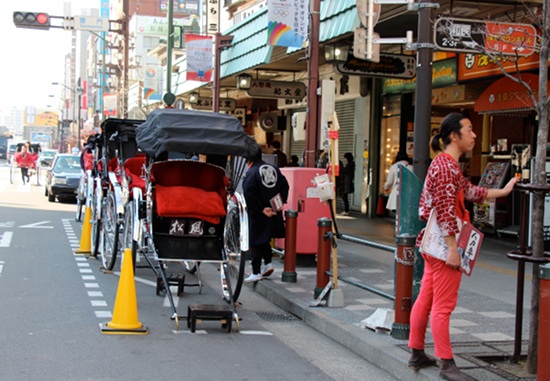 Rickshaws lined up outside Asakusa Station.
As you exit Asakusa's metro station along the busy street leading to Kaminarimon (Thunder Gate) and the entrance to Asakusa Sensoji Temple, you can't miss the rickshaw men crowded together. All are dressed in traditional short, thick, wrap coats, tight cotton trousers, split-toed zori shoes, and often wearing a colorful cotton towel wrapped around their head, just like the drivers of old.
They call out in several languages trying to attract prospective passengers. Don't be put off by the noise. The drivers are cheerful, chatty and personable -- a number of them speak good English -- and you needn't worry about going with them. There are several rickshaw companies that operate here, all are honest and reliable. Pricing and tour times are straightforward and they'll show you a menu to choose from. There is no need for negotiations. Tokyo Rickshaw Co., one of the main providers of tours in this part of town, even takes credit cards at their ticket kiosk near the station. (Japanese only website.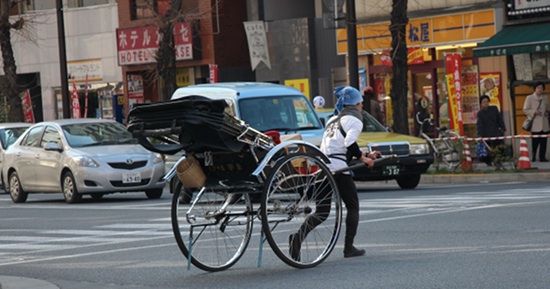 Rickshaws have become a common sight in this part of town.
Some of the bi-lingual drivers I've spoken to are university students putting themselves through college while practicing their English and keeping in shape. They are always my go-to guys for directions when I'm wandering around Asakusa trying to find some obscure temple.
Pricing is the biggest concern for visitors (and locals!), no matter what the current exchange rate is. The cheapest fare is for a ride of just 10 minutes -- a quick jog with a couple of photo-ops -- that goes for around 3000 yen ($30) for two people, or if you're alone, 2000 yen ($20).
A 30-minute tour averages 8000 yen for two ($80) or 5000 yen ($50) for just one person.
One-hour tours cost about 15,000 yen for two ($150), 9000 yen ($90) for a single rider.
There are longer options but honestly, an hour is about enough. Prices may vary from provider to provider but only by a few dollars. Even if you don't want to ride the rickshaws -- it's not cheap, I know -- they make for some unforgettable photos of Tokyo old and new.
Here's some of the colorful stops your tour might include: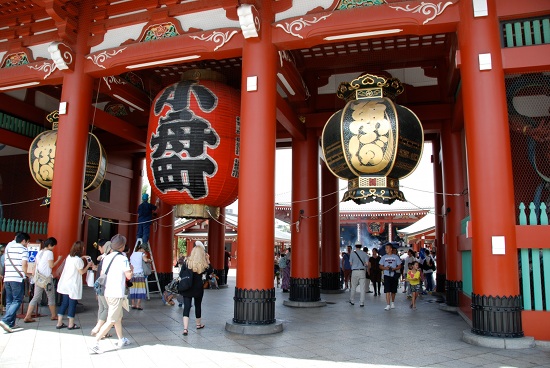 Sensoji's main gate.
Senso-Ji Temple: Bright and colorful, Tokyo's oldest Buddhist temple is always busy, packed with tourists and worshippers. Sensoji is dedicated to Kannon, the Goddess of Mercy, and renowned among the Japanese for it's powers for health and good luck. Omamori, good luck charms, are for sale on the temple grounds to take some of that luck with you. The temple was created after two fishermen found a statue of the goddess floating nearby in the Sumida river.
Asakusa Jinja Shrine: Only in Japan would you find a Shinto shrine right on the grounds of a massive Buddhist temple. The shrine is dedicated to the two fishermen who found the Senso-Ji Kannon statue mentioned above! One of the most inspirational elements of this country is how Buddhism and Shintoism co-exist in people's daily life. Seamlessly integrated, despite their diverse celestial pantheons.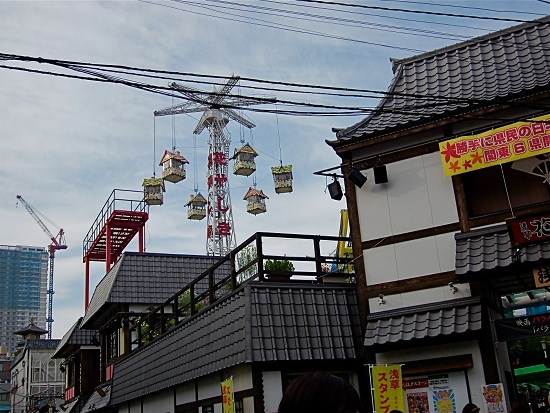 Japan's first amusement park, Hanayshiki.
Hanayashiki Amusement Park: This park is old fashioned fun where time seems to have stood still... in a Twilight Zone sort of way. Originally a flower garden (hanna means 'flower') the park is rumored to have its own resident ghosts. English website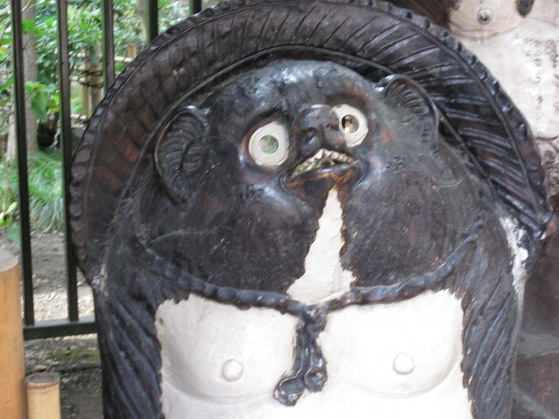 The tanuki raccoon dogs of Chingo-Do are tricksy shape shifters.
Chingo-Do, Tanuki Shrine: Most rickshaws stop near the entrance to this little shrine but are not allowed to go inside. If you have time, walk back and have a look around. Tanuki, raccoon dogs in English, are a mainstay of Japanese supernatural legends. You will see statues of them all over the country. Don't be fooled by the jolly exterior. Tanuki are devious little shapeshifting thieves always looking to make a profit at another's expense. Leaves are their currency of choice. The tanuki's powers lets them bewitch humans into believing the leaves are cash
Chingo-Do (Do is pronounced 'doe') dates to the latter part of the 1800s. The grounds of Senso-Ji temple had become infested with mischief-making tanuki spirits. A steward there applied for permission to build a shrine to appease the naughty spirits and stop them from causing trouble. (Sort of like paying protection money to the mob, albeit a furry one.) The shrine is famous for its power to protect against fire and theft and also bring financial success in business.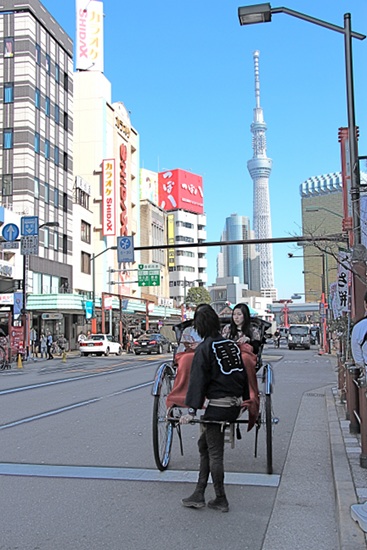 Sky Tree is farther than it looks.
Views of Sky Tree: Across the Sumida River, Sky Tree is a lot farther than it looks from Asakusa. Rickshaw drivers cannot take you all the way to the tower.
Related