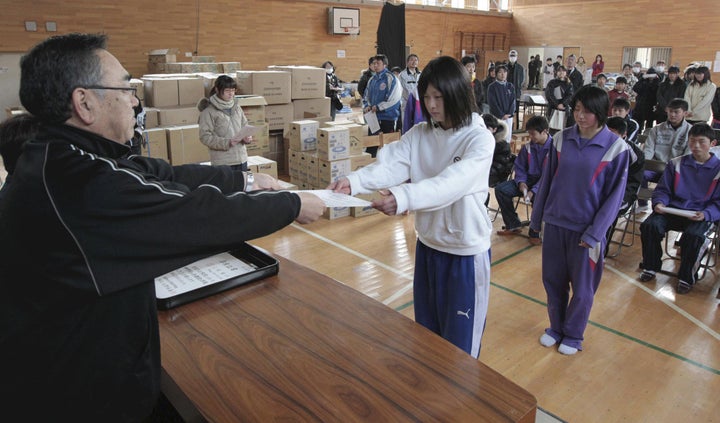 A number of schools in Japan have become refugee camps and even morgues. But a sense of normalcy took over for a few hours at some schools recently, where crowds honored students at school graduation ceremonies.
But amid the singing and the camera flashes at a graduation Tuesday for 28 ninth-graders at Hashikami Junior High School, there were tears, the New York Times reports.
Shunichi Hatakeyama sat with all the other proud parents holding a photograph of his 15-year-old son, Fumiya, who didn't make it to higher ground when he and his mother fled from the tsunami.
"My son is still missing. If I don't come, nobody will take his diploma," he said.
The ceremonies for sixth and ninth-graders at Hashikami were supposed to take place last week, and the ninth-grade principal told the New York Times he had reservations about holding graduation rites.
"We thought maybe it was too early for the ceremony," said Hiroko Sugawara, the ninth-grade principal. "But people in the community and the P.T.A. said, 'We want to celebrate for these kids, because this is a cruel experience for a 15-year-old.' I want the surviving kids to shine -- to continue their lives."
At Okirai Junior High in a small northeastern mountain town, 10 boys and 19 girls gathered Wednesday to mark their passage into senior school, Reuters reports.
The graduation speaker, whose fireman father was killed in the tsunami, said students should move forward from the tragedy by making the most of their lives. His mother shared her pride with Reuters:
"My heart was overflowing," said his mother Hiroko Iwaki. "My lost husband would have been so proud of him."
Do your part and learn how you can help Japan by visiting our "How To Help Japan" guide.
REAL LIFE. REAL NEWS. REAL VOICES.
Help us tell more of the stories that matter from voices that too often remain unheard.