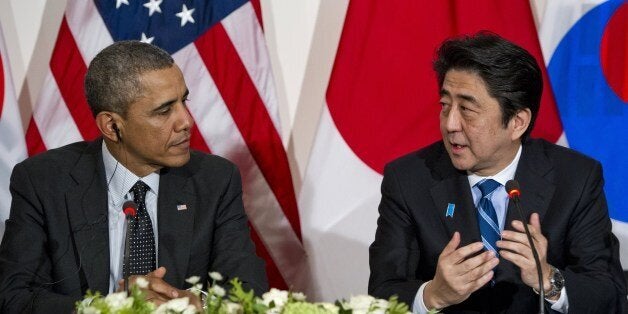 While juggling numerous other international initiatives, President Barack Obama recently scored a diplomatic coup by bringing together the estranged leaders of South Korea and Japan for their first face-to-face meeting since they both took office. The March 25 meeting -- months in the making by Obama -- represents a diplomatic breakthrough and a significant step to move forward during what has been a difficult period in diplomatic relations in a crucial corner of the world.

The Obama administration should continue its efforts, now that some momentum has been generated. The rift is obviously of deep concern to the U.S. and to other nations, as well.

At the root of the problem between the two key U.S. allies is a dispute over how World War II should be remembered, taught, and memorialized in Japan. The disagreement has intensified in recent years under Prime Minister Shinzo Abe, a well-known right-wing nationalist who has consistently sought to downplay and even deny war-time abuses. Japan's use of comfort women -- a euphemism for sex slaves -- during the war has been a focal point of these efforts and many fear that this particular crime will be forgotten, especially given the dwindling numbers of remaining survivors.

Abe's recent announcement that his government will not revise a landmark 1993 official apology (also known as the Kono statement) for the use of comfort women during World War II thus represents a small, but important victory in the effort to remember these victims. It also is a critical first step towards easing tensions within the region, and is already paying dividends with this week's trilateral summit in The Hague, which brought together South Korean President Park Geun-hye and Abe for the first time.

The Japanese government's decision in late February to revisit the 1993 comfort women apology was just the latest in a series of disturbing events. In 2007, during Abe's first term as prime minister, he publicly stated that there was no evidence of forced sexual slavery; and it was revealed that the governing LDP party had systematically worked to remove references to comfort women from Japanese textbooks.

On Dec. 26, 2013, Abe became the first sitting prime minister since 2006 to visit the controversial Yasukuni Shrine that honors Japan's war dead, including convicted war criminals. A month later, the newly appointed head of the NHK, Japan's national broadcasting network, defended the use of comfort women, claiming that it was common practice by all countries during war.

In response to these events, Park warned Japan that further denial would lead to diplomatic isolation. The South Korean government has also made a concerted effort to raise awareness about the issue, including a new exhibition at the National Museum of Korean Contemporary History highlighting the plight of comfort women. In addition, China has recently announced two new national holidays to commemorate Japan's World War II surrender and the Nanjing Massacre, further underscoring the continuing sensitivity and impact of Japan's wartime atrocities on citizens throughout East Asia.

The United States has also spoken out, expressing disappointment in Abe's visit to Yasukuni and calling NHK statements that the Tokyo War Crimes Trials were fabricated preposterous. In response to the comfort women issue, Daniel Russell, Assistant Secretary of State for East Asian and Pacific affairs, publicly urged Japanese restraint in dealing with sensitive historical issues, and several members of Congress have written open letters to Secretary of State John Kerry urging him to work with the Japanese government to pursue justice for comfort women victims.

What is at stake for the U.S. is not only an accurate representation of the past, but also the promise of regional stability in the present and the future. Japanese efforts to rewrite history have not only roiled Washington, but have also soured relations between South Korea and Japan, two critical US allies, just as simmering disputes over territory, including the contested Senkaku/Diaoyu islands between Japan and China and the Takeshima/Dokdo Islands between Japan and South Korea, threaten to break out into open conflict. These tensions also hinder US efforts to reorient its foreign policy to the Asia-Pacific and more constructively engage China.

The region is at a critical juncture. While Japan needs to do much more to reconcile its war-time past, the announcement that Abe supports the 1993 statement on comfort women thus at least temporarily stems a disturbing tide of Japanese revisionism about its wartime atrocities. It also suggests that Japan may finally be recognizing that a firm acknowledgment of past war crimes rather than a denial of them can provide a stronger basis and some hope for an easing of tensions within East Asia.

Given the potential risk of an ongoing diplomatic feud between these two countries, the U.S. should continue its role as peacemaker. Now is not the time to lose diplomatic momentum.
Popular in the Community