The Okawa Elementary Shool in Ishinomaki, Japan, was the site of one of the worst tragedies that occurred during the earthquake and subsequent tsunami that struck the east of the country in 2011. Three years and nine months after the disaster, the community is still struggling to pick up the pieces.
"I don't want what happened here at Okawa Elementary to happen again," says Souta Sasaki, a college student and the son of a former teacher at the school while standing in front of the dilapidated buildings.
Seventy percent of the pupils at Okawa Elementary -- 74 students in total -- either lost their lives or went missing as a result of the tsunami. Ten out of 11 teachers at the school were killed. Souta Sasaki, 19, is the son of one of those teachers.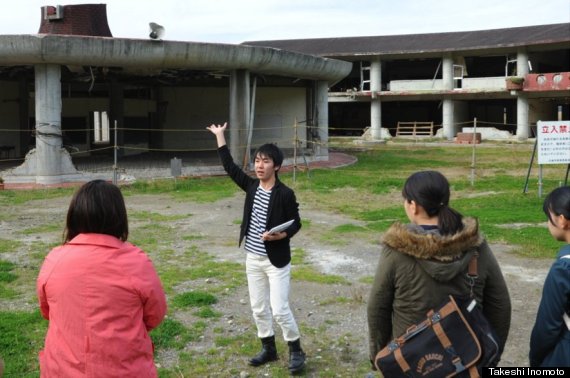 Souta Sasaki stands in front of what used to be Okawa Elementary and speaks to middle school students about the earthquake and tsunami. November, Ishinomaki City, Miyagi Prefecture.
Following in his father's footsteps, Sasaki entered the Miyagi University of Education in March 2014. He has been working as a mentor in a student support program at elementary schools in the disaster zone. Last summer, he also began working as a student volunteer guide, leading tours with middle school and college students to places like Okawa Elementary.
"My father was a second grade homeroom teacher. He was caught up in the tsunami along with many of his students," Sasaki said at one such tour at the beginning of November.
Standing before the broken windows, walls, and pillars of what used to be Okawa Elementary, he addressed 13 middle school students who had come from Fukuoka, in southwest Japan, to learn about the earthquake and tsunami.
Where the playground used to be, a memorial has been built. The victims' names, beginning with Sasaki's father's, are carved on it. "There are still some parents and guardians who have not accepted their children's deaths, and have not yet had their names carved here," he said. As Sasaki explained why there are spaces in the list that have been left blank, the faces of his middle school audience were shrouded in sadness.
At a gathering that evening, a second year girl compared the experience of losing her grandfather to an illness with what Sasaki is going through. With tears running down her face, she said she found Sasaki admirable for looking ahead and moving forward even though he must be hurting.
"There are things that we can do precisely because we have lost someone dear to us. Let's help everyone understand the value of life," Sasaki replied.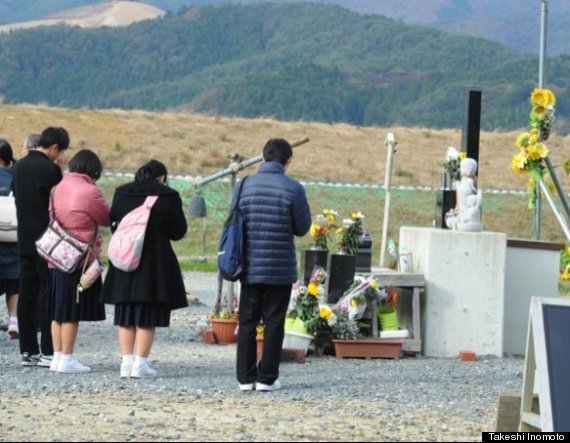 Middle school students paying their respects at the memorial for Okawa Elementary.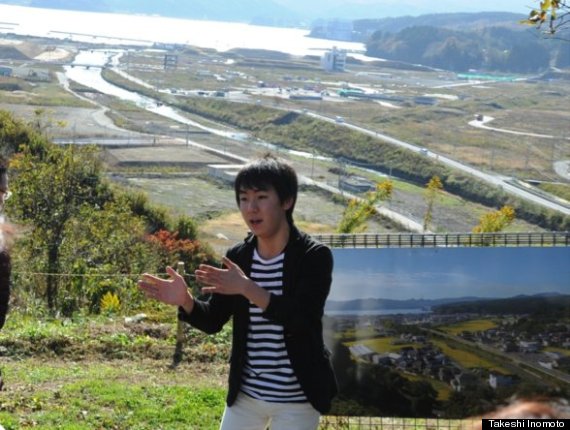 Sasaki also guides people around his hometown of Minamisanriku-cho. In areas affected by the tsunami, buildings are still sparse.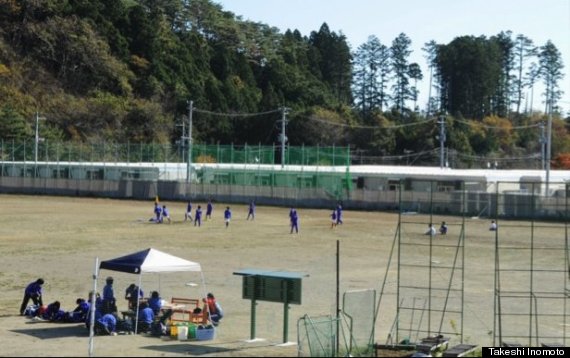 The middle school that Sasaki attended, Minami-sanriku-cho's Shizugawa Middle School. Students who were on high ground when the tsunami struck were unhurt. Now, temporary housing lines the school grounds.
Sasaki was in his third year of middle school at the time of the earthquake. "Schools are safe places. My dad must be alive," Sasaki said he thought right after the quake struck. He was reunited with his mother at a shelter five days later, but there was no sign of his father. They dug through debris near Okawa Elementary more than twenty times. One year and four months after the earthquake and tsunami, the police finally confirmed they had found his body.
"It was a relief to know, but it also left us no choice but accept the painful fact of his death."
Lately, people often tell Sasaki that he closely resembles his father, who was known as a kind man. Sasaki deeply regrets that his father is not around to advise him about his future.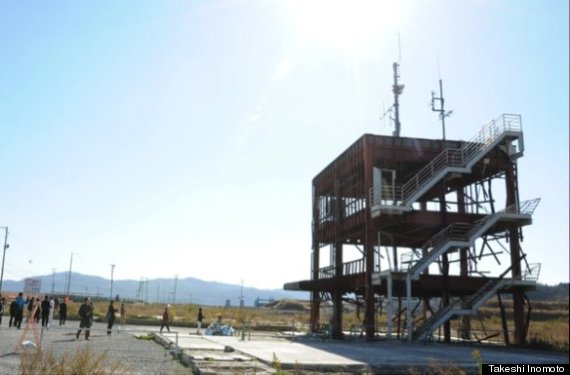 The Minamisanriku-cho Office of Measures for Disaster Prevention. Before speaking there, Sasaki took a moment to pay his respects.
The tragedy at Okawa Elementary has raised questions about who is responsible for managing school safety procedures. There is an ongoing lawsuit between the deceased children's families and the city and prefecture over responsibility for the tragedy.
There were about 50 minutes between the start of the earthquake and the arrival of the tsunami. It is believed that the teachers at the school had the students gather out on the playground for too long, instead of having them take shelter in a safer place. The city counters that the damage caused by the tsunami was "unforeseen."
Sasaki said he lit incense and prayed at the homes of his father's students who lost their lives after the disaster. Families who lost children and families who lost their members as teachers are different, he said, but "the feelings of not wanting a tragedy like this to repeat itself are the same." In order to keep the lessons learned from Okawa Elementary alive, he began to think that he should actively work to distribute information about it.
Sasaki hopes to learn the truth about what caused the tragedy at Okawa Elementary. He reads reports published by investigative committees, and he has gone to meet personally with experts conducting research on the subject. As for his personal views on what caused the tragedy at Okawa, he said he would prefer not to talk about it until there's a verdict in the lawsuit.
  Thank-you letters from students at disaster-area schools that are participating in student support programs.
There are other dilemmas as well. Some argue that places such as Okawa Elementary are memorials of previous lives and should not be viewed as places to sightsee.
Volunteers who are working as mentors for children in elementary schools in the towns of Minamisanriku and Ishinomaki are putting all their energy into the program. "As the generation that will carry the recovery effort forward, these students want to work hard along with us," Sasaki said.
Sasaki wants to keep on doing what he can. Working in his ravaged hometown, he believes that as he conveys the value of life to others, he also continues to honor the memory of the life his father led.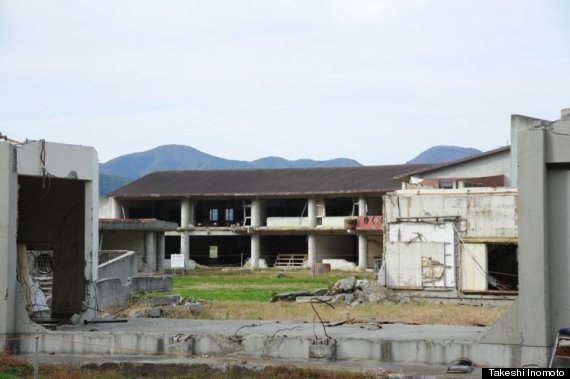 School buildings at Okawa Elementary that were damaged by the tsunami. It is yet to be decided whether the remains of the school will be left as they are.
This piece originally appeared on the Huffington Post Japan and was produced by its partner, Asahi Shogakusei Shimbun/Asahi Chuukosei Shimbun. It was translated from Japanese into English.