Last March, I boarded a plane to Japan the day the earthquake hit, unaware of the true extent of the destruction and loss of life. This is my account of my 28 hours spent on a plane and 38 hours spent in Tokyo.
On March 11, 2011, I was booked on a direct flight from Hartsfield-Jackson Atlanta International Airport to Narita International Airport halfway across the world in Japan. I was working as a Researcher on the CNN National Desk at the time, but had taken the week off to visit my now-fiance's parents who were living in Tokyo. This was my first time out of the United States (besides a previous trip to Vancouver), and I was so excited for my first tip to Asia. I had read everything about Japan, and I knew it was going to be life-changing.
I awoke early that morning to a phone call from the morning news editor at KDKA Radio, my former station in my hometown of Pittsburgh. The details are a little hazy, as that I was half-asleep when I answered, but the message was clear: a terrible earthquake had hit Japan.
I jumped out of bed and immediately turned on the television. Even that early, before the sun was up, the networks were in live coverage of the earthquake. But there weren't many details, and they were unsure about the death toll. My fiance, Michael, called his mother and father, Andrea and Dan, and thankfully they were fine. The building shook and swayed during the earthquake, and things fell off shelves. But there was no damage, and they had power.
Over the next few hours, we continued to watch the news and I emailed my colleagues. It was reported that the epicenter of the earthquake was hundreds of miles from Tokyo. I heard about the tsunami, but the estimated death toll was something like 100. (It was still so early.) At this point, there was no mention of any problems with the nuclear reactors.
We called our airline, and our flight was still leaving for Japan; it had not be cancelled. After calling my mother and father, we made the decision to head to the airport to catch our flight. Loss of life is always terrible, no matter the number, but with all the information we had, it seemed safe to go. Earthquakes happen all the time, I thought.
When we arrived at our gate, things were pretty normal. I stood in line and asked our ticket agent if our flight was still leaving, and she gave me a puzzled look and said yes. They did not know much about the earthquake. Overhearing conversations, many people were discussing what happened, but no one seemed too worried. Since this was the next direct flight to Japan, many CNN reporters, producers and photographers boarded our plane.
As we took off, I had a conversation with Gary Tuchman, a CNN reporter who would spend weeks in Japan reporting on the devastation. He had just about as much information as I had. We didn't have any internet or Blackberry use during our 14-hour flight. I had no idea what had happened.
As we flew over the land hit by the tsunami, our captain informed us that if we looked on our right, we could see the area hit. I made my way to that side of the plane and was absolutely shocked at what I saw: there is no way to describe it than utter destruction. I couldn't tell if I were seeing houses or office buildings or trees, but whatever this area was it was completely flattened. I had never seen anything like it in my entire life. Even from this altitude, it was evident: 100 people did not die here, thousands did.
When we landed at Narita and cleared customs, our group began to dissipate. The airport was completely deserted except for a few reporters. There were sleeping bags and trash scattered about but no people around. No trains were running. Our cell phones didn't work. I couldn't get my email. No social media. Television crews approached us to talk, but we declined as that we had no idea what was happening. We were far from Meguro-ku, where Michael's family was, and we had no way to get there but on foot.
After walking around a bit and trying to devise a plan, we came across a taxi driver holding a sign in Japanese. As he flipped the sign over, I caught the words in English: Michael's last name. He didn't speak any English, and we didn't speak any Japanese, but he handed us a phone. Dan was on the other line. "Get in the car," so we did.
After a silent two-hour taxi ride -- only seeing a handful of other cars on the road -- we finally made it to our destination. Dan and Andrea spent six hours attempting to get to the airport to pick us up, but couldn't make it because the trains kept stopping. Luckily, they were able to find a taxi driver willing to pick us up.
It was late in the evening now in Tokyo, so we spent the next few hours talking about our trip (Michael's brother Ben flew in a few hours before us from Colorado) and what it was like when the earthquake first hit. The news showed the death toll climbing, and it was evident that this was a terrible earthquake and tsunami.
I don't know if it was the time difference or the fact that my day was so hectic, but I don't think I slept a minute that night. But Tokyo was so peaceful the next morning, Sunday:
We watched the Japanese news that morning, and that is when we heard the first reports about the Fukushima Daiichi Nuclear Power Plant. There was a fire, some type of explosion at the plant about 200 miles northeast of us. We did not hear or receive any warnings about a meltdown. The news made it seem like it wasn't a very big deal.
We spent that day in Tokyo. We went to the Harajuku Station and then walked to the Meiji Shrine, an amazing site. There were barrels of sake stacked up! We even saw a beautiful wedding take place. From there we headed to the Ginza shopping district. After that, on to Asakusa where there were all kinds of shops.
We walked down the center lane to the Sensoji Temple and went inside. I had my first, delicious spicy ramen bowl for lunch. As we stood on the bridge over the Sumida River, I saw the most interesting boats. After stopping at the Asahi Brewery, we started to walk back through Shibuya (which you might know from"Lost in Translation"). That night, we stopped at the Tokyo American Club and later had a family dinner. Finally, we went to the Azabu-Juban Station and took the subway home.
The only earthquake damage I saw that day was the top of Tokyo Tower, which was slightly bent. Everything seemed calm, bright and sunny. Tokyo was so beautiful. But there weren't as many people on the streets, and food shelves were starting to empty.
That evening, things took a turn for the worst. The news coming out of the U.S. was that Fukushima Daiichi was a nuclear disaster. The death toll from the earthquake and the tsunami was in the thousands. An embassy report that reached us said that we were not in danger of radiation. We were born and raised in Pennsylvania, and everyone knows about Three Mile Island.
That night, we decided to leave Tokyo. Michael and I went to Atlanta. Ben went back Colorado. Dan and Andrea headed to Singapore. It absolutely broke my heart to leave Japan and to separate from everyone.
When I got back to Atlanta, I spent my week watching the news 24/7 and reading everything about the events in Japan. When I returned to CNN, I started working on the Nuclear Desk and was fully focused on the crisis. I couldn't believe how the situation escalated so quickly.
Though I was only in the country for 38 hours, I feel a connection to Tokyo and plan to return in the future. To this day, my heart goes out to the people of Japan.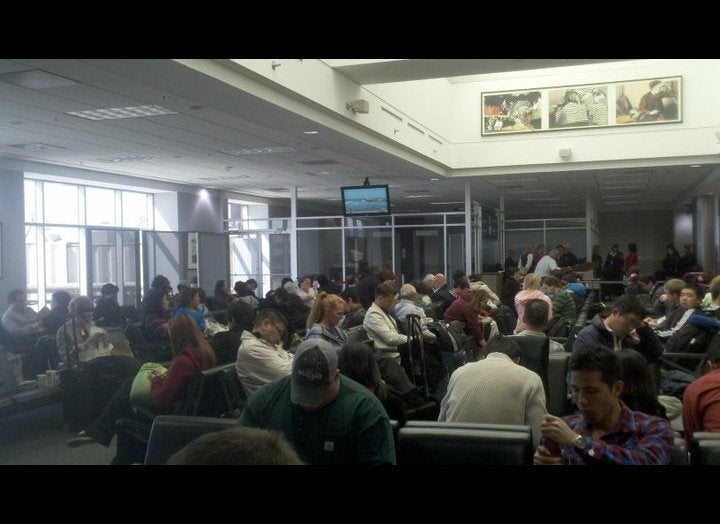 Gallery
Related