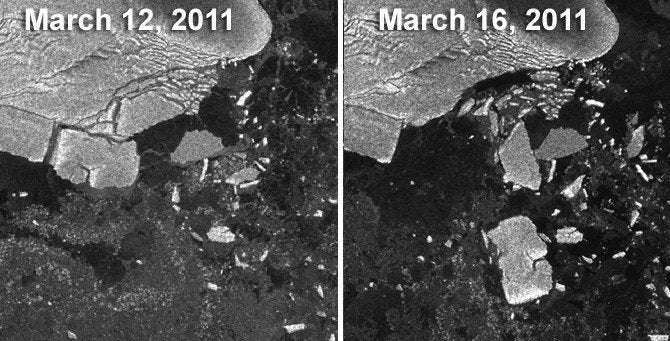 For the first time, scientists seem to have linked a catastrophic event over a hemisphere away with the creation of icebergs from the coast of Antarctica. According to NASA, Kelly Brunt, a cryosphere specialist at the Goddard Space Flight Center in Greenbelt, Maryland, and her colleagues, were able to relate the two occurrences directly.
Their findings will be published in the Journal of Glaciology later this month.
After the tsunami this March in Japan, Brunt and her team immediately looked South, according to NASA. What they found was the formation of new icebergs shortly after the tsunami waves reached the continent.
The break-off apparently occurred about 18 hours after the tsunami struck the Japanese coast.
"In the past we've had calving events where we've looked for the source. It's a reverse scenario - we see a calving and we go looking for a source," Brunt told NASA. "We knew right away this was one of the biggest events in recent history - we knew there would be enough swell. And this time we had a source."
In April, HuffPost blogger David Kroodsma wrote about a study in the Annals of Glaciology which reported that when a large iceberg capsizes and flips, it can create a small tsunami (up to one percent the height of the iceberg.) Nature speculated whether "'glacial tsunamis' be added to the list of future global-warming hazards."
Related
Popular in the Community