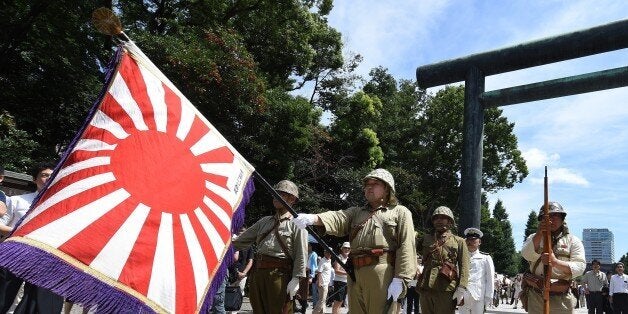 WASHINGTON, March 19 (Reuters) - An organization for former U.S. prisoners of the Japanese and a Korean-American forum say Japanese Prime Minister Shinzo Abe should only be invited to address the U.S. Congress during an expected visit if he acknowledges Japan's World War Two past.
Abe is expected to visit the United States at the end of next month and early May, and Japanese media say he is eager to highlight his trip with an address to both houses of Congress, an honor never before afforded to a Japanese prime minister.
Any invitation is a matter for congressional leaders and Abe cuts a controversial figure, given what critics see as his attempts to water down past statements about the behavior of Japan's Imperial Army in World War Two.
House of Representatives Speaker John Boehner's office did not immediately respond to a request for comment on a Kyodo news agency report that Abe would, in fact, address a joint session of Congress. The report cited a U.S. legislative source.
The president of the American Defenders of Bataan and Corregidor Memorial Society, which represents surviving U.S. prisoners of the Japanese, said an address to a joint session of Congress would be "a unique opportunity to acknowledge Japan's historical responsibilities."
However, writing to the Veterans' Committees of both houses on Wednesday, Jan Thompson said past statements by Abe rejecting the verdicts of the Tokyo War Crimes Tribunal that served as the foundation of the 1951 San Francisco Peace Treaty with Japan "trouble us."
"We want Congress to only extend the invitation to Prime Minister Abe to speak at the podium of Roosevelt and Churchill if they are assured that he will acknowledge that Japan's defeat released the country from the venom of fascism and the inhuman goals of a criminal regime," his letter said.
A group of Korean Americans placed a full-page advertisement in The Hill, a newspaper covering Congress, on Wednesday saying that Abe should apologize for Japan's war crimes, including to so-called comfort women forced to work in military brothels - many of whom were Korean.
A Japanese foreign ministry spokeswoman declined to comment on the newspaper advertisement but said Abe's Cabinet "upholds the positions outlined by the previous administrations in their entirety," referring to past apologies by former prime ministers Junichiro Koizumi and Tomiichi Murayama as well as a 1993 apology by the then-top government spokesman to "comfort women."
Representative Gerry Connolly, a Democrat who co-chairs the Korea caucus in Congress, said an invitation to speak does not imply approval of policies.
"I agree with those who have already asserted that the Japanese government led by Mr. Abe ought to recognize in clear definitive words the injustices done in the past," he said.
"But trying to pre-condition, or deny, the Prime Minister of Japan an opportunity to speak to a joint session of Congress, I don't think is the right way to achieve those ends." (Reporting by David Brunnstrom in Washington; Additional reporting by Linda Sieg in Tokyo; Editing by Ken Wills, Robert Birsel)
Calling all HuffPost superfans!
Sign up for membership to become a founding member and help shape HuffPost's next chapter