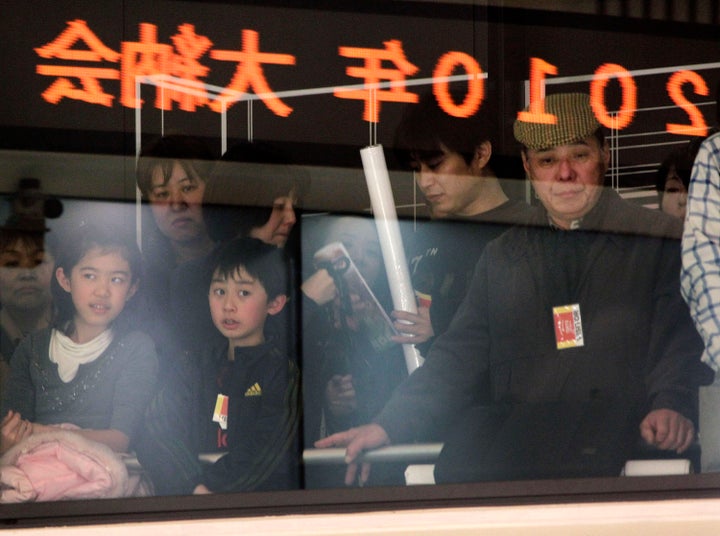 The yen eased off its all-time high Friday as the world's major central banks lent their support, but Japan's economic troubles are far from over, experts say.
Intervention by the Group of Seven industrial countries has curbed the recent spike in Japan's currency, and it has, for the moment, shielded the nation against what could have been a devastating blow to trade, economists say. Still, fundamental challenges remain: last Friday's 9.0-magnitude earthquake has crippled Japan's economy through the coming months, economists say, as factories, roads and ports lie in ruins.
Currency intervention did, however, prevent a bad situation from growing worse, according to analysts. "This is exactly what Japan needed," said Nariman Behravesh, chief economist for the financial analysis firm IHS Global Insight. "If the yen had continued to rise, the contraction might have been even bigger."
The yen hit its highest value since World War II Thursday, raising fresh concerns about Japan's economic prospects. Investors contributed to the yen's rise by buying the currency, expecting an expensive rebuilding process in Japan, experts said. The likely thinking behind such trades was that Japanese institutions would convert foreign assets into yen to pay for damage claims and construction expenses, a process that would strengthen the currency. In anticipation, investors piled into yen, helping drive up its value.
That development posed a serious threat to Japan's economy. Already, with factories and infrastructure destroyed, trade disruptions had prompted economists to downgrade their forecasts for the nation's output over the coming months. With the yen strengthening, prospects seemed even worse: The goods that Japan did manage to export would be more expensive and thus less attractive to foreign buyers.
Toyota, for instance, estimated that each one-yen gain that Japan's currency makes against the dollar tears about 30 billion yen from the company's earnings, according to Bloomberg News.
Amid concerns that these trade disruptions could affect economies worldwide, international powers took action. For the first time in over a decade, leaders from the G7 nations joined together to intervene in currency markets Friday, buying dollars and selling yen in an effort to tame the yen's rise. Immediately, investors responded. Stock markets cut recent losses, and the yen fell from its high level, hitting its lowest value against the dollar since 2008.
"It's certainly what they needed to do. We were seeing a slow economic train wreck starting to develop, with the yen appreciating as it was," said Scott Anderson, a senior economist at Wells Fargo. "The only economic engine Japan has right now -- they're like an airplane with its last engine running -- is its exports."
But it's unclear how lasting the relief will be, economists say. The last time such a coordinated effort took place was in 2000, when central banks attempted to stop the newly created euro from falling in value. The effects, back then, were temporary. The euro ticked upward after the intervention began in late September, but then fell through much of October. After a rise late in the year, it fell again in January 2001, beginning a sustained rise only in 2002.
Such interventions can change investor sentiment, but they don't necessarily have the ability to change fundamentals, said Mark McCormick, a currency strategist at the financial services firm Brown Brothers Harriman. Central banks don't wield nearly as much money as the foreign exchange market, he noted.
"They can't overpower the market. They don't have the ammunition to do so," McCormick said. "But if they're stealthy and they do it in an intelligent way, they can out-craft the market."
In this case, that may be what's needed. The yen's rise wasn't being driven by fundamental changes, experts say. Rather, investors were anticipating developments that hadn't yet occurred. In order for the effects of the central banks' actions to last, investors will likely have to believe that any rise in the yen stemming from the reconstruction process will be offset by monetary stimulus. In essence, if the intervention is widely perceived to be working, then it will be working.
But even if the central bank intervention succeeds, challenges for Japan's economy will remain. Leading economists maintain a bleak outlook for Japan's next several months. This week, Wells Fargo cut its forecast for Japan's second quarter economic output, now predicting the economy will slip into recession until the second half of the year. That view still holds, Anderson said.
Similarly, Friday's currency intervention didn't prompt Moody's Analytics to change its anemic forecast. The prediction of 1 percent growth for 2011, down from the pre-earthquake forecast of 1.4 percent, still stands, according to Gus Faucher, director of macroeconomics for Moody's Analytics. That outlook includes a recession that doesn't let up until the second half of the year.
The currency intervention, moreover, "may turn out to be a wash," said Bernard Baumohl, chief economist of the Economic Outlook Group.
"In the short run, the intervention has been a success, but a lot of Japanese companies are going to have to repatriate foreign investments," Baumohl said. "There's so much that's unprecedented about this, it's hard to figure out where, ultimately, the currency is going to go."
Related
Popular in the Community