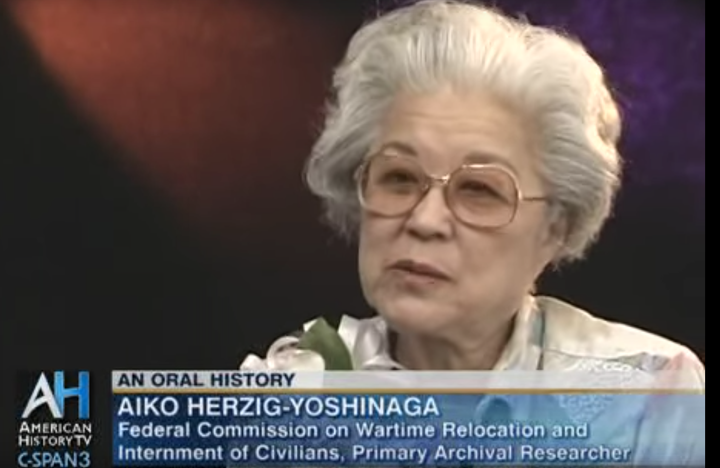 Herzig-Yoshinaga is best known for uncovering a report proving that the U.S. government's imprisonment of Japanese-Americans during World War II was largely fueled by racism rather than a perceived national security threat. 
Her instrumental research played a significant role in the redress movement, leading to reparations for Japanese-Americans and an apology from the U.S government for how it treated them following the bombing of Pearl Harbor in 1941. 
"Aiko Herzig Yoshinaga was the quintessential example that one person can change the course of history," Mitch Maki, president and CEO of the history nonprofit Go For Broke National Education Center, told HuffPost. "As a self-trained researcher and archivist, she had the keen ability to identify key documents and draw the connections between them."
Herzig-Yoshinaga was born in Sacramento, California, in 1925 to Japanese immigrants. When she was 17 years old and a senior in high school, the U.S. government incarcerated her and thousands of other Japanese-Americans at Manzanar, a prison camp in California, where she lived with her husband's family. 
"You're not getting your diplomas because your people bombed Pearl Harbor," Herzig-Yoshinaga recalled the principal telling her at the time. 
"That was the only thing. No chest of drawers, no nothing, no curtains on the windows," she told NPR. "It was the barest of the bare."
Herzig-Yoshinaga eventually gave birth to a girl in the camp before being transferred to two camps in Arkansas: Jerome and later on, Rohwer. 
As years went by, Herzig-Yoshinaga became more politically involved, joining groups including Asian Americans for Action, which rallied against the Vietnam War and nuclear research, among other topics. After moving to Washington, D.C., in 1978, Herzig-Yoshinaga and her third husband, John Herzig, became dedicated to documenting and examining the Japanese-American wartime experience. 
She explained to Discover Nikkei that she was inspired by her friend Michi N. Weglyn, author of Years of Infamy: The Untold Story of America's Concentration Camps, to dig into the archives and examine the records that government agencies kept about Japanese-American incarceration. She became the lead researcher of the Commission on Wartime Relocation and Internment of Civilians, a body that became the foundation for the legislative redress movement. 
While on the commission, Herzig-Yoshinaga eventually discovered a report that proved the army saw no "military necessity" to detain more than 110,000 Japanese-Americans behind barbed wire. Densho, a Japanese-American history organization, points out that the military had attempted to destroy all copies of General John L. DeWitt's original "Final Report" ― a document that laid out the rationale for the army's forced removal of Japanese-Americans ― aware of the unconstitutional statements within it.
However, the military failed to locate the 10th copy, which Herzig-Yoshinaga was able to uncover. 
"None of us are infallible — including government officials and politicians whom I had admired as icons to be emulated — and acceptance of this fact became so clear as I did the research," Herzig-Yoshinaga said of her work.
Her work contributed to the passage of the Civil Liberties Act of 1988, federal legislation that granted $20,000 in reparations to every surviving U.S. citizen or legal resident immigrant of Japanese ancestry incarcerated during World War II and also included an official apology from President Ronald Reagan. 
The act states that the wartime policies targeting Japanese-Americans were "carried out without adequate security reasons and without any acts of espionage or sabotage, and were motivated largely by racial prejudice, wartime hysteria, and a failure of political leadership."
Herzig-Yoshinaga's crucial research also played a role in helping vacate the convictions of Fred Korematsu, Gordon Hirabayashi and Minoru Yasui, who had all challenged wartime policies toward Japanese-Americans. 
Herzig-Yoshinaga, who died after a brief illness, is survived by two daughters, a son, a brother, six grandchildren and two great-grandchildren.  
Calling all HuffPost superfans!
Sign up for membership to become a founding member and help shape HuffPost's next chapter
BEFORE YOU GO
PHOTO GALLERY
Notable Deaths in 2018