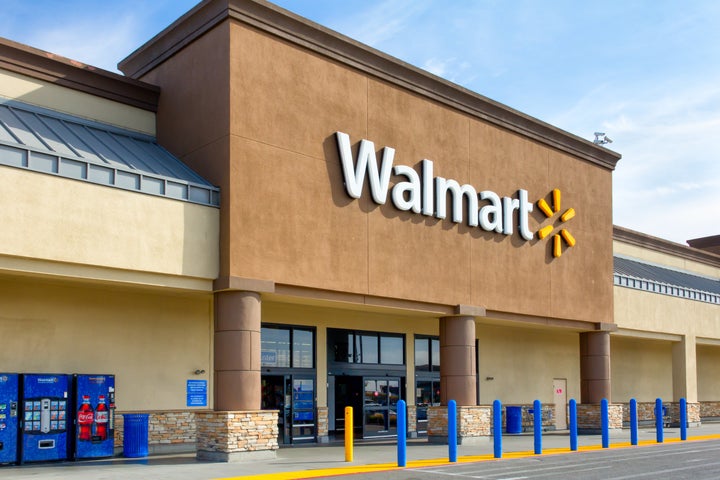 Walmart removed products Saturday that depict a historical tragedy in the Japanese-American community.
The retail giant was selling posters of Japanese-American incarceration during World War II on its website. Walmart took them down after author Jamie Ford tweeted the company asking why it was selling the posters and noting the offensive description of the products.
One particular poster featured a child waiting to be taken to an incarceration camp, and was advertised as "the perfect wall art for any home, bedroom, playroom, classroom, dorm room or office workspace."
In addition to quickly removing the items, Walmart also apologized for its actions in a statement sent to HuffPost, and indicated it had communicated with nonprofit Japanese American Citizens League on the issue.
"We are very sorry such a sensitive topic was handled in such an insensitive way. The description used for these products was beyond tone-deaf, and unfortunately it wasn't caught by us or the marketplace seller who listed these products on our site," a Walmart spokesperson wrote. "When we were contacted about these over the weekend, we quickly removed the items from our Marketplace. We apologize this wasn't caught sooner."
Natasha Varner, communications and public engagement manager at Japanese-American nonprofit Densho, told HuffPost that though the removal of the products was a small victory, the incident "barely scratches the surface" of a larger issue. The sale of images from Japanese-American incarceration camps can be found on a variety of marketplaces including Amazon, among other sites. And just because it's legal to sell these photos doesn't mean they should.
"The companies that sell these prints are legally able to do so since the images are in the public domain, but they should really be examining the ethics of profiting off of this grave historical injustice," Varner said.
She added that if companies wish to sell images, they should do so responsibly and link up with Japanese-American organizations to discuss which prints should be sold and how the photos should be described, along with the most ethical way to market them and who the proceeds benefit.
To prevent similar incidents from happening in the future, Varner says it's important to be aware of the context of these tragedies.
"The bottom line is this: if you choose to sell prints of historical trauma or other sensitive issues, think about the communities those images represent," she said. "Engage them. Make sure the proceeds benefit them. Give them the agency and respect they were denied at the time those photographs were taken."
Popular in the Community