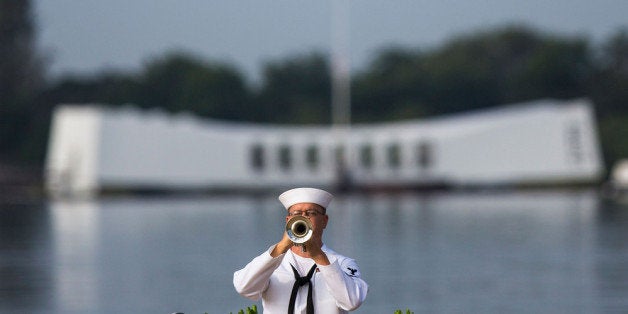 The USS Missouri Memorial Association's annual Veterans Day sunset ceremony at Pearl Harbor will honor the 70th anniversary of the Nisei Veterans of World War II. Twenty-five Nisei veterans — octogenarians and older — will be among the 450 participants expected at the event.
"This year we decided to honor the Nisei as a focus, while still honoring all the veterans," said Jackie McCormick, director of events at the USS Missouri Memorial Association.
Monday's ceremony on the fantail of the Battleship Missouri will coincide with the opening of a new Nisei exhibit on board the ship, to honor their legacy.
These second-generation U.S.-born Japanese-Americans are soldiers who fought for the United States after Japan attacked Pearl Harbor on Dec. 7, 1941, despite U.S. government mistrust of them due to their ancestry.
They were considered "enemy aliens" and only allowed to serve in segregated Army units; the Navy and Marines wouldn't allow them in their ranks.
Despite this, more than 20,000 Japanese-Americans fought in the 100th Infantry Battalion, the 442nd Regimental Combat Team, the Military Intelligence Service and the 1399th Engineer Construction Battalion. They were the most highly decorated soldiers in U.S. Army history.
"Seventy years ago our Nisei soldiers entered World War II and overcame the dual challenges of prejudice at home and threats to our nation's freedoms overseas with undaunted service and incredible feats of courage," said Bob Kihune, retired U.S. Navy vice admiral and now chairman of the board at the USS Missouri Memorial Association.
Notable attendees include the keynote speaker, Jiro Yukimura. Yukimura was aboard the Missouri when Japanese surrender documents were signed on Sept. 2, 1945.
Retired Brig. Gen. James Hirai, deputy director of the Asia-Pacific Center for Strategic Studies at Fort DeRussy, praised the Nisei soldiers.
"They're hearty people," said Hirai, noting the significance of 25 veterans showing up when the youngest are around 88. "The ones who will be there will definitely show that."
Hirai noted that the Nisei are an important group in Hawaii beyond their military service during the war. "They really helped transform Hawaii from a plantation-based economy to one that is very much on par with burgeoning economies in the Asia-Pacific region, taking Hawaii from a territory to statehood."
The 100th Infantry Battalion was the first combat unit comprised of Japanese-Americans; about 1,400 went to fight in Italy and France between 1943 and 1945, and they suffered so many casualties that they are referred to as the "Purple Heart Battalion." They were also incorporated into the 442nd Regimental Combat Team while in Italy, serving as one of its three infantry battalions. They received three Presidential Unit Citations.
The 442nd combat unit was created in 1943. Most were from Hawaii, while some were from the mainland. Some 14,000 served during World War II, and were rewarded with seven Presidential Unit Citations (which includes the three given to the 100th Battalion).
The Military Intelligence Service has been involved in every major U.S. military battle across Asia and the Pacific, with the duty of translating communications from Japanese. They didn't serve in units, but rather as individuals or in pairs; not only did they have to face the usual war dangers, but they had the added problem of possibly being mistaken for an enemy of the U.S. and being struck by friendly fire. Those who served were recipients of a Presidential Unit Citation.
The 1399th Engineer Construction Battalion was formed in 1944 and is responsible for building 54 major defense projects on Oahu. They were considered so vital to Hawaii's safety that the War Department denied requests to have them moved to the Philippines during the war. They were honored with the Meritorious Service Award.
"Of the combat units, their successes are legendary... They definitely helped speed up or reduce the negative aspects of long campaigns and long battles," said Hirai.
Many, including Hirai, say the biggest impact of the Nisei veterans is that they proved to the military and to U.S. citizens that segregation in any form doesn't work or make sense in an American institution.
"That legacy, beyond their military successes, is probably most universally significant. It's not just with segregated military units, but overall American views of integration, full respect, access and opportunity for people of all races," said Hirai. Today, he added, their impact reaches beyond race, religion and culture to sexual preferences.
"Guys like me who served on active duty in our army in the last few decades, we were beneficiaries of the groundbreaking work these units did," Hirai said. "These opportunities were here for us that may not have been there for them in the decades prior to that. We're beneficiaries of their work."
Calling all HuffPost superfans!
Sign up for membership to become a founding member and help shape HuffPost's next chapter
BEFORE YOU GO
PHOTO GALLERY
World War II Marine's Diary